Autrey New Tribal Relations Specialist
April 15, 2004
Thursday

Ketchikan, AK - A long-time Southeast Alaska resident and member of the Alaska Native Brotherhood, Camp 14, in Ketchikan, has been selected as the new Alaska tribal government relations specialist for the Tongass National Forest.
John Autrey, who's currently an archaeologist at the Tongass National Forest's Ketchikan-Misty Fiords Ranger District, begins his new job April 19 at the Ketchikan Supervisor's Office.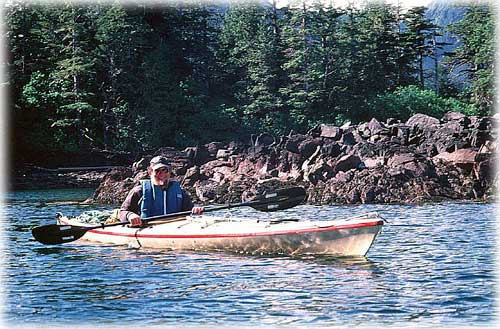 John Autrey, new tribal government relations specialist for the Tongass National Forest, paddles a kayak in Seal Cove near Ketchikan.
Photo by Martin V. Stanford

"I'm very honored to be selected for this important position and very excited about the potential for fostering positive relationships with our neighbors," said Autrey. "At the same time, the tremendous responsibilities which are inherent with this position are very humbling."
In his new position, Autrey will be responsible for providing information and assistance regarding government-to-government relations, consultation, Alaska Native rights, trust responsibilities, traditional beliefs and practices, and the laws affecting management of historical, cultural and traditional uses of National Forest System lands.
"Recognizing and incorporating the unique legal status, history, cultural heritage, spiritual and religious practices, and traditional knowledge of Alaska Natives into the Tongass National Forest's management decisions and policy-making processes is a top priority," said Tongass National Forest Deputy Supervisor, Olleke Rappe-Daniels. "John brings a level of personal integrity and commitment to this position that will help us continue fostering and building positive working relationships with Alaska Natives."
Autrey has worked as an archaeologist on the Tongass National Forest for 17 years. Before arriving on the Tongass, he served as a park techician for the National Park Service at the Rocky Mountain National Park in Colorado and as a forestry technician on the Arapaho-Roosevelt National Forest in Colorado. He also worked as an assistant forest archaeologist on the Kaibab National Forest in Arizona.
Autrey, a U.S Navy veteran, earned a bachelor's and a master's degree in anthropology from the University of Northern Colorado in Greeley.
During his numerous years on the Tongass, Autrey has been involved in many public outreach programs providing an awareness of the nation's cultural resources, opportunities to participate in monitoring and protecting those resources; creating recreational opportunities for visitors; developing partnerships; and encouraging volunteerism.
He has helped locate and protect cultural sites and has worked and consulted with Native people in virtually all the tribal communities in Southeast Alaska.
Since 1989, Autry has worked with the University of Alaska, Southeast, to help link the Forest Service, the university, Native cultural teachers, Native organizations and community participants. This unique program has enhanced a greater appreciation of the cultural and natural resources in the Tongass National Forest.
He has been involved with many Ketchikan and Saxman Native community programs. He's currently studying the Tlingit language at Saxman with Captain Joe Thomas.
Autrey was honored by the late Esther Shea through adoption into the the Tantakwan, (Tongass Tribe), Tweikweidi (Bear Clan), Xoots Hit (Brown Bear House). Shea named John "Ann Tlatinie," which means "the person or man who watches the land." Shea, a highly respected Elder and the Clan Mother for the Tantakwan Teikweidi Clan, passed away in November 2003.
Autry said the most important goal he will strive to reach in his new job is a "successful partnership."
"It is my hope that with good participation and leadership from the tribal governments, Native communities, and the Forest Service; that we will participate in frequent, meaningful conversations for all common issues and problem resolution," he said. "The most important goal, which will require some creative thinking and a lot of flexibility, is the success of this very desireable and natural partnership."
Autrey, who was born in Denver, Colo., and his wife Joyce, have been married for 33 years. They have two children: Ian, a 1994 Ketchikan High School graduate, who is currently a registered nurse at Alaska Regional Hospital, in Anchorage; and Bonny, a 2001 Ketchikan High School graduate, who currently works at the Ketchikan General Hospital.

Story & Photograph Courtesy Of:
USFS - Tongass National Forest
Web Site

E-mail your news & photos to editor@sitnews.org


Post a Comment View Comments
Submit an Opinion - Letter

Sitnews
Stories In The News
Ketchikan, Alaska