Truck Rolls Over, Driver Escapes With No Serious Injuries
April 12, 2004
Monday

Ketchikan, AK - Shortly after purchasing a 1988 Bronco, Troy Jewell found himself sitting upside down in his new vehicle Friday evening with gas pouring all around.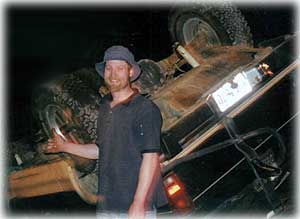 Troy Jewell gives a thumbs up after luckily escaping any serious injuries in a rollover Friday evening.
Photo by Kathy Stack ©2004
According to the story related by Jewell, he pulled into the Mountain Point boat launch area to turn around and said the next thing he knew he was upside down with gas everywhere. Jewell, in his twenties, told Sitnews in a telephone interview that he quickly exited the Bronco and immediately positioned a container to catch the leaking gasoline.
According to Jewel, he received some minor head and neck injuries and was seen at Ketchikan General Hospital Friday evening and released.
There was no speculation by Jewell as to what might have caused the Bronco to rollover. However, a source on the scene stated that the vehicle may have hit a pothole.
The Alaska State Troopers responded to Friday's accident; however, no report is currently available from the AST. According to Jewell, he was not issued any citations.
E-mail your news & photos to editor@sitnews.org


Post a Comment View Comments
Submit an Opinion - Letter

Sitnews
Stories In The News
Ketchikan, Alaska