Bringing Families Together With Easter Eggs & Bunnies
April 11, 2004
Sunday

Ketchikan, AK - "Easter eggs and bunnies create a perfect opportunity for family bonding and quality togetherness," said Jaylyn Merrill - program coordinator for the Revilla Island Prevention Coalition. Merrill said it is for this reason the Revilla Island Prevention Coalition was pleased to bring the annual Easter Egg Hunt back to the Plaza this year.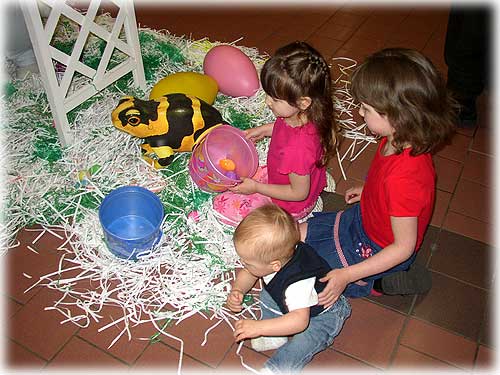 Three of the 200 Ketchikan youth from babies up to 7 years of age
in attendance at Saturday's Easter Egg Hunt...
Photo by Gretchen Klein ©2004

According to information provided by Merrill, approximately 200 Ketchikan youth from babies up to 7 years of age were in attendance at Saturday's Easter Egg Hunt. The youngsters were accompanied by mothers, fathers, grandparents, neighbors and friends, and older siblings. In the spirit of togetherness, families were admitted to the egg hunting area where they searched for colorful plastic eggs filled with candy. At the end of the hunt, families went to the bunny hutch where they were given small stuffed toys. In the upstairs area of the Plaza, children were able to participate in egg decorating and arts/crafts while munching on cookies and other treats.
Merrill said thirty community volunteers helped make this event possible and behind the scenes there were many other volunteers and sponsors. Merrill said, "Specifically, we would like to thank The Plaza, Walmart, KMFJ Radio, and CARRS Safeway for their donations and support. The work of all of these individuals and businesses made the Revilla Island Prevention Coalition's first shot at the Easter Egg Hunt a major success."
Other volunteers mentioned were from AARP, Seniors Services, Ketchikan Health Center, Patchworks, Parks and Recreation, Alaskans for Drug Free Youth, Ketchikan Youth Court, Americorps, Big Brothers Big Sisters, and The Plaza staff.
"A huge thank you, to all the Ketchikan Youth Court members. They helped set up this event with Blaine Ashcroft of the Plaza Friday night. It was a long night for all of them. YOU ROCK!," said Merrill.
According to Merrill, Saturday's family activity was possible through funding by the Drug-Free Communities Support Grant by the Office of Juvenile Justice and Prevention.

Photo Gallery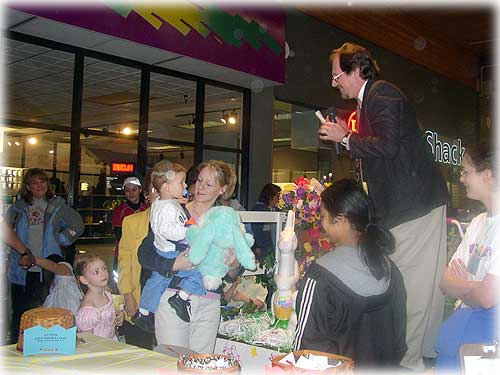 Receiving a bunny prize!
Photo by Gretchen Klein ©2004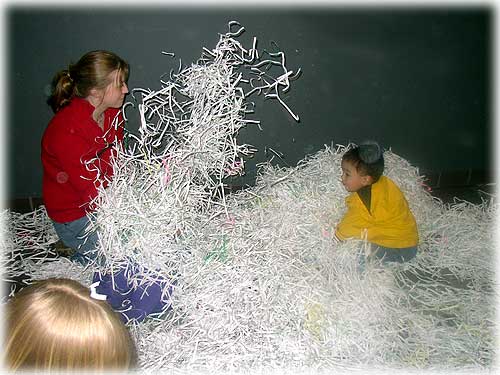 Sharing the fun of the hunt for Easter Eggs...
Photo by Gretchen Klein ©2004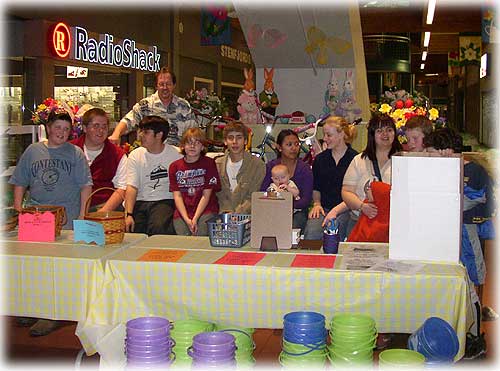 Volunteers help make the fun possible...
Photo by Gretchen Klein ©2004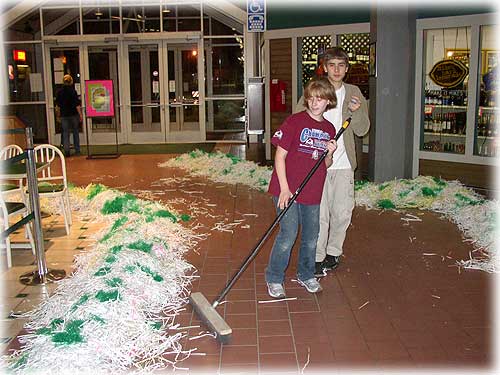 Volunteers...
Photo by Gretchen Klein ©2004
E-mail your news & photos to editor@sitnews.org


Post a Comment View Comments
Submit an Opinion - Letter

Sitnews
Stories In The News
Ketchikan, Alaska