USS Zumwalt, the Stealth Destroyer, Visits Ketchikan
By MARY KAUFFMAN
March 27, 2019
Wednesday AM

(SitNews) Ketchikan, Alaska - The lead ship of the U.S. Navy's newest class of guided-missile destroyers, USS Zumwalt (DDG 1000), arrived in Ketchikan on Saturday.
"My crew is excited for this outstanding opportunity to visit Ketchikan," said Capt. Andrew Carlson, Zumwalt's commanding officer. "Alaska is a strategic location when it comes to maintaining peace and stability in the Indo-Pacific region, and we value Alaskan communities like Ketchikan for their consistent support of our nation's military."
The visit marked an opportunity for the crew to experience the hospitality of the Alaskan port, as well as showcase the U.S. Navy's newest class of destroyers.
"I speak for Zumwalt's entire crew when I say that we are grateful to the citizens of Ketchikan for the warm welcome; we are excited to get out in town, and we are honored to connect this community with its Navy," Carlson said.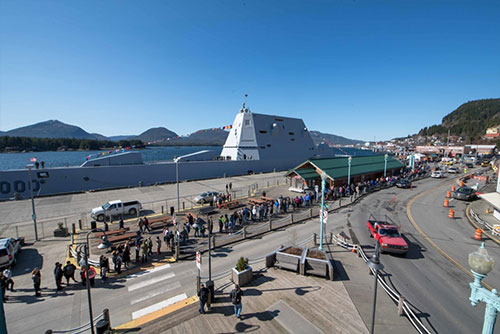 USS Zumwalt at Ketchikan's downtown dock
Visitors line up Sunday along the pier for a tour of guided-missile destroyer USS Zumwalt (DDG 1000). Zumwalt is conducting the port visit as part of its routine underway operations in the eastern Pacific. Zumwalt-class destroyers provide the Navy with agile military advantages at sea and with ground forces ashore. The USS Zumwalt arrived in Ketchikan on Saturday, March 23rd.
U.S. Navy photo by Mass Communications Specialist 2nd Class Jonathan Jiang

During the scheduled port visit, Carlson met with Robert Sivertson, mayor of the city of Ketchikan, David Landis, mayor of Ketchikan Gateway Borough, and Saxman mayor Frank Seludo.
Zumwalt made the stop in Ketchikan after completing a visit to the Naval Surface Warfare Center, Caderock Division's Southeast Alaska Acoustic Measurement Facility (SEAFAC). SEAFAC is part of the Naval Surface Warfare Center community providing engineering expertise and technical assessment for the Navy's operational units.
"The facilities and technical expertise of the SEAFAC and Naval Surface Warfare Center personnel are critical components for the continued maturation and ultimately the delivery of Zumwalt capabilities to the fleet commander," said Carlson. "SEAFAC absolutely has a significant role in the ship's development, as do the Alaskan communities of Ketchikan and Saxman that are simultaneously neighbors and hosts for the U.S. Navy. Our country's global Navy is a success because of local partnerships like this."
The Zumwalt-class destroyer is designed and built to execute multiple maritime missions including deterrence and power projection. The ships' stealth and ability to operate in both the open ocean and near-shore environments creates a new level of battlespace complexity for potential adversaries.
Zumwalt is under operational control of the U.S. 3rd Fleet. Third Fleet leads naval forces in the Pacific and provides the realistic, relevant training necessary for an effective global Navy. Third Fleet coordinates with U.S. 7th Fleet to plan and execute missions based on their complementary strengths to promote ongoing peace, security, and stability throughout the entire Pacific theater of operations.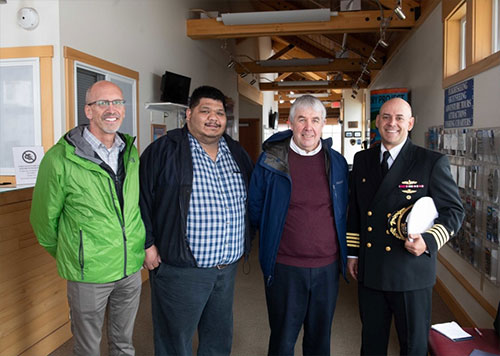 Guided-missile destroyer USS Zumwalt (DDG 1000) Commanding Officer Capt. Andrew Carlson poses for a photograph with Ketchikan Gateway Borough Mayor David Landis, City of Saxman Mayor Frank Seludo and City of Ketchikan Mayor Robert Sivertsen.
U.S. Navy photo by Mass Communications Specialist 2nd Class Jonathan Jiang

Zumwalt is named after Elmo Russell Zumwalt, Jr., who was an American naval officer and the youngest man to serve as the Chief of Naval Operations. As an admiral and later the 19th Chief of Naval Operations, Zumwalt played a major role in U.S. military history, especially during the Vietnam War. A highly decorated war veteran, Zumwalt reformed the US Navy's personnel policies in an effort to improve enlisted life and ease racial tensions.

At 610 feet long, it is 100 feet longer and 13 feet wider than the Arleigh Burke-class destroyer and provides the space needed to execute a variety of surface, undersea and aviation missions.

She's the Navy's first surface ship with all-electric propulsion, powered by two main-turbine generators, two auxiliary-turbine generators, and two Rolls-Royce 34.6 MW advanced induction motors, which provide all the energy needed to run the propulsion, electronics, and weapons systems. This system can bring the Zumwalt to a top speed of nearly 35 mph.

The USS Zumwalt has state-of-the-art electronics, including a SPY-3 multi-function radar, which can detect advanced antiship cruise missiles.

The Zumwalt class was originally designed with multimission capability. Unlike previous destroyer classes, designed primarily for deep-water combat, the Zumwalt class was primarily designed to support ground forces in land attacks, in addition to the usual destroyer missions of anti-air, anti-surface, and antisubmarine warfare.

Many of the ship's features were originally developed under the DD21 program ("21st Century Destroyer"). In 2001, Congress cut the DD-21 program by half as part of the SC21 program. To save it, the acquisition program was renamed as DD(X) and heavily reworked. The initial funding allocation for DDG-1000 was included in the National Defense Authorization Act of 2007. By February 2008, a $1.4 billion contract had been awarded to Bath Iron Works in Bath, Maine, and full rate production officially began a year later, on February 11, 2009.

The USS Zumwalt was commissioned in Baltimore on October 15, 2016. She is homeported in San Diego, California.

Escalating research and development expenses compelled the Navy to scale back its initial plan for 32 ships to 3 ships - with costs reported to be over $4 billion each.

In January 2019, the Navy commissioned its second hi-tech Zumwalt-class stealth destroyer, the USS Michael Monsoor. The third and last, USS Lyndon B. Johnson was launched in December 2018 and will be commissioned in 2022.

Unfortunately, her rocket-boosted LRLAP GPS-guided shells cost approximately $800,000 dollars each causing the Navy to canceled the expensive munitions, leaving the USS Zumwalt with two huge guns it can't fire.

Source
US Navy
MC2 Natalie M. Byers, U.S. 3rd Fleet, U.S. 3rd Fleet Public Affairs
Photos by Mass Communications Specialist 2nd Class Jonathan Jiang
www.navy.mil
Representations of fact and opinions in comments posted are solely those of the individual posters and do not represent the opinions of Sitnews.
Contact the Editor
SitNews ©2019
Stories In The News
Ketchikan, Alaska

Articles & photographs that appear in SitNews are considered protected by copyright and may not be reprinted without written permission from and payment of any required fees to the proper freelance writers and subscription services.

E-mail your news & photos to editor@sitnews.us

Photographers choosing to submit photographs for publication to SitNews are in doing so granting their permission for publication and for archiving. SitNews does not sell photographs. All requests for purchasing a photograph will be emailed to the photographer.