Officials to Test Tsunami Warning System in Alaska
March 16, 2017
Thursday AM

(SitNews) Ketchikan, Alaska - NOAA's National Weather Service, the Alaska Division of Homeland Security and Emergency Management and the Alaska Broadcasters Association plan to conduct a test of the tsunami warning communications system on Wednesday, March 29, 2017 at approximately 10:15 a.m. Alaska Daylight Time in coastal areas of southern Alaska. This test will be conducted for portions of coastal communities in Southeast Alaska, the Kenai Peninsula, Kodiak, the Aleutians and Pribilofs. People in Anchorage may see or hear that a tsunami warning has been issued for the Kenai Peninsula.
The emergency test will be broadcast on NOAA Weather Radio All Hazards, as well as local television and radio stations along the southern coast of Alaska. Residents in some communities may hear warning sirens. Some television systems are programmed to scroll a standard emergency alert text message and, in some cases, the message may not contain the word "TEST." An audio message will state that the message is only a test, but if the audio is unheard, viewers may not realize the message is only a test.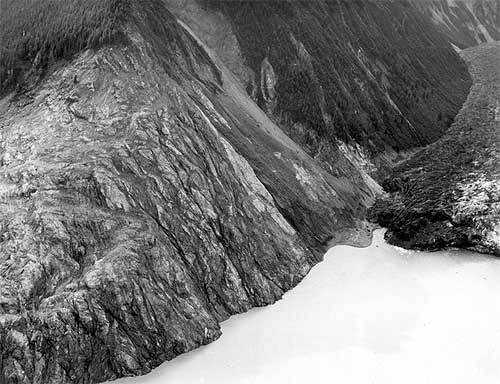 Southeast Alaska Earthquake. Scar at the head of Lituya Bay and wave damage on the north shore, from southwest of Gilbert Inlet to La Chaussee spit. August 9, 1958. Photos Form a panorama
Photograph courtesy U.S. Geological Survey
To avoid confusion with an actual alert the test will be canceled if there is excessive seismic activity within 24 hours prior to the test.
The test is part of Tsunami Preparedness Week, March 26 to April 1. The test is conducted annually during the same week as the Great Alaska Earthquake and Tsunami of 1964, which killed over 130 people in Alaska, Oregon, and California. Officials promote tsunami safety and awareness and urge coastal residents and visitors to prepare themselves and their families for a tsunami. Tsunami.gov offers complete information, including the current status of tsunami warnings, advisories and watches. A list of frequently asked tsunami questions and answers as well as tsunami safety rules and other educational materials can be found on the site as well.
Alaska is the most seismically active state in the United States, and has experienced 12 of the 15 largest earthquakes in United States' history, and disaster preparedness is Alaska's greatest tool for protecting Alaska's people, property, and livelihoods.
The 1946 Aleutian Tsunami killed 159 people in Hawaii, five in Alaska, and one in California, and sent a 100 foot tsunami into Scotch Cap on Unimak Island destroying a U.S. Coast Guard lighthouse.
The world's highest tsunami was in Glacier Bay National Park's Lituya Bay in 1958, when a magnitude 8.2 earthquake generated a rockslide that sent water surging to 1720 feet and killed two boaters.
Test organizers are asking coastal Alaskans to provide feedback after the test at ready.alaska.gov.
Related Articles:
SURVIVING THE BIGGEST WAVE EVER By Dave Kiffer - Alaska is a land of geological superlatives: Big mountains, vast spaces, huge earthquakes. - More...
SitNews - July 08, 2008

The giant wave of Icy Bay - A landslide last fall caused a giant wave of the type not seen in Alaska since the storied 1958 event in Lituya Bay. - More...
SitNews - April 11, 2016

An Alaska Journey: From WWII Ketchikan To The 1964 Anchorage Good Friday Earthquake By ARNE L. BUE - During World War II shortages prevailed in Ketchikan, Alaska. Allies protected us, and Norwegian immigrant families like mine imbued some of us with a work ethic as well as a Lutheran upbringing. .... - More...
SitNews - April 11, 2014

The 1964 Great Alaska Earthquake & Tsunami; It was the largest U.S. earthquake ever recorded, and a turning point in earth science. By JESSICA ROBERTSON, EMILY ROLANDß, PETER HAEUSSLER - It's March 27, 1964 in southern Alaska. At 5:36 pm, powerful ground shaking occurs for nearly five minutes from a magnitude 9.2 earthquake directly below your feet. Depending on where you are, you and your loved ones may face devastating tsunamis that wipe out entire villages, or landslides that send neighborhoods from suburban Anchorage into the ocean. - More...
SitNews - March 27, 2014