Ketchikan to host Alaska Wood Energy Conference
March 13, 2017
Monday AM

(SitNews) Ketchikan, Alaska - Registration is open for the Alaska Wood Energy Conference, which will meet April 11-12 in Ketchikan.
Conference organizer Karen Petersen of the University of Alaska Fairbanks Cooperative Extension Service said the biennial conference will focus on how wood energy can help Alaska with its energy challenges.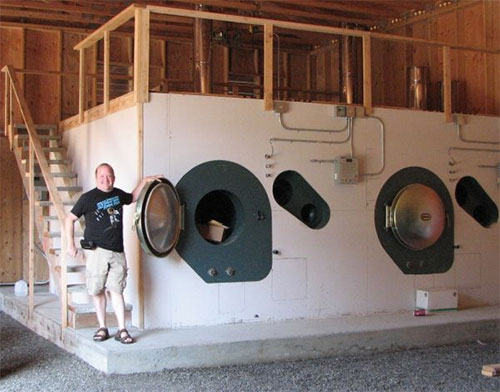 Rolf Petersen poses with the biomass boilers at the Thorne Bay school.
Photo by Karen Petersen

Conference topics will include biomass harvesting and production, Canadian biomass projects and policies, carbon credits, air quality concerns and case studies of existing biomass operations. Optional activities will include tours of woody biomass operations in and around Ketchikan on April 10 and biomass-heated greenhouses on Prince of Wales Island on April 13.
Co-sponsors include the UAF Cooperative Extension Service, Alaska Energy Authority and U.S. Forest Service.
Conference details and registration information are available at www.uaf.edu/ces/nrcd/awec
Editing by Mary Kauffman, SitNews