Legislation Naming Two State Ferries Passes the Alaska Legislature; Goes to Governor
March 13, 2017
Monday AM

(SitNews) Juneau, Alaska - Legislation to officially name two new state ferries after the Alaska glaciers Tazlina and Hubbard passed the Alaska State Legislature on Friday. Senate Bill 33 was introduced on behalf of Alaska Governor Bill Walker. Earlier Friday, the bill unanimously passed the Alaska House of Representatives after unanimous support in the Alaska Senate on February 27th.
The ferries Tazlina and Hubbard are under construction at Vigor Alaska in Ketchikan and the first ferry will possibly come into service later this year -- 2018 was the proposed completion date of the first ferry. The ferries will be 280- feet long, seat up to 300 passengers and carry 53 standard vehicles. Each ferry will feature bow and stern doors for quicker loading and unloading, fully enclosed car decks and controllable pitch propellers to maximize maneuverability and efficiency.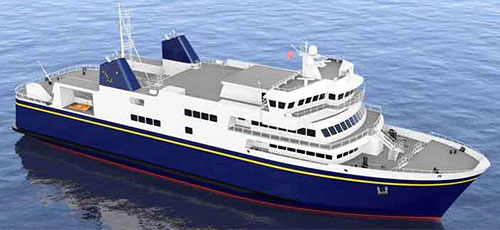 Graphic of Day Boat Alaska Class Ferries
Construction of both vessels began in October 2014 and delivery is scheduled for late 2018.
Graphic courtesy Vigor Alaska www.vigor.net
"The process to name these two great additions to Alaska's fleet of ferries shows Alaskans love of the natural environment and an appreciation for the creativity of our youth," said Rep. Dan Ortiz (I-Ketchikan). "If you read the essays by Taylor Thompson and Malea Voran I think you will come to the same conclusion I did that these are fitting names for our newest state ferries. I can't wait for my first ride later this year."
"Our state ferries are a vital transportation link for many isolated communities and thousands of Alaskans. These new ferries will strengthen the Alaska Marine Highway System, which must be given the same importance by lawmakers as our vital roads and bridges," said Rep. Sam Kito (D-Juneau).
Alaska law requires state ferries be named after glaciers and the names Tazlina and Hubbard were chosen through an essay competition by Alaska students. The winning essays were selected by Governor Bill Walker and Lieutenant Governor Byron Mallott. 7th grader Malea Voran from Port Alsworth put forward the name Tazlina, which means "swift river" in Ahtna Athabascan. The name Hubbard was put forward by 10th grader Taylor Thompson from Eagle River. The Hubbard Glacier near Yakutat was named after Gardiner G. Hubbard, the founder of the National Geographic Society.
The first priority of the Day Boat Alaska Class Ferries is to functionally replace the M/V Malaspina summer service in Lynn Canal, serving the communities of Juneau, Haines and Skagway.
According to Frequently Asked Questions posted on Alaska DOT's website, with two identical ferries, the ferries can be interchanged to balance wear and maintenance; this interchange can be used to expedite turnaround on selected days. Also, one ferry could be deployed to other Southeast Alaska communities when the M/V LeConte is not running due to required annual maintenance or breakdowns. The ACF's will also serve as a backup vessel to one another during scheduled and unscheduled maintenance days. This will allow AMHS to continue to provide a consistent level of service with the least amount of impact to the system as a whole. Additionally, by constructing two identical vessels, it is expected that the second Day Boat ACF will cost approximately 10 percent less to construct.
SB 33 will now be send to Governor Walker for his signature.
On the Web:
Alaska House Majority Coalition
www.akleg.gov

Alaska Department of Transportation
www.dot.state.ak.us

Vigor Alaska
www.vigor.net