Judge approves Big Thorne, the largest old growth timber sale in decades, and the Tongass Forest Plan
March 25, 2015
Wednesday PM

(SitNews) Ketchikan, Alaska - A controversial old-growth logging project on Alaska's Tongass National Forest could begin as early as April after Federal Judge Ralph Beistline denied a lawsuit brought by 10 environmental groups.
Friday, the U.S. District Court in Alaska ruled the Forest Service complied with the law when it approved the Big Thorne timber sale, allowing logging from approximately 6,200 acres of old growth forest, and when it adopted the Tongass Land Management Plan.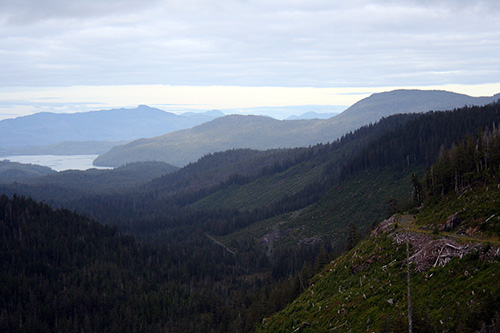 Clearcuts and old-growth forests are part of the view on Prince of Wales Island.
Creative Commons: Photo by Nick Bonzey
Southeast Conference with 180 member organizations with 1,200 people from 32 regional communities including Ketchikan and Saxman said in a prepared statement, "Southeast Conference and its members applaud this decision by the court and trust that further time-wasting appeals will not be filed, and Viking Lumber can begin timber production in April on Prince of Wales Island."
According to an annual report issued by the Southeast Conference, about 325 people worked in the timber industry in Southeast Alaska in 2013 with about 11,000 workers in the fishing, tourism and recreation industries.
KTOO reported Alaska Regional Forester Beth Pendleton said Beistline's decision will help the Forest Service implement that policy by allowing Big Thorne to go forward. "It is critical to our overall transition and the abitlity to provide bridge timber to the industry here in Southeast, as we make that complete transition to young growth in the next 10 to 15 years," she told KTOO, a Southeast Alaska radio station.
Forest Service officials say the Big Thorne logging project, on Prince of Wales Island, will provide key "bridge" timber as the agency transitions away from allowing old-growth logging on the Tongass.
Viking Lumber Company, based on Prince of Wales Island, won the rights to the timber sale last fall. Viking currently runs the only significant sawmill remaining in operation in Southeast Alaska. The Big Thorne timber sale includes about 6,000 acres of old-growth forest and about 2,000 acres of second-growth forest. About 46 miles of roads would be built to access the timber.
Joining the Forest Service in opposition were the Alaska Forest Association, the State of Alaska, the city of Craig, and Viking Lumber Inc.
Friday's decision stems from two lawsuits filed by conservation organizations. In the first case, Southeast Alaska Conservation Council, Sierra Club, Alaska Wilderness League, and Audubon Alaska challenged the Big Thorne timber sale. In the second lawsuit, Southeast Alaska Conservation Council, Sierra Club, Alaska Wilderness League, and Natural Resources Defense Council challenged the Tongass Land Management Plan. Earthjustice, a nonprofit environmental law firm, represented the organizations in both lawsuits.
Claims were brought against the U. S. Forest Service for violating the National Environmental Policy Act (NEPA) and National Forest Management Act (NFMA) and the terms of their own forest plan.
Environmental groups had raised concerns about how the logging activity would affect wolf and deer populations. However, Beistline ruled that the plaintiffs failed to show that the Forest Service didn't follow proper procedure before making its final decision.
Conservationists also claimed that the Forest Service did not sufficiently consider whether there is a valid market for timber cut in the Big Thorne sale. They said they will now consider appealing U.S. District Court Judge Ralph Beistline's decision to the 9th Circuit Court of Appeal.
Responding to Friday's decision Earthjustice attorney Holly Harris said, "Clear-cutting thousands of acres of old growth forest is a wasteful and wanton practice that cannot continue," "The Tongass is a national treasure, but it is also an economic powerhouse for sustainable industries such as commercial fishing and tourism. This kind of large-scale industrial old growth logging hurts Southeast Alaskans and compromises the environmental and economic viability of the Tongass."
Alli Harvey, Alaska Representative for Sierra Club's Our Wild America campaign said, "The rainforest of the Tongass should be safeguarded for future generations, not given up for unnecessary clear-cutting. The best path forward, for both the wildlife and the people who depend on the Tongass, is to protect the rainforest and its old growth trees. Moving ahead with plans to log this amazing wild place is incompatible with the U.S. Department of Agriculture's plan to transition away from old growth logging."
Malena Marvin with Southeast Alaska Conservation Council said of the decision, "Export based industrial-scale clearcuts just don't make sense on the Tongass, where our thriving fishing and tourism economy is based on healthy streams and abundant wildlife. Local people would rather see a small, sustainable wood industry that keeps money circulating in our communities while protecting the resources that support our Tongass jobs, fishing, and hunting."
"Today's rulings are yet another punch to the gut for the Tongass National Forest and southeast Alaska," said Kristen Miller, Conservation Director at Alaska Wilderness League. "Continuing to subsidize sales like Big Thorne threatens the viability of the wildlife and scenery that bring one million people to hike, hunt, fish, kayak and tour America's Tongass each year. Southeast Alaska's economy has moved on from timber. Instead of continuing to pour money into massive old growth giveaways like Big Thorne, the Forest Service should be investing in the region's true economic powerhouses of tourism, recreation and fishing."
"This decision is disappointing for Southeast Alaska," said Jim Adams, Policy Director for Audubon Alaska. "The Big Thorne sale bulldozed right over the Forest Service's own guidelines for protecting deer and goshawk habitat. Selling off old growth trees and destroying important habitat for wildlife while losing millions of taxpayer dollars a year is shortsighted and foolish."
In 2010, Forest Service managers announced they would transition away from offering old-growth forests for logging on the Tongass but it would take up to 10 to 15 years to allow younger forests to mature and for the timber industry to adjust to utilizing smaller-diameter trees.
The groups said the district court's decision today is a setback, and they will continue to push for sustainable forest management that ensures the future of fishing, hunting, and tourism on the Tongass

Edited by Mary Kauffman, SitNews
Related:
March 20, 2015 Decision: BIG THORNE PROJECT AND 2008 TONGASS FOREST PLAN - ORDER DENYING PLAINTIFFS' MOTION FOR SUMMARY JUDGMENT AND GRANTING SUMMARY JUDGMENT IN FAVOR
OF DEFENDANTS (25 pages)
Download PDF, click here...
Coalition files lawsuit challenging the largest timber sale in decades By MARY KAUFFMAN - A coalition of conservation groups filed suit Friday challenging the U.S. Forest Service decision to approve the Big Thorne timber sale on Prince of Wales Island. - More...
SitNews - August 25, 2014

Another Lawsuit Takes On Old-growth Big Thorne Logging Project - A second lawsuit has been filed to stop the U.S. Forest Service's Big Thorne timber project on Prince of Wales Island in southeast Alaska. Big Thorne is by far the largest U.S. Forest Service logging project on the Tongass National Forest since the region's two pulp mills closed about 20 years ago. - More...
SitNews - August 27, 2014
Source of News:
U. S. District Court - Alaska
http://www.akd.uscourts.gov

Southeast Conference
http://www.seconference.org

Forest Service Employees for Environmental Ethics
http://www.fseee.org

Southeast Alaska Conservation Council

Sierra Club
www.sierraclub.org

Audubon Alaska
ak.audubon.org

Earthjustice
earthjustice.org/

Natural Resources Defense Council
www.nrdc.org/
Contact the Editor
SitNews ©2015
Stories In The News
Ketchikan, Alaska

Articles & photographs that appear in SitNews may be protected by copyright and may not be reprinted without written permission from and payment of any required fees to the proper sources.

E-mail your news & photos to editor@sitnews.us

Photographers choosing to submit photographs for publication to SitNews are in doing so granting their permission for publication and for archiving. SitNews does not sell photographs. All requests for purchasing a photograph will be emailed to the photographer.