Documenting Alaska's insects and spiders
By THERESA BAKKER
March 17, 2015
Tuesday PM

(SitNews) - It's not often a scientist gets to document the recovery of an ecosystem.
When Kasatochi — a volcanic island in Southwest Alaska's Aleutian chain — erupted in 2008, the lush seabirds' paradise was turned into a pile of mud and ash overnight. But the University of Alaska Museum of the North's curator of insects knew it could be a valuable opportunity for science.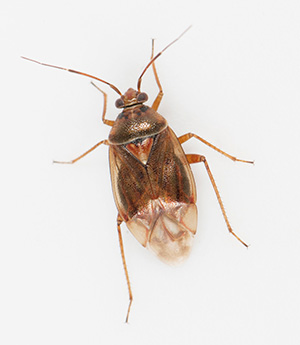 This is a plant bug in the genus Lygus. Some species of Lygus are known agricultural pests, one of which damages peony buds in Alaska.
Photo by Derek Sikes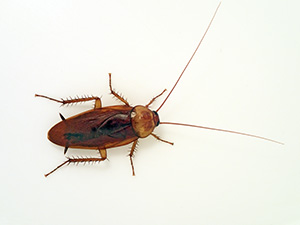 Alaska does have cockroaches. This American cockroach was donated alive to the museum in 2013. It remains our only specimen of this species.
Photo by Derek Sikes
Derek Sikes had spent a day on the island two months before it erupted. That meant he could compare the island's ecosystem to its pre-eruption condition.
"I first thought it would be years of mud, ash and no life but was surprised to find insect activity within a year of the eruption," he said. "Most, and possibly all, of the species appear to be survivors rather than new colonists. It's an amazing opportunity to see how an ecosystem assembles."
While insects are the largest consumers of vegetation in Alaska — 30 million spruce trees were killed by spruce bark beetles during the 1990s — insects are also a major source of nutrition and instrumental in food production, as well as an indicator of climate change. They even provide forensic clues used to solve crimes.
Insects are like the glue in the food web, providing a safety net for the survival of birds and other animals. They pollinate, assist in decomposition and even move fungus around. Sikes said that if all the insects disappeared overnight, after the initial celebration died down, people would start to notice disastrous effects.
"Animals like birds, bats and fish would starve to death, leading to the loss of larger animals. And the lack of pollination would eventually cause many plants to disappear, including coffee and chocolate. The world would be a sadder place without butterflies, bumblebees and dragonflies. Many ecosystems would change so radically as to be empty shadows of their former selves."
Despite their vital role, most people only notice insects when they are being bugged. They notice the scary ones, the spiders, yellow jackets and other stinging insects. But Sikes says the majority of arthropods fly, crawl and burrow completely under the radar.
These organisms may be tiny, but they are large in number. One estimate claims that two out of every three creatures known on Earth are arthropods.
It doesn't seem likely that a division of animals responsible for more than 80 percent of the Earth's biodiversity would suffer from lack of attention, but it turns out that the world's insects are poorly understood.
More than a million species of animals have been described by scientists; most of them are insects. And even though another 10,000 are identified as new to science each year, experts say there are more insects that have not been described than there are named species. "We haven't even hit the half-way mark," Sikes said.
There are the thousands of specimens awaiting identification in museum collections across the world. In fact, researchers today discover more new animals and plants by investigating specimens accumulated in scientific collections than they do by conducting fieldwork in remote landscapes.
"We find species new to science faster than we can describe them," Sikes said. "At the UA Museum of the North we've accumulated over 160 specimens belonging to an estimated 22 species that are probably new to science. Since I arrived in 2006, I've described as new two different Alaska species."
Sikes said the scientists he works with also find new state records all the time. These are already described species that have never been reported in Alaska before. Since 2006, the list of new records has grown to more than 1,000 species.
The specimens in the museum's insect collection support various efforts to learn new things — everything from the rate of repopulation of Kasatochi to climate change. The climate here is changing faster than in lower latitudes. That means time is running out to properly document pre-warming Alaska. If researchers can develop a better baseline, they'll be able to see if local species have declined or expanded their range, or even adapted in other ways.
Having a good understanding of a system before it changes is critical to knowing what's going on in nature. Sikes said it's a lesson he's learned from the Kasatochi eruption. "Let's just hope Alaska as a whole changes more gradually."

This column is provided as a service by the UAF Museum of the North...
THERESA BAKKER tabakker@alaska.edu
University of Alaska Fairbanks www.uaf.edu
Contact the Editor
SitNews ©2015
Stories In The News
Ketchikan, Alaska

Articles & photographs that appear in SitNews may be protected by copyright and may not be reprinted without written permission from and payment of any required fees to the proper sources.

E-mail your news & photos to editor@sitnews.us

Photographers choosing to submit photographs for publication to SitNews are in doing so granting their permission for publication and for archiving. SitNews does not sell photographs. All requests for purchasing a photograph will be emailed to the photographer.