Alaska Science
Mystery of South Fork wolf's death solved
By NED ROZELL
March 08, 2014
Saturday PM

(SitNews) - The wolf lies on a metal table, its white legs and massive paws hanging over the edge. Kimberlee Beckmen, wildlife veterinarian, wears a white lab coat and purple gloves. Scalpel in hand, she positions herself at the wolf's belly.
Beckmen, who just finished a necropsy on an arctic fox that had been hit by a truck on the Dalton Highway, leans in on a wolf found dead on a trail east of Fairbanks. She checked her database this morning, she says. More than 250 wolves have been on her table in the 12 years she has worked for the Alaska Department of Fish and Game.
Many of those wolves had been trapped or shot. The cream-colored wolf now before Beckmen died of an unknown cause. Biologists Tom Paragi and Mike Taras sledded in the frozen wolf a few miles from where it had dropped on a snowmachine trail and lay until a dog musher discovered it.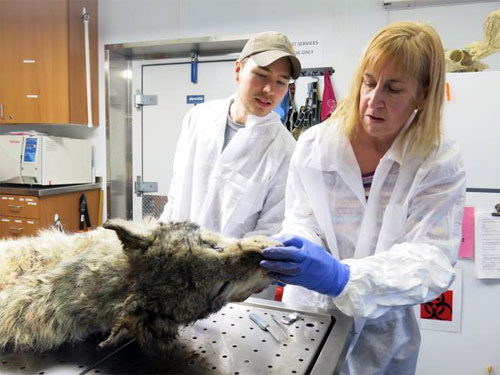 Wildlife veterinarian Kimberlee Beckmen of the Alaska Department of Fish and Game performs a necropsy on a wolf found dead near Fairbanks while Jesse Dunshie looks on.
Photograph by Ned Rozell

A hint of wet-dog smell fills the room. Before she begins cutting, Beckmen says this wolf is a female, about five years old, with good teeth. She measures the skull with calipers and then cuts into the animal's neck.
Within 10 minutes of placing the animal on the table, she solves the mystery of how it died.
"It's definitely a wolf attack," she says while pulling skin from the neck. "The tears in the muscle right there, looks like hamburger meat."
Before Beckmen cut, the wolf's neck showed no clues of the damage beneath.
"When they bite on a soft part (that can give), their teeth don't actually make holes in the skin, because the skin gives," she says before adding that the wolf's larynx is also fractured.
Damage to the throat along with the ripped hide on the wolf's loin is something Beckmen has seen before, the result of when many wolves attack a single wolf.
"They'll just shred 'em," she says.
As she continues cutting away hide with the smooth, quick motions of an artist dabbing paint on a canvas, Beckmen finds what she thinks was the coup de gras — a bite to the chest that collapsed a lung.
"This is a wolf attack," she says. "I'm 100 percent certain. It's not a bear. It's not a dog. It's not a gunshot."
In less than one hour, after skinning and removing the wolf's skull for the UA Museum of the North and placing into small vials samples of skin and muscle tissue for the department's freezer, Beckmen is done. She washes up, removes her white smock and returns to her office in the Fish and Game complex about 75 steps away.
In the same building is a man with possible insight to the last moments of the South Fork wolf. Craig Gardner is a biologist with the Alaska Department of Fish and Game who worked for years with Beckmen to successfully rid lice from wolfpacks in the Tanana Flats south of Fairbanks.
During that study, they found 24 dead wolves while checking in on the packs. Wolves were the killers in seven of those deaths. Five happened at the boundaries of two territories; two happened during clashes between a resident wolfpack and another pack on what biologists call an "extra-territorial foray," when wolves for unknown reasons head deep into another pack's turf.
"Almost every time, it was dominant wolves that died," Gardner says of the seven wolves killed in clashes with other wolves.
From what he has seen, battles between packs often involve head-to-head combat between alpha wolves.
At five years old and healthy, the wolf on Beckmen's table was "most likely the big and bad female in a pack," Gardner says.
During a skirmish, pups and smaller wolves often run away.
"It's usually older wolves that die, because they're willing to fight," he says.
Gardner figures the South Fork wolf died when one pack of wolves (a group numbering from two to 20, with an average of eight) entered the territory of another.
"That's when things can happen," he says. "When the resident pack and this pack come together, there's going to be a dustup."
The death of the South Fork wolf is not unusual, Gardner says, and this wolf lived longer than most. Evidence that wolves bedded down for some time on a hillside less than 100 yards away could suggest the South Fork wolf was one of the parent wolves of a pack. Parent wolves are almost always the ones that kill large prey like moose.
"She was an important wolf."



Related article:
Part 1: Mystery of the South Fork wolf By NED ROZELL - The wolf is no longer stuck to the trail, as it was when the dog musher drove her reluctant team over it. Now covered with snow, the frozen animal is a few steps away, beneath small spruce trees near the South Fork of the Chena River. The only exposed part of its body — a bushy tail — points to the sky. - More....
February 27, 2014


Since the late 1970s, the University of Alaska Fairbanks' Geophysical Institute has provided this column free in cooperation with the UAF research community.
Ned Rozell [nrozell@gi.alaska.edu] is a science writer for the Geophysical Institute.



E-mail your news & photos to editor@sitnews.us


Publish A Letter in SitNews
Contact the Editor
SitNews ©2014
Stories In The News
Ketchikan, Alaska

Articles & photographs that appear in SitNews may be protected by copyright and may not be reprinted without written permission from and payment of any required fees to the proper sources.