49th Anniversary of "Good Friday" Earthquake
March 27, 2013
Wednesday PM

(SitNews) Ketchikan, Alaska - Forty-nine years ago today at 5:36 pm, the largest earthquake ever recorded in North America, and the second largest in history, shook coastal Alaska for close to 4 minutes.
At first, the ground rocked gently and most people weren't concerned, for they had experienced a lot of Alaskan quakes and had learned that they were a part of life. However, the gentle rocking increased, and the ground soon began to surge underfoot. Huge fissures opened and closed in the ground. Alaska's largest city was to be devastated in minutes.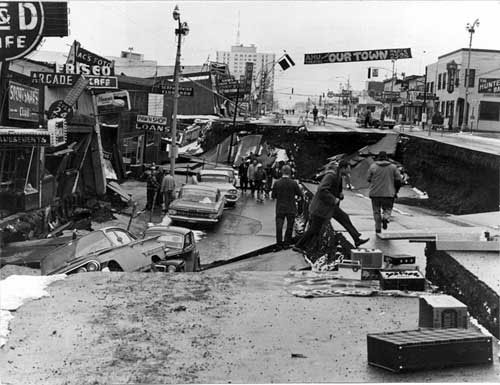 Alaska Earthquake March 27, 1964 - downtown Anchorage, Alaska.
Photo courtesy USGS

Anchorage began to crumble as the shaking continued. Houses and buildings twisted and collapsed. Lamp posts fell over. Trees were uprooted. Unable to remain standing, people clung to lamp posts, cars, and each other in an attempt to keep from being knocked down. For approximately four minutes, the ground shook. When it was finally over, Anchorage was in ruins, a victim of a massive magnitude 9.2 earthquake, the second largest earthquake ever recorded in world history.
This historic quake was just the start. Underwater landslides gave way to local tsunamis destroying coastlines from British Columbia to California. According to the United States Geological Survey (USGS), the number of deaths from the earthquake totaled 115 in Alaska. The USGS reported the death toll was extremely small for a quake of this magnitude due to low population density, the time of day and the fact that it was a Good Friday holiday, and the type of material used to construct many buildings (wood).
A combination of shaking, tsunamis, landslides, and liquefaction destroyed buildings, houses, roads, and other infrastructure. Coastal land-level changes of as much as 36 feet of uplift occurred in one area and 6 feet of subsidence in another over a region two-thirds as large as the state of California. This great earthquake was felt over a half million square miles and resulted in at least $350-500 million in property damage in Alaska in 1964 dollars, a figure over $2 billion today.
The epicenter, of what came to be known as the Great Alaskan Earthquake, was deep beneath Prince William Sound - 75 miles east of Anchorage and 56 miles west of Valdez. The 9.2 quake produced sloshing of water as far away as Louisiana and was reported to have even moved parts of Florida and Texas a couple of inches.
Anchorage sustained the most severe damage to property. About 30 blocks of dwellings and commercial buildings were damaged or destroyed in the downtown area. The J.C. Penny Company building was damaged beyond repair; the Four Seasons apartment building, a new six-story structure, collapsed; and many other multistory buildings were damaged heavily. The schools in Anchorage were almost devastated. The Government Hill Grade School, sitting astride a huge landslide, was almost a total loss. Anchorage High School and Denali Grade School were damaged severely. Duration of the shock was estimated at 3 minutes.
Landslides in Anchorage caused heavy damage. Huge slides occurred in the downtown business section, at Government Hill, and at Turnagain Heights. The largest and most devastating landslide occurred at Turnagain Heights. An area of about 130 acres was devastated by displacements that broke the ground into many deranged blocks that were collapsed and tilted at all angles. This slide destroyed about 75 private houses. Water mains and gas, sewer, telephone, and electrical systems were disrupted throughout the area.
Earthquake effects were heavy in many other Alaska towns, including Chitina, Glennallen, Homer, Hope, Kasilof, Kenai, Kodiak, Moose Pass, Portage, Seldovia, Seward, Sterling, Valdez, Wasilla, and Whittier.
Much of the damage and most of the lives lost were due to the effects of water waves. These were mainly of two kinds: the tsunami of open-ocean sea wave, generated by large-scale motion of the sea floor; and the local wave, generated by underwater landslides in bays of fiords. Of the deaths attributable to the effects of the ocean, about one-third were due to the open-ocean tsunami: 4 at Newport Beach, Oregon; 12 at Crescent City, California; and about 21 in Alaska. Local waves claimed at least 82 lives. Maximum height reported for these waves were 229 feet in Valdez Arm.
Seiches, a sort of sloshing of water back and forth in a small body of water like a boat harbor or swimming pool, were observed as far away as Louisiana where a number of fishing boats were sunk. Oscillations in the height of water in wells were reported from as far away as South Africa.
The earthquake was accompanied by vertical displacement over an area of about 193,051 square miles The major area of uplift trended northeast from southern Kodiak Island to Price William Sound and trended east-west to the east of the sound. Vertical displacements ranged from about 11.5 meters of uplift to 2.3 meters of subsidence relative to sea level. Off the southwest end of Montague Island, there was absolute vertical displacement of about 13 - 15 meters. Uplift also occurred along the extreme southeast coast of Kodiak Island, Sitkalidak Island, and over part or all of Sitkinak Island. This zone of subsidence covered about 285,000 square kilometers, including the north and west parts of Prince William Sound, the west part of the Chugach Mountains, most of Kenai Peninsula, and almost all the Kodiak Island group.
This shock generated a tsunami that devastated many towns along the Gulf of Alaska, and left serious damage at Alberni and Port Alberni, Canada, along the West Coast of the United States (15 killed), and in Hawaii. The maximum wave height recorded was 67 meters at Valdez Inlet. Seiche action in rivers, lakes, bayous, and protected harbors and waterways along the Gulf Coast of Louisiana and Texas caused minor damage. It was also recorded on tide gages in Cuba and Puerto Rico.
Old Valdez was built on unconsolidated deltaic sands and gravels, which are extremely unstable during shaking. Because of this, shock waves from the 1964 Alaska earthquake that struck Valdez immediately caused the sediments under the waterfront area to spontaneously liquefy which caused a large section approximately 4,000 feet long by 600 feet wide of the delta to slump into Port Valdez.
In Valdez, 32 people died in as a result of a tsunami caused by an underwater landslide; tsunamis generated by the earthquake also killed 23 people in the village of Chenega, 12 people in both Whittier and Seward, and 8 in Kodiak.
Along with sending most of the Valdez Port Facilities to the bottom of Port Valdez, the slump displaced a large volume of water, generating a local tsunami. This all occurred before the earthquake shaking ended and the The Valdez old town had no warning at all. All the people on the old town docks at the time were killed by the tsunami. The combined effects of the earthquake, and the 30- to 40-foot local tsunami, destroyed most of the waterfront, and caused damage a considerable distance inland. Adding to the catastrophe, the forces caused the tanks at the Union Oil Company to rupture, which started a fire that spread across the entire Valdez waterfront, finishing off the few structures still standing. Smaller waves from the main tectonic tsunami struck Valdez several hours after the local tsunami, but their effect was minimal, as there was nothing left too destroy.
In addition to ruining Valdez, the local tsunami affected other areas of Port Valdez as well. At Cliff Mine the tsunami run up was 170 feet , and a run up in excess of 220 feet was also reported in Shoup Bay.
After suffering through the tsunami experience of 1964, the town of Valdez was rebuilt at it's present location and situated at a higher elevation, and on more stable ground, to offer greater protection from tsunamis.
This great earthquake was felt over a large area of Alaska and in parts of western Yukon Territory and British Columbia, Canada.
In the first day there were 11 aftershocks with magnitude greater than 6.0; in the next three weeks there were 9 more. Residents endured thousands of aftershocks in the months following the quake, and felt smaller aftershocks for more than a year.
The 1964 Alaska tsunami was the second largest ever recorded, following the May 1960 Chile earthquake with a magnitude 9.5.
Edited by Mary Kauffman, SitNews
On the Web:
USGS Photo Gallery: Alaska 1964 Earthquake

Source of Information:
USGS
www. usgs.gov
E-mail your news & photos to editor@sitnews.us


Publish A Letter in SitNews
Contact the Editor
SitNews ©2013
Stories In The News
Ketchikan, Alaska

Articles & photographs that appear in SitNews may be protected by copyright and may not be reprinted without written permission from and payment of any required fees to the proper sources.