State of the Art Skateboard Park Becomes A Reality
By AMANDA HEIN & MARY KAUFFMAN
March 15, 2013
Friday

(SitNews) Ketchikan, Alaska - The dream of a skateboard park in Ketchikan is becoming a reality. Years in the planning, "The Shane Howard White Skateboard Park" will be a state of the art park that will be enjoyed by many for years to come said Bob Fultz, President of Ketchikan Youth Initiatives.
Ground-breaking is planned for June with "The Shane Howard White Skateboard Park" to be completed by September 2013 said Bobbie McCreary of Ketchikan Youth Initiatives.
In January, the Ketchikan Borough Assembly granted $150,000 to Ketchikan Youth Initiatives to develop a professionally built concrete skate park. There were two dozen members of the community present at that assembly meeting who stood up in support of the Ketchikan Borough Assembly approving the proposed arrangement to grant property and funding to Ketchikan Youth Initiatives to develop a concrete skate park. Many spoke to the assembly in favor of building a Ketchikan skate park. One man in his thirties speaking to the Assembly said he was in high school when he first started collecting signatures in support of a skateboard project which gave some background in how long the discussion about building a skateboard park had been ongoing.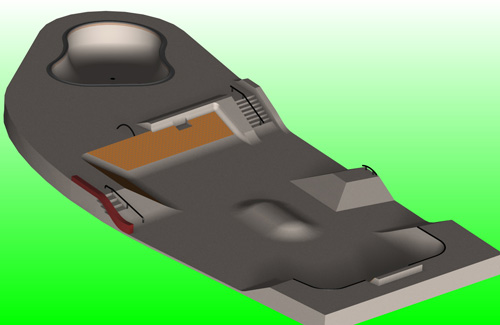 Graphic of the proposed design of "The Shane Howard White Skateboard Park"
Image courtesy KYI

The Borough Assembly also granted Ketchikan Youth Initiatives a parcel of land to build a 6,200 square foot concrete skate park. Presented three options on how the skate park could be laid out, option one was granted which creates a parcel bordered by Park Avenue, Schoenbar Road, and the underground culvert. This option will maintain just enough distance from the edge of the culvert to enable work on it. If the culvert must eventually be opened, the centerline could be shifted closer to the school and leave the skate park undisturbed. This option allows KYI to complete the first phase of the skate park with an option for first right of refusal on additional land in this parcel for future expansion of the skateboard park as additional funding is secured. Currently, there is not committed funding for any future expansions. First to be addressed before any future expansion is building a free standing roof over the concrete park.
Years in the planning, President of Ketchikan Youth Initiatives Bob Fultz said, "So many people have been involved and volunteered their time with Ketchikan Youth Initiatives on this project sharing the vision of a park that benefits all classes and is open to everyone to test their skills and to experience the thrills that they go after." Fultz said a few names that come to mind are Taira Wilhelm, Ty Rettke, founding President of KYI, other KYI Board members and the granddaddy of local skaters, Pete Halvorsen. "We've had Americorps VISTA workers too and students in all grades and schools getting the word out and gathering names of supporters as well as numerous moms and dads, grandmas and grandpas, brothers and sisters, who have inquired about this project while KYI was set up at the Plaza or the Blueberry Arts Festival."
Ketchikan Youth Initiative has been involved in the skateboard park advocacy since 2006. Much research was done about other skate parks across Alaska and visits made to several. By January of 2013, there was sufficient funding in excess of $225,000 that had already been committed to build the concrete park and begin the funding of a roof to cover it.
Among the many in the community who have backed this project over the years are Al and Shirley White who donated very generously toward the project with a request to name the park after their grandson, Shane White.
According to Bobbie McCreary, Shirley White spoke with Ketchikan Youth Initiative years ago about her desire to build a skate park in Ketchikan in honor of her grandson who died "too young". When it became likely that Ketchikan Youth Initiatives would be able to develop the skate park, the group connected with the Whites who pledged a minimum of $75,000 if Ketchikan Youth Initiative could grant them naming rights to honor their grandson Shane White.
Fultz said, "Although the money the Borough budgeted for this park and the property development is monumental, it would not be possible to complete this project without the generous donation by Mr. and Mrs. White who requested the park be named after their grandson, Shane."
Ketchikan Youth Initiatives spoke with classmates of Shane's who agreed this was very appropriate because Shane's whole life revolved around skateboarding and he was widely known as the "skater kid". The KYI Board discussed this opportunity and agreed that it is meaningful to connect the skate park with a young person who loved skateboarding and would have loved to have a real skate park to use here. A spokesperson for KYI said the organization is very appreciate of the White's donation which allowed the project to move into the development of the skate park with full funding for Phase One and and part way into funding the roof that will cover it. Donations of time and services from many others in the community also made it feasible for KYI to accomplish this exciting project.
With the grant agreement approved by the Ketchikan Borough Assembly and a subdivision plat being prepared, work is currently now ongoing with the the City of Ketchikan for the land transfer to be approved and to move electric and telecommunications lines.
"A state of the art design was completed that I feel will satisfy everyone's interests and tastes." Bob Fultz said to the Assembly in January. "No matter what their skill level, it will be fun and heavily used."
A group of skaters called the Skaters Users Group has been hosting regular meetings at Rain City Tattoo. They are held bi-weekly and continue to draw interest from various parties. The skate park has caught a lot of attention and gathered a tremendous amount of support said Fultz.
According to Bobbie McCreary of Ketchikan Youth Initiative, local skaters and their families and friends will take the responsibility to establish and monitor safety rules and maintain the park and its surroundings. Many have said they can hardly wait to drive by and see people of all ages skating there she said.
Bob Fultz stressed that Ketchikan Youth Initiatives is very thankful for everyone who has helped in making "The Shane Howard White Skateboard Park" a reality. Fultz thanked the Ketchikan Gateway Borough Assembly, particularly Agnes Moran, the Borough Planning, Public Works and Parks and Recreation Departments, as well as the Borough Deputy Manager and Borough Manager, along with the Borough Attorney, for all their efforts working with Ketchikan Youth Initiatives over the years on all of the aspects of the project and grant agreement.
Fultz also thanked the City of Ketchikan Public Works Department for addressing various concerns. He also thanked the Ketchikan Public Utilities Electric Division for their hard work in addressing the overhead utility lines to satisfy any requirements for the skate park and GCI Cable for addressing the relocation of cable along with the KPU phone and electric lines.
Fultz also thanked the baseball group for participating with KYI. He expressed a big thank you to Jason, Michele, and Milo from Rain City Tattoo for their fund-raiser that donated $1,600. Fultz thanked the Adult KYI Board, comprised of: Jonathan Tulli, Scott Edwards, Blake Chupka, and Bryce Timm. Fultz thanked Bobbie McCreary for her hard work and countless hours of dedication to the project, and her many other efforts to benefit Ketchikan's youth.
On the Web:
Learn more about Ketchikan Youth Initiatives
http://www.kyiyouth.org
E-mail your news & photos to editor@sitnews.us


Publish A Letter in SitNews
Contact the Editor
SitNews ©2013
Stories In The News
Ketchikan, Alaska

Articles & photographs that appear in SitNews may be protected by copyright and may not be reprinted without written permission from and payment of any required fees to the proper sources.