Alaska's peonies are the state's new cash crop
By NANCY TARNAI
March 06, 2013
Wednesday PM

(SitNews) - A little over a decade ago you'd have been hard pressed to find peonies growing in Alaska, except for the occasional decorative backyard bush. Today, there are 25 farms that belong to the Alaska Peony Growers Association.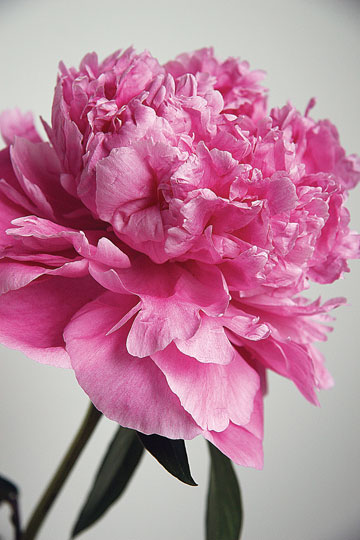 The peony is a beautiful flower in great demand for weddings and other special occasions.
Photo courtesy of Pat Holloway
At the group's winter meeting Feb. 13-15 in Fairbanks, 150 people gathered to learn about peony growing techniques and share their stories of pluck and perseverance.
"It's been incredible," said Franci Havemeister, director of the Alaska Division of Agriculture. "I was at their first meeting five years ago and the growth is amazing." Peony sales present an economic potential for Alaska, she said. "We can meet the demand no one else is able to meet. It's a wide open market."
Apparently, eager growers concur. According to Pat Holloway, a horticulture professor at the University of Alaska Fairbanks School of Natural Resources and Agricultural Sciences, commercial production began in 2004 with small test plots in Fairbanks, Kenai and Homer. By 2012, more than 100,000 roots had been planted by 38 growers. The projected statewide harvest by 2015 is over 1 million peony stems.
Holloway, who got the ball rolling on peony trials at the Georgeson Botanical Garden, tracks growth and development of the new industry. "Growers, industry support groups, legislative leaders, educational and research organizations need to know basic statistics on crop production, markets and growth in order to support and fund activities that promote this industry," Holloway said. "Hard numbers also provide a great wow factor. To say an industry is thriving is quite superficial unless it can be backed up with solid numbers and trends."
By surveying 38 growers, Holloway determined sales of fresh cut peony stems doubled from 2011 to 2012. Sales to other states dominated the markets and a small quantity was shipped to Canada and Taiwan. More than 25,000 stems were sold in 2013, at a price of $2 to $10 per stem, depending on the buyer.
What possesses people to suddenly turn their land into peony farms?
For Kim and John Herning it was John's retirement as an airline pilot that did the trick. The couple was looking for something that would provide retirement income and become something to hand down to their children and grandchildren. "We're ready to plant 2,000 roots this spring," Kim said. They are converting a former hay farm off of Chena Hot Springs Road into a peony patch.
"We hope it's successful and can make money," Kim said. "Maybe one of our children will want to take it on."
Marilyn Berglin said it merely took the delightful smell of peonies at the Georgeson Botanical Garden to convince her to grow the flowers. "I was charmed by their beauty," she said.
Last summer, Berglin planted 130 roots and will be putting in 2,000 at her farm in Fox this year. "It's something I'm going to really like," she said. "I hope to expand."
Michael Williams' story takes an interesting turn in that his land in the Matanuska-Susitna Valley is off the road system. The Eagle Song Family Peony Farm came about after the family lodge lost its fishing rights after regulations changed.
When Williams discovered reports about the success of Alaska peony growers, he decided this was an entirely doable project. "We did the logistics and the business plan and now we've got 10,000 roots in the ground."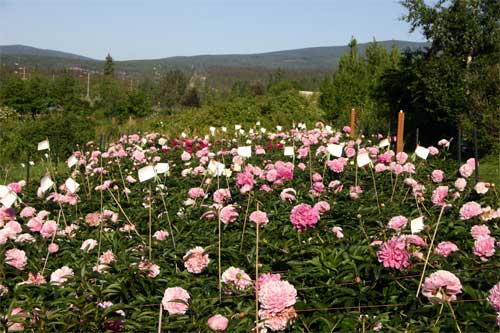 Peony test plots around Alaska reveal the variety of colors and styles of peonies, as well as scientific data about growth and production.
Photo courtesy of Pat Holloway

After 17 years of doing business with flight services, Williams will now pay them to transport peonies instead of tourists. "I can have flowers to Anchorage in 25 minutes," he said.
Three of his four children are interested in the new venture, which seals the deal for Williams. "I hope to provide a living and create something to pass on," he said.
He also hopes to come up with a blueprint for other operations and inspire rural entrepreneurs and farmers to follow suit. "It's definitely hard work," he said.
Once planted, the roots take several years to produce a product that can be sold. And there are serious considerations about soil quality and fertilizers.
UAF SNRAS Associate Professor Mingchu Zhang studies the soil quality for optimum peony growth. He told the conference attendees, "We have a long way to go but the research will be able to tell a lot."
Peonies require 16 essential nutrients. "Each one is irreplaceable," he said. "If one is missing the plant won't perform."
He is looking at 31 soil samples in 17 locations. Once completed, the results will be published.
Ron Illingworth, outgoing president of the peony association, said, "We are starting to see what research is doing for us."
On the Web:
This column is provided as a service by the UAF School of Natural Resources and Agricultural Sciences and the Agricultural and Forestry Experiment Station.
Nancy Tarnai is the school and station's public information officer.
She can be reached at ntarnai@alaska.edu.
E-mail your news & photos to editor@sitnews.us


Publish A Letter in SitNews
Contact the Editor
SitNews ©2013
Stories In The News
Ketchikan, Alaska

Articles & photographs that appear in SitNews may be protected by copyright and may not be reprinted without written permission from and payment of any required fees to the proper sources.