Biobrick Manufacturing Facility in Wrangell Explored
March 03, 2012
Saturday

(SitNews) Wrangell, Alaska – A growing coalition of groups and businesses are working together to develop a biofuel manufacturing facility in the Southeast island community of Wrangell. Space heating with biofuels is a key recommendation of the recently released draft Southeast Integrated Resource Plan, and with a near 50 percent increase in load on the hydropower system over the past 5 years due to oil to electric boiler conversions, Wrangell residents are looking for local solutions that can create jobs and keep home heating affordable.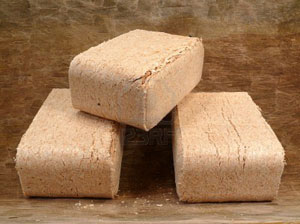 Wood briquette
"We see a real opportunity to produce a local product for local use that will help preserve our hydropower for fish processors and other industrial users," said Jeremy Maxand, SEACC community organizer in Wrangell. "We believe that matching local resources such as wood and paper waste, with local energy needs is an approach that can be applied around the region."
Over the past several years, Southeast has seen a number of successful locally driven biomass boiler projects, including community schools in Craig and Thorne Bay, the Sitka Coast Guard facility, Sealaska's One Plaza building in Juneau, and two federal buildings in Ketchikan.
Innovation and cooperation are rising to satisfy the growing demand for wood fuel generated by these wood-based boilers. Just last month, Ketchikan entrepreneurs Larry Jackson (Tongass Forest Enterprises) and Trevor Sande began producing their first wood pellets.
While wood boilers in the region use a range of materials, such as pellets and chips, Wrangell is considering manufacturing a wood and paper "briquette" that can be used in home wood stoves. Unlike pellet stoves, the use of briquettes, or bricks, requires no conversion and can be used just like regular firewood.
Although the plan is still evolving, local cooperating partners envision using mill wood waste and municipal paper and cardboard waste as the feedstock for the bricks. Wrangell is home to two small mills, one of which processes up to 1.5 million board feet of timber annually generating an estimated 2,000 tons of wood waste. Typically, this waste is disposed of in burn piles, but mill owner Mike Allen says he sees a business opportunity as well as a cleaner and safer way to deal with this inevitable waste stream.
"Last year the burning of my wood waste caused a fire that cost me 20,000 board feet of milled lumber," Allen said. "As a mill owner and operator, I am always looking for ways to get the most value from my product, and using this waste to create a burnable and sellable fuel would do just that."
In addition to mill waste, Wrangell generates approximately 300 tons of paper waste each year that is shipped by barge to a landfill in the Lower-48, costing taxpayers upwards of $70,000 per year. The City and Borough of Wrangell has included the development of a briquette pilot project in its "Wrangell Economic Cluster Initiative Plan" that will be voted on by the Borough Assembly in early March and if passed, will be communicated to the United States Department of Agriculture and Forest Service. The Borough's plan states in part:
"Wrangell faces two growing challenges that are quickly converging to create an opportunity that could benefit the community: rising electrical loads for residential and commercial heating and growing costs for municipal waste management. The City & Borough of Wrangell would like to partner with the USDA and other agencies and organizations to develop a demonstration project to manufacture 'BioBricks' from small mill waste and municipal solid waste."
Wrangell Cooperative Association, the federally recognized Tribe in Wrangell, recently sent a letter of interest to Anchorage-based Alaska Village Initiatives requesting assistance in performing a feasibility study for biofuel manufacturing in Wrangell. The letter read in part:
"We believe Wrangell has a tremendous opportunity to develop a biomass program that will create jobs, keep energy costs low, save taxpayers on municipal waste management, retain precious hydropower for industrial use, and most important, contribute to our Tribe's self-determination."
To gauge Wrangell's level of interest in using briquettes for home heating, SEACC commissioned a phone survey of registered voters with landlines. The survey showed 38 percent of the 101 respondents in Wrangell would use a locally manufactured biofuel product to heat their home.
"What this tells us is that making a biofuel product in Wrangell has the real potential for keeping our community self-sufficient and financially independent," Maxand said. "Manufacturing a fuel for home heating, for a number of reasons, makes both dollars and sense in the long run."
On the Web:
Tongass Forest Enterprises - Ketchikan, Alaska
http://www.akforestenterprises.com/
Source of News & Photo:
Southeast Alaska Conservation Council (SEACC)
www.seacc.org

The Southeast Alaska Conservation Council (SEACC) has worked in the region since 1970. As a coalition of 15 member groups in 11 communities, stretching along the coast from Ketchikan to Yakutat, our goal is to safeguard the integrity of Southeast Alaska's unsurpassed natural environment, while supporting the sustainable use of our region's natural resources.
E-mail your news & photos to editor@sitnews.us


Publish A Letter in SitNews Read Letters/Opinions
Contact the Editor
SitNews ©2012
Stories In The News
Ketchikan, Alaska

Articles & photographs that appear in SitNews may be protected by copyright and may not be reprinted without written permission from and payment of any required fees to the proper sources.