Early morning fire destroys home, dreams
March 22, 2011
Tuesday

(SitNews) Ketchikan, Alaska - It is undetermined exactly how or when the devastating early morning fire started that burned Vivian Phillips' Pennock Island home to the ground on March 5th.
Awakened by the sound of glass breaking and seeing a "ton of smoke and flames", in an effort to save herself, Phillips pushed out her bedroom window screen, grabbed a blanked, and escaped from her burning home. Recalling that she cried as she lay in the snow with only the blanket for warmth, she called for her cat and dog. Phillips then walked through the frozen snow barefoot to make it over to another Pennock Island home owned by Katy & Larry Suiter around 5:00 am. Afterwards, Phillips reported she couldn't feel her feet for 6-8 hours because they were so numb from the freezing walk for help.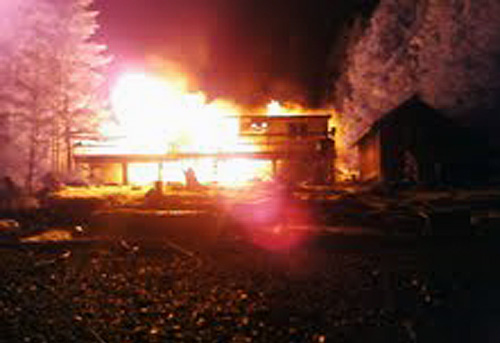 Vivian Phillips' Pennock Island home burns to the ground - March 5th.
Photo by Larry (Jack) Suiter

Katy Suiter said her husband Larry (called Jack by the family) threw on his clothes and ran immediately over to Phillips' burning home to see if he could pull anything out, but all he managed was a cooler and two kayaks that were in the shed next to the house. The shed eventually burned up as well.
The United States Coast Guard, Alaska State Troopers and the City of Ketchikan fire boat all responded. Katy Suiter said all those who responded were so very nice to Phillips and she was checked out by the Emergency Medical Services (EMS) to make sure she wasn't in need of hospitalization. Phillips suffered a couple of blisters on the tips of her fingers, but other than that she was unharmed physically.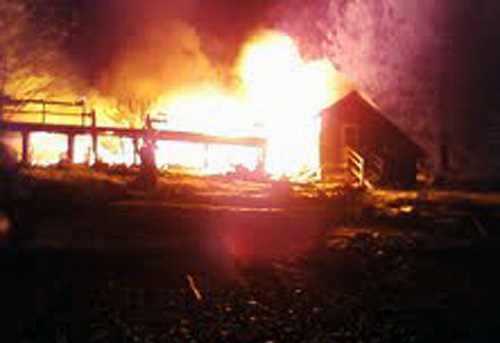 The fire has consumed the home, & now Phillips' shed begins to burn.
Photo by Larry (Jack) Suiter

Katy Suiter said, "The good news is her cat turned up a few days later - you can't imagine how happy she was to see that big ol' boy."
In a letter written to SitNews, Katy Suiter said many will remember Vivian Phillips as being a great waitress at The Landing and then later at Cape Fox Lodge. She worked the morning and lunch shift in both places, and she was recognizable by her long, gray hair that she wore in a single braid down her back, as well as her infectious laugh. However, you had to frequent either establishment prior to 10 years ago, as that is when Phillips had a brain aneurysm and has not been able to work since that time.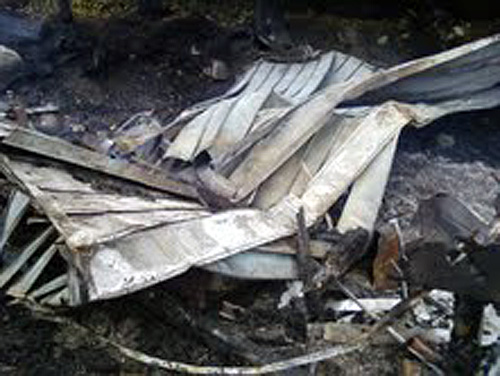 Remains of Phillips' home after the fire
Photo by Larry (Jack) Suiter

Phillips is currently staying with her neighbors, the Suiter's and doesn't have any room for accepting donations of furniture or anything like that at this time. Once her house is rebuilt, she will have need of everything to refurnish her home.
For those who would like to donate and help Phillips put her life and dreams back together, an account at Tongass Federal Credit Union has been set up in Vivian Phillips' name. Tongass Federal Credit Union is located at 2000 Tongass Avenue in Ketchikan.
E-mail your news & photos to editor@sitnews.us


Publish A Letter in SitNews Read Letters/Opinions
Contact the Editor
SitNews ©2011
Stories In The News
Ketchikan, Alaska