New Study Illustrates Shifting Biomes in Alaska
March 08, 2011
Tuesday

(SitNews) - A new study recently released in the EarlyView of Ecology Letters addresses forest productivity trends in Alaska, highlighting a shift in biomes caused by a warming climate. The findings, conducted by scientists at the Woods Hole Research Center and three other institutions based in Alaska and France, linked satellite observations with an extensive and unique tree-ring data set. Patterns observed support current hypotheses regarding increased growth of evergreen forest at the margins of present tundra and declining productivity at the margins of temperate forest to the south. This study provides a regional picture of forest productivity which did not previously exist.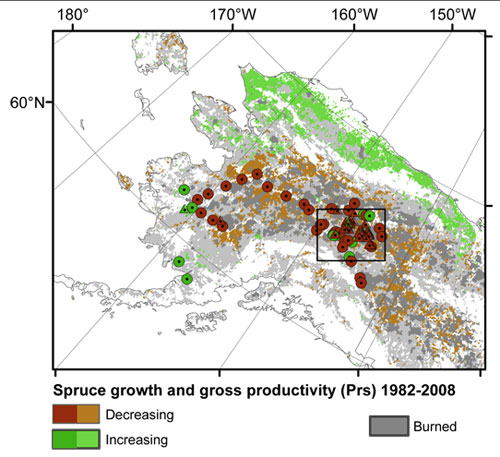 Trends in remotely sensed gross productivity (Prs) between 1982 and 2008 and trends in spruce growth since 1982 in Alaska.
Graphic courtesy Wood Hole Research Center

According to lead author Pieter Beck, a post-doctoral fellow at WHRC, "The results provide evidence for the initiation of a biome shift in response to climate change, and indicate that some ecosystem models may be missing fundamental changes taking place in the circumpolar region." He adds that "while the findings contrast with some recent model predictions of increased high latitude vegetation productivity, they are consistent with longer-term projections of global vegetation models."
Scott Goetz, a senior scientist at WHRC, proposed the study and co-authored the manuscript. He says, "Most people don't think of high latitudes forests as being drought stressed - and they are not in the traditional sense of having soils dry up and blow away - but their growth is negatively impacted by hot dry air masses and those have increased in recent years. This paper shows those drought impacts are captured in both the satellite and the tree ring record. Of course the tree rings go back in time much further than the satellite observations, which only extend about 30 years, but the changes that we observe from satellites are clearly supported not only by the tree rings but also by carbon isotope analysis of the wood."
Beck adds that climate driven changes in the disturbance regime, which can rapidly alter forest dynamics and the ability of boreal forests to migrate into current tundra areas, will most likely shape the biome shift in the future.
Researchers from the University of Alaska School of Natural Resources and Agricultural Sciences, the Panthéon Sorbonne Archéologie des Amériques, and the Bureau of Land Management participated in the study and co-authored the paper.
Dr. Beck is a vegetation ecologist who specializes in remote sensing and modeling of vegetation in high latitudes. His particular focus is on the effects of climate variability and change on the phenology, distribution, and carbon dynamics of vegetation. Dr. Beck has previously worked as an independent advisor for environmental impact assessment in northern Scandinavia. He obtained his Ph.D. from the University of Tromsø, Norway, and the Institute for Geo-Information Science and Earth Observation (ITC) in the Netherlands.
Dr. Goetz works on the application of satellite imagery to analyses of environmental change, including monitoring and modeling links between land use change, forest productivity, biodiversity, climate, and human health. Before joining the WHRC, he was on the faculty at the University of Maryland, where he maintains an adjunct associate professor appointment, and was a research scientist at NASA's Goddard Space Flight Center. He received his Ph.D. from the University of Maryland and recently completed a Fulbright-sponsored visiting scientist appointment in Toulouse, France.
On the Web:
Ecology Letters (Full Article)
Changes in forest productivity across Alaska consistent with biome shift
http://onlinelibrary.wiley.com/doi/10.1111/j.1461-0248.2011.01598.x/full
Source of News:
Wood Hole Research Center
www.whrc.org
E-mail your news & photos to editor@sitnews.us


Publish A Letter in SitNews Read Letters/Opinions
Contact the Editor
SitNews ©2011
Stories In The News
Ketchikan, Alaska