From Ketchikan to Barrow, Alaskans Unite to "Choose Respect"
March 31, 2010
Wednesday

(SitNews) - Eighteen communities across the state today launched the public awareness campaign "Alaskans Choose Respect," with events ranging from marches to rallies to candlelight vigils to potlatches. "Alaskans Choose Respect" is an ongoing effort to raise awareness of the epidemic of sexual assault and domestic violence in Alaska.
"No longer will we accept a culture of silence and shame, of convenience, and of looking the other way," Governor Sean Parnell said. "The responsibility to safeguard Alaska's families and future belongs to us all. I call on our church, synagogue and community leaders, our elected officials, our Native elders and corporations, I call on our families and communities and every Alaskan to live out the truth of our values, and to do what is right. Together we can make a difference."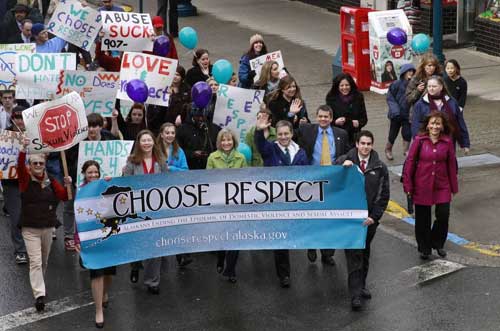 Governor Sean Parnell with First Lady Sandy Parnell lead the Alaskans Choose Respect March in Juneau.
Photo courtesy Office of the Governor

Governor Parnell kicked off a rally on the steps of the Capitol and led a march through downtown Juneau. Attorney General Dan Sullivan and U.S. Senator Lisa Murkowski led a march from Anchorage's Delaney Park Strip to a rally in Town Square Park; Lieutenant Governor Craig Campbell led a rally at the Golden Heart Plaza in Fairbanks; and state commissioners and community partners across the state joined forces to participate in events from Barrow to Ketchikan.
Cheryl DeWitt an Education Specialist with the Ketchikan-based Women In Safe Homes (WISH) said W.I.S.H. partnered with agencies, volunteers, and businesses in Ketchikan and surrounding areas to provide activities for the public awareness campaign "Alaskans Choose Respect."
Ketchikan joined other cities and villages in Alaska today at Governor Parnell's request to "March Against Domestic Violence and Sexual Assault". Ketchikan participants marched from the University of Alaska Southeast campus to The Plaza Mall to create an awareness of domestic violence and sexual assault.
DeWitt said WISH is also working in schools and providing programs to promote healthy relationships and address sexual assault/domestic violence prevention among Ketchikan's youth and young adults. "Be the Change" youth group and "LEAP" youth/young adult groups explore self development and positive mediums of self expression. "We also work with the Office of Children's Trust to reunify families and offer parenting courses. We believe educating young people and giving tools to parents will help create self awareness and ultimately prevent unhealthy behaviors," said DeWitt in an email.

DeWitt provided some statistics in an effort to create awareness and create support to continue to address Alaska's epidemic rates of abuse.
The rate of sexual assault in Alaska is the highest in the nation: two-and-a-half times the national average
Alaska's rate of child sexual assault is six times the national average
74.7% of Alaskans have experienced or know someone who has experienced domestic violence or sexual assault, according to a 2006 public opinion survey
More than three out of four Alaska Native women will be physically assaulted in their lifetime, and more than one out of three will be sexually assaulted
69% of homicides in 2008 had a relationship to domestic or sexual violence - Source of rates from Alaska's 2010 Initiative to Reduce Domestic Violence and Sexual Assault:
Governor Parnell today also signed legislation that would empower magistrate and district court judges to grant protective orders in cases of sexual assault, in addition to domestic violence and stalking. HB 307, sponsored by Representative Lindsey Holmes, is especially important to many rural communities in Alaska that have access only to magistrate or district courts.
The governor has sponsored four bills aimed at ending the cycle of domestic violence and sexual assault in Alaska. The legislation would toughen sentences for sex offenders, establish standards for post-conviction DNA testing, revise bail laws, and pay for a new crime lab.
Sources of News:
Office of the Governor
www.gov.state.ak.us

Women In Safe Homes - Ketchikan, Alaska

E-mail your news & photos to editor@sitnews.us


Publish A Letter in SitNews Read Letters/Opinions
Contact the Editor
SitNews ©2010
Stories In The News
Ketchikan, Alaska