TEMSCO Helicopters begins fleet upgrade
March 02, 2010
Tuesday

(SitNews) - From the Eurocopter booth at Heli-Expo, American Eurocopter announced last week that TEMSCO Helicopters has signed for an AS350 B3 helicopter as it begins a fleet upgrade program. TEMSCO's fleet includes 56 helicopters and 39 of those are Eurocopter aircraft.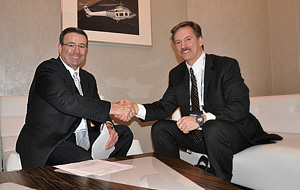 TEMSCO Helicopters' purchase of an AS350 B3 ­ announced at Heli-Expo 2010 ­ is marked by Larry Roberts (left), Vice President of Sales, Marketing and Customer Support for American Eurocopter, and Joe Hicks, Senior Vice President of Operations for TEMSCO Helicopters.
"TEMSCO was one of the launch customers for the AStar in North America and they played an integral part in the development of the AS350 B3," explained Larry Roberts, Vice President of Sales, Marketing and Customer Support for American Eurocopter. "This is just the first B3 in the upgrade plan and we look forward to working with them in the future as they continue to upgrade their fleet."
"We have operated AStars since 1983 and we are very comfortable with the reliability and performance of these helicopters," said Joe Hicks, Senior Vice President of Operations at TEMSCO Helicopters. "The B3 is a workhorse and it is perfect for our fleet upgrade plans. It provides us with the extra power and performance we need, plus the added safety features including dual hydraulics and dual FADEC."
The AS350 is a powerful and reliable aircraft that has established itself with its unmatched performance, extensive mission equipment options and the safety of its multiple-redundancy system design. With built-in maneuverability, super visibility and low vibration levels in the cabin, the AS350 has earned its reputation as a true multi-mission workhorse. The hot-and-high AS350 B3 version-outfitted with a FADEC-equipped 847-shp Turbomeca Arriel 2B1 - retains the B2's spacious cabin while boosting the speed up to 140 knots and adding extra lifting capability.
TEMSCO (an acronym from the words: Timber, Exploration, Mining, Survery, Cargo Operations) was founded in 1958 in Ketchikan, Alaska. Its helicopter fleet has grown as it has expanded its operation into tourism, hospital transport, firefighting, international, and other growing markets.
Airplanes had been used in Alaska for decades before TEMSCO placed their helicopter in Alaska in the 1960's. The terrain and type of work in Alaska was perfectly suited for the helicopter and TEMSCO Airlines (as it was known long ago) realized the time was right to introduce helicopters into its fleet of aircraft. Founder of TEMSCO and Alaska Aviation Pioneer, Ken Eichner of Ketchikan proved that helicopters were an invaluable tool for the rugged and remote terrain of Alaska. He became the President of the company in 1965. Eichner built the company into one of the most successful helicopter companies in Alaska.
Through countless search and rescue missions in the 60's, 70's, 80's, and 90's, Ken Eichner and other TEMSCO Pilots became saviors to many who might have perished were it not for TEMSCO. Flying injured loggers, lost hunters, or scooping up overboard fisherman with the helicopter (utilizing a device that Ken Eichner helped invent) was a task TEMSCO is still completing successfully to this day.
TEMSCO Helicopters has expanded its operation into tourism, hospital transport, firefighting, international, and other growing markets. Since Ken Eichner's retirement in the early '90s TEMSCO continues his vision of service and dedication to the community. Ken Eichner's grandson is now Chief Pilot at TEMSCO Helicopters, Inc. helping to ensure the wisdom and practical knowledge is passed down to new generations of TEMSCO Pilots and Mechanics and ultimately making the safety and job efficiency a priority for TEMSCO's Customers.
Source of News:
TEMSCO Helicopters, Inc.
www.temscoair.com

American Eurocopter
www.eurocopterusa.com

American Eurocopter is a helicopter manufacturer that produces, markets, sells and supports the broadest range of civil and para-public helicopters offered by any manufacturer in the United States. The company is a subsidiary of EADS North America Holdings, the North American operations of EADS, a global leader in aerospace, defense and related services, and is an affiliate of Eurocopter, the largest helicopter manufacturer in the world. American Eurocopter's product line represents the most cost-effective, technologically-advanced helicopters, ranging from light single to heavy twin, serving all markets and missions. Company headquarters and main facilities are located in Grand Prairie, TX, with a large manufacturing and production facility in Columbus, MS, that produces the UH-72A for the U.S. Army's Light Utility Helicopter program.
E-mail your news & photos to editor@sitnews.us


Publish A Letter in SitNews Read Letters/Opinions
Contact the Editor
SitNews ©2010
Stories In The News
Ketchikan, Alaska