Outdoors
Winter weekend at the Naha
By MICHAEL YOUNGBLOOD
March 09, 2009
Monday

Ketchikan, Alaska - I had been watching the weather for what seemed like months, waiting for a good weekend to go out on the boat and stay out for a few days. As the long President's Day weekend approached I could not believe that the forecast just kept getting better and better. My wife and I, the boat, and our 3 dogs were definitely ready to get out of town for a few days.
We had a very pleasant run from Bar Harbor in town, past Ward Cove, Pond Reef, Point Higgins, Clover Pass, and eventually into the Loring area. Sometimes the first section of this trip can be a little rough, but not on this trip. I had prepared a couple of crab pots, and we dropped them out in front of Loring. I had originally hoped to get out to Marguerite Bay in Traitor's Cove, where the crabbing is usually better, but my experience from previous winter trips there told me that the dock would probably be iced up pretty tightly. I found out from friends that the USFS dock there was indeed totally iced up that weekend, so we made the right decision.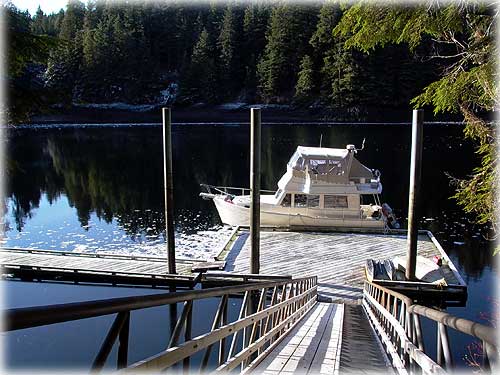 M/V Faraway, at the Naha river dock
Photo by Michael Youngblood

The Naha dock was empty as we approached, but just a few minutes before we got there a small runabout zoomed past us. They went up into the raceway a little ways and then came back to the dock. They only stayed a short while and so after they left we had the dock to ourselves for the long weekend.
The trail was treacherous in spots with ice and snow. I had misplaced my ice cleats and so only had regular hiking boots. The hiking staff helped a lot. We all had to be very careful on the trail, especially in places with steep drop offs on one side or the other.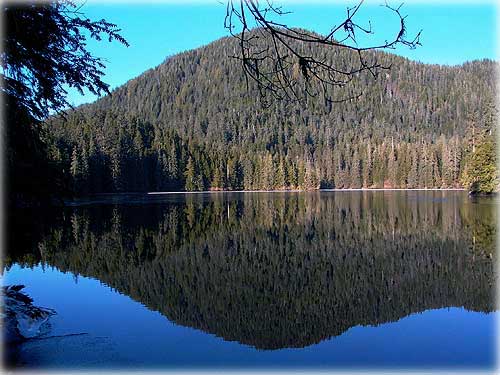 Roosevelt Lagoon, just up the trail from the dock.
Photo by Michael Youngblood

Being an amateur photographer I love this clear, cold weather for long walks up the trail to take pictures. I wonder how many icicle pictures I have taken over the years?
I experienced a phenomenon on this trip that I had never witnessed before, even though I have been up this trail perhaps hundreds of times over the last 30 years. When I approached Roosevelt Lagoon I heard an eerie howling sound that at first I could not identify. It happened over and over during my long hike up the trail. It would last anywhere from 10 - 45 seconds. I finally determined that it was the thin sheet ice on top of parts of the lagoon vibrating like a huge piece of sheet metal. I wish I could have recorded it.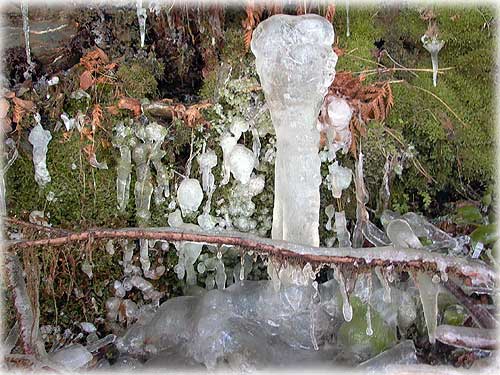 An unusual ice formation I found on one of my hikes up the trail.
Photo by Michael Youngblood

This time of year there is a lot of cabin time on trips like this, with the short, but lengthening daylight hours. We enjoy that time to read, listen to music, enjoy good food, and just to relax.
The trip back to town was sunny and calm and very pleasant, except for the fact that we were heading back to civilization and another week at work. But we were rejuvenated by the escape and look forward to more as the weather warms and the daylight hours increase.
E-mail your news & photos to editor@sitnews.us


Publish A Letter in SitNews Read Letters/Opinions
Contact the Editor
SitNews ©2009
Stories In The News
Ketchikan, Alaska