In the Battle Against Obesity, Local Nurses Host Informational Seminar
March 19, 2008
Wednesday

Ketchikan, Alaska - The battle against obesity is said to sell more magazines and books across America than any other subject. And a definitive answer to addressing this ongoing battle of the bulge was presented in a seminar last Saturday night at the Cape Fox Lodge in Ketchikan.
Approximately 75 people gathered to glean some information to either help them personally or to help their patients, friends, or family members with their struggle against obesity.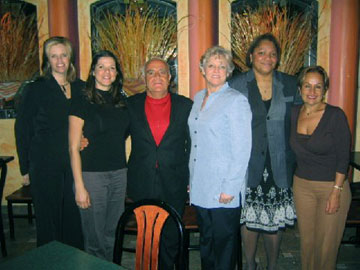 (L to R) - Jessie Cone, Jomi Shega, Dr. Pedro Kuri, Leslie Randall, Gillian Moon, and Mrs. Kuri gathered at Ocean View following the seminar to begin planning the September meeting.
This seminar about Lap-Band® was hosted by two Ketchikan registered nurses, who also happen to be flight nurses. The Lap-Band® is a device that is laparoscopically placed around the upper portion of the stomach. Unlike conventional surgery, this laparoscopic procedure allows the patient to return to work in three to four days.
Leslie Randall, who flies with Guardian Flight, stated in her testimonial that carrying the medevac equipment up the ramp at low tide was almost cause for CPR and that she decided to get the Lap-Band® before she became a patient herself.
Gillian Moon, a flight nurse for Airlift Northwest, said she was actually inspired to be banded by Randall. The two decided that Ketchikan needs to know about this little Lap-Band® device and got the ball rolling for the seminar back in October.
"We are thrilled with the overwhelming response to this seminar," said Moon. Randall added, "We definitely affected some lives and that was our goal." She went on to say that a September seminar is already in the works.
Morbid obesity is on the rise and health issues are developing at a phenomenal rate. In fact, more than 60% of our adult population is either overweight or obese, according to Judith S. Stern, American Obesity Association. It is not only a crisis for the individual, but a drain on our healthcare system.
Co-morbidities, or other health problems caused by obesity, include heart, lung, and joint problems, as well as cancer. People are losing their ability to be active and that creates an even greater weight issue. The downward spiral is very difficult to stop. "We are creatures of habit and until we re-set those habits and form new ones, weight loss is only temporary," states Randall. In fact, according to statistics, more than 90% of dieters return to their previous weight within two years because they really don't ever change their habits.
So, with all these facts before us, how can a person really lose weight? The seminar Saturday gave many people the answer that they are looking for in the battle against obesity. It is an innovative tool called the Lap-Band®.
The special guests for the evening of the seminar included Dr. and Mrs. Pedro Kuri, from Tijuana, Mexico. Dr. Kuri very succinctly described the placement of the lap band, as well as what the patient can expect. He went on to say that a person has to be ready to make some changes for the band to work. "There are rules and guidelines you have to follow," stated Dr. Kuri, "I don't want to perform the surgery if you aren't ready to make some changes."
The success rates are high and people are excited. Jomi Shega, San Diego, CA, gave insight to the financial aspect of the surgery. "There are many avenues to help a person get financing for this surgery," stated Shega.
Jessie Cone, Boise, ID, Patient Facilitator, and successful Lap-Band® patient, went on to say that Dr. Kuri has been placing bands for ten years and has over 3,500 successful band placements to his credit. "You don't find doctors in the United States with that kind of experience," states Cone. She also added "Hospital Angeles, in Tijuana, is a 70 million dollar state of the art facility and it is the cleanest and most sterile environment I have ever seen."
The evening ended with a generous door prize being awarded to a lucky seminar attendee. The winner, who preferred to remain anonymous, was the recipient of a free lap band surgery by Dr. Kuri and is looking forward to getting banded in the very near future.
On the Web:
Dr. Kuri and Associates
www.jessie-kuri.com
Future Seminar Information Contacts:
Gillian Moon at whiskeyten@aol.com
Leslie Randall at LRandallRN@aol.com
Jessie Cone, Patient Facilitator, toll free at 888-399-2416
Jessie@lapbandsurgery.com.

E-mail your news & photos to editor@sitnews.us


Publish A Letter in SitNews Read Letters/Opinions
Contact the Editor
SitNews ©2008
Stories In The News
Ketchikan, Alaska