Rare White Killer Whale Spotted in Alaskan Waters
March 10, 2008
Monday

Scientists aboard the NOAA research vessel Oscar Dyson in the North Pacific have sighted a creature of great rarity and even myth: a white whale.
The white killer whale was spotted with its pod about two miles off Kanaga Volcano, part of Alaska's Aleutian Islands, on February 23. At the time, Kodiak-based Oscar Dyson was on a research expedition for NOAA's Alaska Fisheries Science Center, assessing pollock fish stocks near Steller sea lion haulout sites.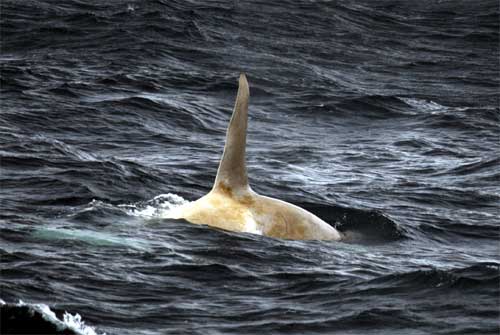 White killer whale swimming with its pod near the Aleutian Islands
Photo credit: H. Fearnbach, NMML, NMFS permit 782-1719

The white whale is a fish-eating type of killer whale, as were all the killer whales photographed on the expedition. Fish-eating killer whales are the most frequently seen whales around the Aleutian Islands during the summer. The winter sightings represent important evidence that they may be common year-round.
Holly Fearnbach, a research biologist at NOAA's National Marine Mammal Laboratory in Seattle, was able to photograph the whale's white fin and back. "With hundreds of killer whales documented around the Aleutian Islands, this was equivalent to finding a needle in a haystack," she said.
"Despite the typical stormy weather that makes research operations very difficult in the winter, the scientific team on Oscar Dyson has been pulling in a huge amount of planned research data," said Alaska Fisheries Science Center director Doug DeMaster. "Extraordinary sightings like this white whale are icing on the cake."
Few white killer whales have ever been seen, according to Fearnbach, much less scientifically documented.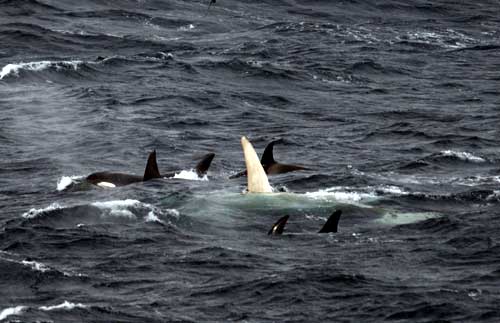 White killer whale swimming with its pod near the Aleutian Islands
Photo credit: H. Fearnbach, NMML, NMFS permit 782-1719"

This whale is likely not a true albino because it still has signs of darker pigmented areas on its body. However, because of its prominent coloring, the white whale serves as an indicator for movements of killer whales in the North Pacific.
Other sightings of a white killer whale have been reported previously in the Aleutian Islands as well as in the Bering Sea and off the Russian coast. Scientists are working to confirm whether or not the individual whale sighted Feb. 23 has been reported earlier.
Besides fish and marine mammal researchers from the Alaska Fisheries Science Center, Oscar Dyson also carried a bird observer from the US Fish and Wildlife Service. All added to scientific knowledge about the marine ecosystem of the Aleutian Islands in winter.
Source of News & Photographs:
NOAA Fisheries
National Marine Fisheries Service
Alaska Region
http://www.fakr.noaa.gov
E-mail your news & photos to editor@sitnews.us


Publish A Letter in SitNews Read Letters/Opinions
Contact the Editor
SitNews ©2008
Stories In The News
Ketchikan, Alaska