Williams looks forward to mobile mammogram van's Kake visit

March 28, 2007
Wednesday AM
Tina Williams of Kake used to travel for her yearly mammogram. This time the mammogram is coming to her.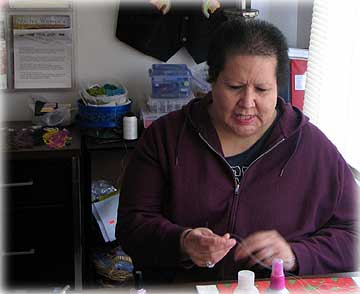 Tina Williams of Kate beading...
Photo courtesy SEARHC
Williams went to the SouthEast Alaska Regional Health Consortium (SEARHC) Mt. Edgecumbe Hospital in Sitka for last year's mammogram, and in previous years she went to a clinic in Petersburg. Williams already has plans for an appointment when the mobile mammogram van makes its April 23-25 visit to SEARHC's Kake Health Center.
"It's been almost a year," Williams said. "The last time it was in Sitka, and I've had it done in Petersburg, too. But not here in Kake. It is nice not to have to travel."
Williams, 48, said her doctors make sure all of her regular screening tests are up to date. A mammogram is an x-ray of the breast and an important tool for the early detection of breast cancer.
"Those things are pretty important," Williams said. "It's quick and it's painless. It takes about a half-hour, such a short time out of the day for the peace of mind that goes with it."
In the 1990s, Williams said she did get one scare after a mammogram in Seattle. But she had a biopsy done and it "came out OK" so she didn't have cancer. Williams had an aunt die from breast cancer, while stomach and colon cancer run in her family. Williams didn't mind the false alarm and said she was happy the mammogram was "able to see things like that."
"It really makes you think when it hits close to home," she said. "But it's better to be screened and checked than to hope it goes away."
The mobile mammogram van will take appointments in Kake starting at 8:30 a.m. on Monday, April 23, and appointments will continue through the afternoon of Wednesday, April 25. Women wanting to schedule a mammogram should call the Kake Health Center at 785-3333. Women with no insurance and/or a limited income may be eligible for a free mammogram, and the Kake Health Center can help them find out how to qualify. WISEWOMAN enrollments also will be available when the van is in town.
Later this spring, the mobile mammogram van will be in Haines (May 1-11), Angoon (May 21-23), Skagway (June 1-5) and Yakutat (June 13-18). Women in those communities can call their local health clinics to make appointments and determine eligibility for free mammograms. The mobile mammogram van also will visit other Southeast Alaska communities later in the summer.
"I've encouraged women regardless of age to take advantage of this service," Williams said. "It's such a small amount of time and it's painless for the peace of mind you get."

On the Web:
SouthEast Alaska Regional Health Consortium (SEARHC)
www.searhc.org
E-mail your news & photos to editor@sitnews.us


Publish A Letter on SitNews Read Letters/Opinions
Contact the Editor
SitNews ©2007
Stories In The News
Ketchikan, Alaska