Walter Reed whistleblower still wants Army career
By M.E. SPRENGELMEYER
Scripps Howard News Service
March 17, 2007
Saturday AM

Army Spc. Jeremy Duncan still jokes around like he always has - only now, one of his replacement teeth sometimes pops out of place when he smiles.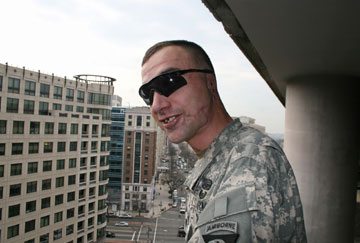 Army Spc. Jeremy Duncan 30, is at
the center of a nationwide scandal over the care given to wounded veterans.
SHNS photo by Ivan Pierre Aguirre
His left ear is missing and the prosthetic is in the shop. Part of his jaw is made out of titanium. And the good-luck dragon tattooed on his left bicep was nearly wiped away by shrapnel and surgeries.
But that hasn't stopped him from fighting to stay in the military, and these days he still acts like the same West Virginia smart aleck who kept his battle buddies in stitches before "all this."
To Duncan, "all this" means the war in Iraq, where he made it through his first roadside bomb attack in October 2003 and barely survived the next one in February 2006.
"All this" means his torturous recovery from a broken neck, shattered jaw, arm surgeries, leg injuries, vertigo and a host of other problems.
And lately, "all this" means suddenly becoming one of the most famous wounded warriors in the country after he helped sound an alarm about shoddy living conditions at a transitional housing unit at Walter Reed Army Medical Center.
That still-unfolding scandal, which started with his description of the black mold in his living quarters, has sparked a national outcry and a spate of ongoing, official investigations.
In just a few short weeks, it has shaken the highest ranks of U.S. army leadership, including the ousters of the hospital commander, Army surgeon general and even the Secretary of the Army.
Since being featured in the original Washington Post expose and the televised congressional hearing that followed, Duncan gets stopped while walking down the streets these days.
It's hard for a towering man in combat fatigues with no left ear to blend in with the crowd, so he's often forced to confess under awkward questioning: "Yeah, I'm that guy..."
When Duncan enlisted in the army, when he went to Iraq, when he came back on a gurney and when he spoke out about the mold in his room, he never imagined it would come down to this.
"Not in a million years..." he says again and again. "I hadn't planned on this going this big, Then again, who plans for anything?"
On Capitol Hill, lawmakers hail Duncan as a brave whistleblower. At age 30, he's a hot interview subject for media outlets from London, England, to his hometown in Huntington, W.Va.
"I'm not doing this for the limelight. I'm not doing it for me," he said. "I'm doing it for the soldiers coming after me."
Duncan remembers being awakened by an early-morning knock on his door on the Sunday morning when the Washington Post expose hit.
The front-page article opened by talking about the mold in his room and the hole in the ceiling above his shower. A military building manager ordered him to pack up his stuff and get ready to move to another room. The whole place was about to go through a top-to-bottom house-cleaning - just in time for a parade of curious, high-powered visitors.
The problems in Duncan's room were just the tip of an iceberg. Along with awkward glances from some hospital staff, he also got kudos from other wounded veterans who had been afraid to speak out.
"Thanks," one told him. "I can take a hot shower now."
---
Long before he earned his scars, Duncan was the affable "Gun God" who maintained weapons for a unit of combat engineers attached to the 101st Airborne Division.
He had enlisted in the military in 1996, and in those days he never thought he would get to go to war. "There was nothing big going on," he said.
That changed after the Sept. 11, 2001, terrorist attacks. Soon, his unit was sent with the division's 3rd Brigade "Rakkasans" to the fight in Afghanistan. The unit took a few "pot shots," but Duncan came out unscathed.
By early 2003, another war was looming, and his unit set up shop at "Camp New Jersey," a tent city in the scorching deserts of Kuwait. In those days, when a war with Iraq was technically just a rumor, boredom sometimes was the biggest enemy.
Duncan earned a new nickname on one of those days, when a lizard the size of a baby alligator snuck into the engineer's tent.
Duncan sprang to action to repel the invasion. He grabbed the lizard by the tail and tried to drag it into exile, but it whipped around, took a swipe at him and got away.
By the time he finally wrestled it off to exile on the other side of the camp, some bemused onlookers started calling him "The Lizard King."
"It tried to bite me," Duncan recalled with a laugh last week, sipping coffee with a reporter who had witnessed him "rescuing" his embattled, lizard-hating unit.
He laughed about the cigars he used to carry with him at all times in those days. If disaster ever appeared imminent, he hoped there would be time for a smoke.
Duncan smiles plenty when remembering those days just before the war began. But he twists in his stool, admitting he's uncertain, when asked how he has changed since the day of the lizard.
"I guess getting blown up the second time really makes you think how short life is," he said.
During that first tour of duty in Iraq, Duncan survived a brush with an improvised explosive device. He earned his first purple heart and got a tattoo on his left arm to mark the award - right underneath a good-luck dragon.
Little did he know that both tattoos would later be warped by scars.
It happened Feb. 6, 2006, when he was with a group driving toward a patrol base north of Baghdad.
Suddenly, the vehicle was rocked by a roadside bomb. The soldiers were jolted but unhurt, and they jumped out to go after the insurgent who triggered the bomb by remote control.
Duncan remembers standing near the hole from the first blast and lifting his rifle to his eye to shoot. And then there was a second explosion.
Pieces of his weapon were embedded in his cheek. The left side of his face was ripped apart. His jaw was exposed. His arm was covered with burning shrapnel from his wrist to his shoulder. His neck was broken. And blood was spraying out of his neck.
The next thing Duncan remembers is waking up in a hospital, thinking he must be dead - and in hell. It was the start of a long, long road to recovery that led him to Walter Reed.
Sometime during "all this," Duncan said he lost part of his sense of fear.
That could explain why he, like some other wounded soldiers, were not afraid to speak publicly about the conditions at the transitional housing units, even though that was sure to rattle the army's chain of command.
He told the congressional subcommittee that the conditions in his room were "unforgivable."
"It wasn't fit for anybody to live in a room like that," he testified.
Rep. Chris Shays, R-Conn., said he was amazed that Duncan didn't plan to retire from the military.
Although his injuries prevent him from being sent into combat, he has re-enlisted and is set to rejoin his old at Fort Campbell, Ky., in coming weeks.
"I'm not leaving the military at all, sir," Duncan testified.
Sure, Duncan said, he was nervous facing members of Congress, the television cameras and a room packed with reporters. He joked that anybody would be nervous with the sound of all that military brass jingling in the rows of seats behind him.
Still, he said the past year has made him more brave - not "bullet-proof," but maybe "bullet-resistant," he said.
"I'm not afraid of what life throws at me," he said. "I've already been through the worst."
Distributed to subscribers for publication by
Scripps Howard News Service, http://www.scrippsnews.com


Publish A Letter on SitNews Read Letters/Opinions
Contact the Editor
SitNews ©2007
Stories In The News
Ketchikan, Alaska