Bering Strait region gets first Marine Advisory Program agent

Fisheries development, subsistence, climate change among issues facing region
March 14, 2007
Wednesday AM

NOME, Alaska - In town only a couple of weeks, Nome newcomer Heidi Herter is already smitten with the small northwest Alaska community (pop. 3,500), best known as being the finish line for the 1,000-mile Iditarod Trail Sled Dog Race.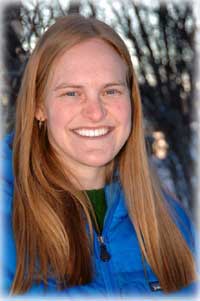 Heidi Herter,
Assistant Professor of Fisheries
Alaska Sea Grant Marine Advisory Program
"It's an amazing place that's full of wonderful people," said Herter. "I had lunch the other day at a sandwich shop that had windows across the entire back wall overlooking the ice-covered Bering Sea. The frozen ocean stretched as far as I could see. It was wonderful."
In the months to come, Herter will get to know these waters well. As the new Alaska Sea Grant Marine Advisory (MAP) agent for the Bering Strait region, she'll work with commercial and subsistence fishermen, seafood processors, and others to expand economic opportunities that make use of the region's cod, halibut, herring, salmon, and red king crab fisheries. She also will increase involvement with local marine science education. Herter joins 14 other MAP faculty located in 10 communities across coastal Alaska.
"Having Heidi in Nome gives the Alaska Sea Grant Marine Advisory Program the ability to have a strong presence in the Bering Strait region," said Paula Cullenberg, leader of the MAP program in Anchorage. "There are issues facing Alaskans in this area related to subsistence and commercial fisheries, marine safety, and even concerns about the impacts of climate change. It is a beautiful part of the state with many opportunities to work with the region's communities."
Cullenberg said the position is a unique partnership between the Norton Sound Economic Development Corporation (NSEDC), the UAF Northwest Campus and Alaska Sea Grant. The NSEDC is a private nonprofit corporation representing 15 member communities and over 8,493 people in the Bering Strait Region of Northwestern Alaska. NSEDC is one of six fisheries Community Development Quota (CDQ) organizations in Alaska.
Charlie Lean, a fisheries biologist with NSEDC said the position will give the region's fishermen access to the statewide and national Marine Advisory Program network the offers training in key areas such as seafood quality, marketing, fisheries operations, and safety, among other topics.
"Our fishermen here are secluded from the rest of the state in many ways," said Lean. "We are hopeful that this position will help us plug into training and expertise that we haven't had access to in the past. Heidi is bright, motivated and has knowledge and expertise we don't have. It will be great to learn from her and share with her what we know."
Herter is a 2007 graduate of the University of Alaska Fairbanks. She earned her master's degree as an Alaska Sea Grant supported graduate student studying larval ecology and settlement of Dungeness crab in Glacier Bay, Alaska, with Ginny Eckert, Associate Professor of Fisheries Ecology at the University of Alaska Fairbanks School of Fisheries and Ocean Sciences.
Herter's path to college included guiding sea kayaking tours and work as a fisheries technician with the Alaska Department of Fish and Game, and time with the U.S. Forest Service at the Pack Creek brown bear viewing area in the Stan Price State Wildlife Sanctuary on Admiralty Island.
While Herter has the academic expertise to do a great job in Nome, Cullenberg says locals may best appreciate that she was raised in Alaska and knows how to operate snow machines, skiffs, and four-wheelers, the most common modes of transport in rural Alaska.
On the Web:
Alaska Sea Grant Marine Advisory Program
http://seagrant.uaf.edu/map

Norton Sound Economic Development Corporation
http://www.nsedc.com/

UAF Northwest Campus
http://www.nwc.uaf.edu/
Source of News:
Alaska Sea Grant Marine Advisory Program
http://seagrant.uaf.edu/map

E-mail your news & photos to editor@sitnews.us


Publish A Letter on SitNews Read Letters/Opinions
Contact the Editor
SitNews ©2007
Stories In The News
Ketchikan, Alaska