Red king crab eggs hatch in Alaska research program

Larvae to help scientists studying hatcheries was a way to rebuild Kodiak stocks
March 13, 2007
Tuesday AM

Seward, Alaska - On a recent Saturday morning, red king crab number 1008 opened a flap on her underside and released several hundred tiny newborn crab larvae, each only about the size of a sharpened pencil lead.
"I looked into the tanks and noticed that one red king crab had her apron (stomach flap) pressed down to the bottom of the tank so her eggs were fully exposed," said Celeste Leroux, an Alaska Sea Grant graduate student at the University of Alaska Fairbanks. "I took a sample from the bag that collects large particles leaving the tank, looked at it under the microscope, and discovered the hatch had begun."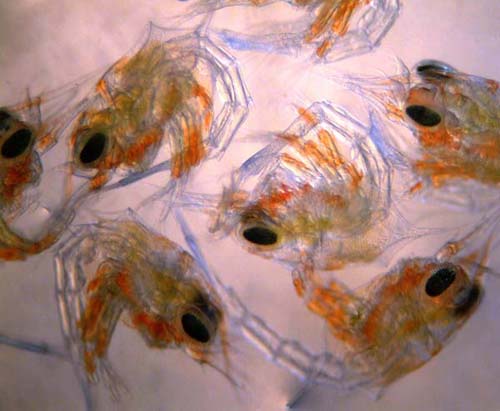 Under the microscope, the crab larvae more closely resemble miniature shrimp, with mouthparts the larvae use to swim.
Photo courtesy Alaska Sea Grant

The newborn Kodiak red king crab, called zoea (ZOO-EE-AH), are a first for the Alaska King Crab Research and Rehabilitation Program, a partnership between university, federal and state scientists, commercial fishermen, coastal communities and the Alaska Native-owned Alutiiq Pride Shellfish Hatchery in Seward. The program is focused on gaining the scientific knowledge needed to rebuild Kodiak red king crab and Pribilof blue king crab populations through hatchery enhancement of wild stocks.
"This is an important milestone and a great source of pride for fishermen and the Kodiak community," said Jeff Stephan, manager of the United Fishermen's Marketing Association based in Kodiak. "Many individuals, organizations and officials have worked hard toward this moment for many years. It's satisfying to see it finally happen."
In the days since, Leroux says all 15 female Kodiak red king crab have have joined the birthing frenzy. In all, Leroux expects more than two million larvae to hatch over the next several weeks. As many as three million additional larvae from 20 female blue king crab, part of a similar program to rebuild their stocks around the Pribilof Islands, are expected to hatch over the next couple of months.
At first, each crab releases only a few hundred larvae. Over several weeks, the releases build to as many as 15,000 larvae each day, before finally tapering off. In all, a typical female crab will release from 100,000 to 200,000 larvae. Of these, only one of the hatched larvae typically would survive to adulthood in the wild, said Leroux.
"They can fall victim to a variety of external factors, such as predation by fish and cannibalism, low food availability, and poor water quality," said Leroux. "If we can improve the odds of them surviving past the critical early life stages, we may be able to one day help rebuild the stocks."
The day hatchery-born crab are released into the wild is still years away, said Brian Allee, Alaska Sea Grant director and manager of the crab research program.
"Right now, the research is focused on the mass-culturing requirements of king crab," Allee said.
A pilot release of crab into the wild will require a state permit and would happen only after studies were done to determine crab survival, predation, genetics, and other factors, and would occur only if it could be shown not to adversely impact the environment, said Allee.
The newborn Kodiak red king crab, called zoea (ZOO-EE-AH) in a dish...
Photo courtesy Alaska Sea Grant

Now that she has newborn crab larvae to work with, Leroux will begin her master's degree research, which is to better understand the feeding and nursery requirements of red and blue king crab in a hatchery setting. She'll feed the crab brine shrimp and several different kinds of algae, all of which is grown at the hatchery.
"I hope to learn which feeds and nursery structures result in optimal growth, health and survival for these crab as larvae and juveniles," said Leroux.
Under the microscope, Leroux said the crab larvae more closely resemble miniature shrimp, with mouthparts the larvae use to swim. Within a few weeks, the larvae will reach the glaucothoe (GLOCK-O-THO-EE) stage-at which time they molt into their crab form. Eventually, the crab will grow to be among the largest crustaceans in the sea.
"The most amazing thing is that these tiny creatures, only 1/16th of an inch in length, can grow to be an eight- to ten-pound giant, with claws the length of a man's arm," said Brad Stevens, a former Kodiak-based federal crab biologist who now is a professor at the University of Massachusetts Dartmouth, and advisor to the program.
The Alaska King Crab Research and Rehabilitation Program emerged last spring out of a grassroots effort by fishermen and coastal communities to reverse a decades-long slump in wild king crab production. Red king crab stocks around Kodiak have not recovered since crashing in 1982, when commercial fishing was halted. Stocks of Pribilof and St. Matthew Island blue king crab have been low since the mid-1980s. Commercial fishing for the two Pribilof Island stocks has been closed most recently since 1999. King and other crab stocks are considered healthy and support vibrant fisheries in other parts of Alaska.
The Alaska Sea Grant partnership includes the United Fishermen's Marketing Association, the Aleutian Pribilof Island Community Development Association, the Central Bering Sea Fishermen's Association, the National Marine Fisheries Service, Alaska Department of Fish and Game, City and Borough of Kodiak, the Alutiiq Pride Shellfish Hatchery and Chugach Regional Resources Commission, and the University of Alaska Fairbanks School of Fisheries and Ocean Sciences.
Source of News:
The Alaska Sea Grant College Program
http://www.alaskaseagrant.org

E-mail your news & photos to editor@sitnews.us


Publish A Letter on SitNews Read Letters/Opinions
Contact the Editor
SitNews ©2006
Stories In The News
Ketchikan, Alaska