Griese's Latest Book About Gillam's Historic and Ill-fated flight
By Marie L. Monyak
March 21, 2006
Tuesday

Ketchikan, Alaska - Long time Alaskan resident and author Arnold Griese of Fairbanks was in Ketchikan last week to talk about his latest book; Bush Pilot, a biography of the early Alaskan aviator Harold Gillam, Sr. The presentation held at the Ted Ferry Civic Center was sponsored by the Tongass Historical Society.

To understand his extensive knowledge of aviation and the copious research Griese committed to in an effort to provide the reader with the clearest possible picture of a man many consider a legend, one should know a little of Griese's history as well.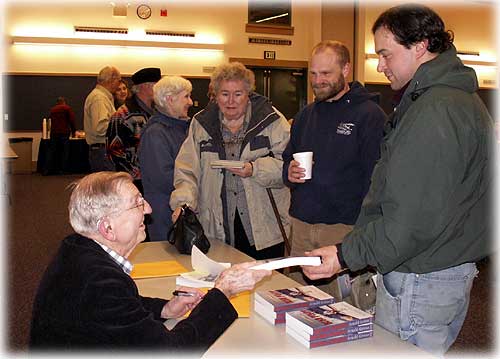 Alaskan author, Arnold Griese, Tim Bercher pilot with Taquan Air,, Josh Murdock pilot with Pacific Airways, and Irene Nichols (Grandmother of pilot Carl Zink with Taquan.)
Photo by Marie L. Monyak

Born on a farm in Iowa, Griese developed an interest in flying at a young age reading books and magazines on the subject. After attending a small rural school with only one teacher, Griese went on to earn his Bachelor of Science Degree from Georgetown University, a Master's Degree from the University of Florida and a Doctorate from the University of Arizona.

Griese served in the Army Corps during WWII but was not able to pass his flight physical. Unable to fly, after serving 4 years and attaining the rank of Captain, Griese left the service. As a civilian, he was able to obtain his private pilot's license.

In a small bush plane, Griese, along with his wife and children, relocated to the Athabaskan village of Tanana in 1951. As a school teacher with intentions of staying only a few years, Griese bought a small plane and flying became his passion.

Griese later went on to teach at the University of Alaska in Fairbanks from 1960 until 1980. With a growing interest in Alaskan history, coupled with his love of flying, it was only a natural progression that Griese would become interested in the exploits and legends of the man known as "Thrill 'em, Spill 'em, No Kill 'em, Gillam."

In his presentation and also the first chapter of the book Bush Pilot, Griese explained the difficulties of writing a biography. Since a biographical subject is generally a noteworthy public person, people tend to tell stories and exaggerate, thereby distorting the truth.

At the beginning of Griese's presentation at the Civic Center, he spoke briefly about the historic and ill-fated flight Gillam and five passengers embarked upon on January 5th 1943 which ended in tragedy.

Harold Gillam left few writings or letters behind and wasn't one to talk about himself, making Griese's job more difficult. To uncover the legend, to prove or disprove it, Griese felt it would be necessary to tell Gillam's story from the beginning to give the reader an opportunity to understand the kind of person Gillam was and what drove him.

Griese spoke about Cecil Higgins, Gillam's childhood friend from Nebraska where the two grew up. Gillam and Higgins had lost touch when Gillam joined the Navy. The first of many revealing statements providing insight into Gillam's personality was made by Higgins when he stated that Gillam had no fear.

Based on Griese's research, in 1923, Higgins and Gillam met up again by chance in Seattle after Gillam's discharge from the Navy. Griese spoke with near disbelief about the fortuitous meeting of the two. These childhood friends, along with a new acquaintance, headed to Cordova aboard the Alaska Steamship to work for the Alaska Road Commission.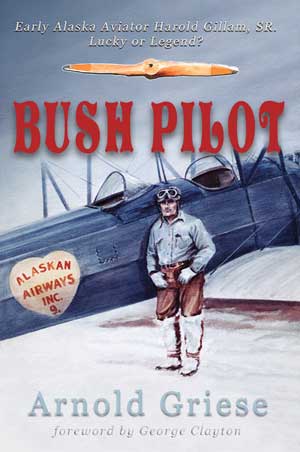 Griese told the audience about Gillam's early years in the state as a heavy equipment operator for the Alaska Road Commission working in Chitina and the McCarthy area building some of the state's first roads.

Proceeding forward, Griese led his listeners to 1925 Fairbanks where Gillam opened his own freight company hauling equipment and supplies, to 1927 where Gillam was once again a heavy equipment operator working on major improvements to the Fairbanks Airport.

With great detail, Griese explained how Gillam came to the conclusion that he should start his own flying service and left Fairbanks for San Diego, California in January 1928 to purchase a plane and learn to fly. Griese pointed out the fierce independence and motivational force that Gillam must have felt.

Griese continued to fascinate the audience with Gillam's adventures and sometimes misadventures leading up to 1943. At this juncture, Michael Naab, Director for the City of Ketchikan Museum Department and Vice President of the Tongass Historical Society came up to the podium to take over for Griese.

With countless photographs, Naab recounted the famous crash and subsequent search and rescue operation. The audience was intrigued by the slide show that gave a first hand look at what the survivors endured and the difficulties the rescue parties encountered. Many of the slides used in the presentation are included in Bush Pilot.

In writing his book, Griese felt that his readers would benefit from understanding how aviation began only 25 years prior to Gillam's trip to San Diego. Aviation enthusiasts in particular will find that Bush Pilot contains a wealth of knowledge about the birth of flight with historic accounts of Charles Lindbergh, Ben Eielson and Amelia Earhart.

Not only has Griese included a detailed history of flight but his book is filled with photographs of early aircraft such as the Stearman, Curtis Jenny, Swallow, Gillam's old workhorse the Zenith and many more.

Why would Griese include so much history and background on aviation and Gillam's personal life just to lead up to the retelling of a tragic plane crash only miles from Annette Island military base and runway? In this way, Griese could lead up to one of the last chapters in his book titled; Legend or Lucky?

Many people that knew Gillam considered him to be downright lucky, surviving several earlier crashes and flying in weather that kept other pilots on the ground. Others thought of him as foolhardy and having little regard for himself or the lives of the passengers he carried.

Gillam didn't earn his knick name; Thrill 'em, Spill 'em, No Kill 'em by being cautious. His personality, character, sense of indestructibility and drive all contributed to the decisions he made when on January 5th 1943, he loaded cargo and five passengers on his Lockheed M-K Electra in Seattle, bound for Anchorage with a planned stop over at Annette Island for fuel.

The much talked about, well documented plane crash, only 30 miles east of Ketchikan on a heavily timbered, snow covered mountainside, resulted in serious injuries to two passengers, the death of a third passenger several days later and Gillam's own demise. Although uninjured from the accident, Gillam died of exposure while attempting to reach help.

The 29 days that the four survivors spent not far from Boca de Quadra Inlet is a testament to human endurance and almost unbelievable had it not been for photographic evidence. The story of the search and rescue operation undertaken by the United States Coast Guard and civilian guides is riveting.

On August 25 1943, the Civil Aeronautics Board (CAB), now the Federal Aviation Administration (FAA), ruled the cause of the accident to be [verbatim from the CAB Investigation Report] stoppage of the left engine from an undetermined cause in extremely rough weather. The CAB also added, [verbatim] strong contributing factors were the pilot's failure (1) to equip himself with an up-to-date aeronautical chart and (2) to utilize the radio aids available to him to accurately establish the position of the flight while on instruments.

Regardless of his actions on that fateful day, Gillam contributed greatly to the early years of aviation in Alaska.

With his keen ability to separate fact from opinion in this in-depth study, Author Arnold Griese was able to shed new light on the man, the legend, Harold Gillam, Sr.

Anyone with an interest in history particularly aviation, or Alaskan history or just for a good read, Griese's book will take you on a ride you won't soon forget. Bush Pilot will cause its reader to gain a new appreciation for modern day avionics.

Special thanks should go out to Library Director Judith Anglin of the Ketchikan Public Library for suggesting the visit by Griese to the Tongass Historical Society and thanks also to Maggie Frietag of Parnassus Books for providing copies of Bush Pilot for purchase to those in attendance.


Related Story:
Harold Gillam: A Tragic Final Flight; Ketchikan remembers the search By JUNE ALLEN - Harold Gillam was among the boldest of those gutsy pioneer bush pilots who painted Alaska's early aviation history on an enormous canvas of rugged and unforgiving wilderness often cradled in the foulest, most extreme weather on
Oldtime pilots said that there were three kinds of Alaska weather: clear and unlimited, called Pan Am weather; then ordinary weather, and lastly, there was "Gillam weather." While more prudent pilots sat out the worst days, the quiet-loner Gillam would shake his head and say, "The weather's never as bad as it looks." - Read more...
SitNews - August 17, 2004

Publish A Letter on SitNews
Read Letters/Opinions
Contact the Editor
SitNews
Stories In The News
Ketchikan, Alaska