USCG Auxiliary Wants You!
By Marie L. Monyak
March 20, 2006
Monday

Ketchikan, Alaska - The United States Coast Guard Auxiliary wants you, men and women alike! Do you believe in serving your community? Would you like to be actively involved in saving lives? Would you like to increase your personal skills, not just in boating but in leadership and administration?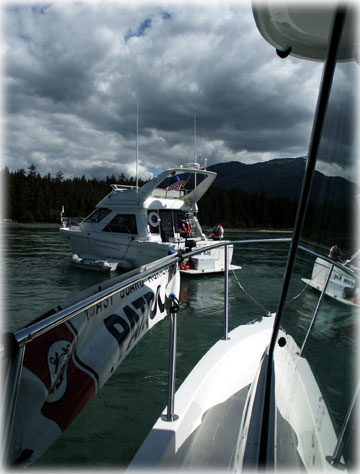 Operations Training
Auxiliary photo courtesy Noreen Folkerts
Would you like to help reduce the number of boating accidents and fatalities right here in Ketchikan?

If you think you have to sign up for a tour of duty in the military, think again. The United States Coast Guard Auxiliary is just that, an auxiliary. Defined in the dictionary as an aide, or to provide assistance, the Auxiliary is the non-military, uniformed, volunteer organization that takes pride in assisting the Coast Guard in a variety of ways.

Still don't think you qualify? If you have a skill, the Auxiliary will find a position for you. Do you have experience as a cook? Are you a teacher? Do you have experience in radio communications or in computer technology? What about operational and administrative skills?

Founded in 1939 by an Act of Congress, the Auxiliary is broken down into organizational units. Designated as District 17, the State of Alaska has 13 basic units known as Flotillas. Although Auxiliary members wear the Coast Guard uniform, they hold positions rather than rank. Each Auxiliary has a Flotilla Commander and in Ketchikan that position is held by local resident and Associate Pastor of the Clover Pass Church, Grant Smith, who also serves as the Volunteer Chaplain for the Coast Guard.

With 19 years of service with the United States Coast Guard, Lt. Cmdr. Susan J. Albright, Director of the Auxiliary for District 17 stationed in Juneau, visited Ketchikan and the Flotilla last week. Lt. Cmdr. Albright, along with Flotilla Cmdr. Smith and Flotilla Vice Cmdr. Doug Giles were kind enough to take time out for this interview. While in Ketchikan, Albright is hoping to recruit new Auxiliary members.

"We really want the people of Ketchikan to know that the Auxiliary saves lives," Lt. Cmdr. Albright said. Flotilla Cmdr. Smith added, "Primarily, we teach boating safety and it's through that teaching, through prevention, that lives are saved."

Auxiliary members aren't always found on the waterways. Once qualified through the Coast Guards free training program, volunteers can assist in classrooms teaching community members about boating safety, perform vessel safety checks, assist with marine environmental protection, stand radio watch at the Coast Guard Station, provide administrative duties for the Flotilla and the list goes on.

Vice Cmdr. Giles was quick to add, "We can find a position for anyone, we take the volunteer's skills and experience and match it to a position. They don't have to know anything about boating." Giles used a cook as an example of a position that requires no boating experience. He also said, "Couples can volunteer, it's a great way for a husband and wife or a couple to spend time together in an activity that helps [the community]."

Owning a boat is not a prerequisite for volunteering but boat owners are encouraged to join and receive reimbursement for some expenses. Search and rescue operations and safety patrols are just two of the important functions boat owner volunteers can assist with.

"By performing our functions; assisting with searches, vessel safety checks, training or radio watch, we [the Auxiliary] are freeing up the regular Coast Guard to perform more important duties," Cmdr. Smith stated.

Saving taxpayers millions of dollars, each year the Auxiliarists save almost 500 lives, assist 15,000 boaters in distress, conduct over 150,000 vessel safety checks and teach over 500,000 students about boating and water safety.

Are you looking for statistics a little closer to home, like say, Southeast Alaska? Lt. Cmdr. Albright provided the following information. Why not consider these statistics and think about how you can help?

In Southeast Alaska alone, there have been 62 recreational boating fatalities in the last 10 years. Of those fatalities, 57% were not wearing PFD's (personal flotation devices) and in 29% of those cases it is unknown if they were wearing PFD's. (The numbers do not reflect commercial fishing boats fatalities). These may only be numbers to some people but they were family, friends, neighbors and loved ones of many Southeast residents. And they may have been preventable.

The United States Coast Guard Auxiliary members teach many classes on boating and water safety to its volunteers and the general public free of charge. With classes in fundamental to advanced boating skills, personal watercraft safety, reading nautical charts and boating fun for children, these programs all have one ultimate goal; to save lives.

Lt. Cmdr. Albright pointed out some important messages that the Coast Guard and Auxiliary want to get across to all boaters:
Wear your PFD (lifejacket).
File float plans.
Be prepared for rapidly changing weather.
Have a means of communication.
Cold water kills!
Lt. Cmdr Albright expanded on several of those topics. She quickly pointed out that a VHF radio (emergency channel #16) is a superior means of communicating compared to a cell phone. Inexpensive, the VHF's battery lasts longer than a cell phone and does not experience dead spots like a cell.
On the subject of float plans, Lt. Cmdr. Albright pointed out that it's just common sense to let someone know where you are going and when you're scheduled to return. "In an emergency, search and rescue can't find you if they don't know what area to search."

Last, but certainly not least, Lt. Cmdr. Albright dispelled a common myth when she said, "Cold water kills! People think they have a certain amount of time before hypothermia sets in. What they don't realize is that when they fall overboard without a lifejacket, their head goes underwater and the shock of it causes them to open their mouth causing them to take in water and they sink to the bottom." When you look at it that way, it makes perfectly good sense to wear your PFD.

Based on information provided, an extremely helpful program conducted by the Auxiliary is the Vessel Safety Check that is a risk free way for boaters to check that they are meeting the legal minimums and avoid a potential citation later. Risk free because no citations are issued as a result of the safety check. Those boaters that pass the examination are awarded a Coast Guard decal to display.

Examples of some of the items checked include:
Personal flotation devices.
Registration and numbering.
Navigation lights.
Ventilation.
Fire extinguishers.
Distress signals (flares, horns, etc.).
Battery connections and cover.
These items are currently required by state and federal laws and if missing or non-operative, can result in a citation if your vessel is inspected by the Coast Guard.

Are you a parent with young children? Even if you don't own a boat, growing up in Southeast Alaska means your child will most likely be on the water at some point in their life. The Auxiliary not only provides several safety classes for children but is also one of the sponsors of the Kids Don't Float education program.

In Kids Don't Float, Auxiliary teams work to reduce the fatality rate and increase public awareness of child drowning issues. In addition to education, the program includes a life jacket loaner program. Found at harbors and public boat access areas throughout the state of Alaska, boaters can borrow the appropriate size life jackets for children free of charge.

As everyone already knows, safety measures learned at an early age stay with a person throughout their lifetime. Another marvelous program administered by the Auxiliary which addresses that issue is Coastie the Safety Boat. Using a remote controlled robot boat, aptly named Coastie 08, children learn boating and water safety. Approximately the size of a jet ski, Coastie 08 travels in its own trailer to boat shows, schools and anywhere it can interact with young people and spread its safety message.

These are only some of the programs administered and operated by the Coast Guard Auxiliary and the benefits the community derives from them. What about benefits to the volunteer? There may not be monetary recompense but pride, respect and free training are just a few of the benefits for Auxiliarists.

Lt. Cmdr. Albright spoke with admiration about the Ketchikan Flotilla when she said, "The Auxiliary members are treated with the same respect as "regular" Coast Guard members and are appreciated for the services they provide."

Wearing insignia on his shoulder similar to an officer, Flotilla Cmdr. Smith said, "Regular Coast Guard is not required to salute me, yet they do anyhow just out of respect." It became obvious that the Auxiliarists are a respected, integral part of the mission in Ketchikan.

Auxiliary members take part in training sessions, conferences, patrols, cruises, ceremonies and social events. A great deal of satisfaction is derived by participating at a level tailored to each person's individual capabilities.

The United States Coast Guard Auxiliary is a 501(c)3 non-profit organization and as such volunteers receive no pay. What a volunteer does receive is a great deal of pride in wearing the Coast Guard Auxiliary uniform and knowing that they belong to a very special group of people that contribute to saving lives in their own community.

Once a member, Auxiliarists carry a Coast Guard identification card allowing them access to the Coast Guard Station and for limited use at the Base Exchange. Membership to the Federal Credit Union and supplemental insurance is available. "While working as a volunteer, liabilities and injuries are covered under the Federal umbrella," Lt. Cmdr. Albright said.

Do you have what it takes to volunteer a few hours a week or up to as much as 20 hours? Are you looking for a way to be a contributing member of the community? Flotilla Commander Grant Smith is waiting for your call at 617-1182.
On the Web:
Marie L. Monyak is a freelance writer living in Ketchikan, Alaska.
A freelance writer is an uncommitted independent writer
who produces and sells articles to a publisher such as SitNews.
Contact Marie at mlmx1[at]hotmail.com
Send your story ideas to editor@sitnews us


Publish A Letter on SitNews Read Letters/Opinions
Contact the Editor
SitNews
Stories In The News
Ketchikan, Alaska