Arts & Entertainment
BEANS, BRONCS AND CRUMPETS
FIRST CITY PLAYERS BRINGS "CHAPS!" AND THE BBC TO KETCHIKAN!
By Sharon Allen
March 16, 2006
Thursday

Ketchikan, Alaska - It was a wild ride!
First City Players opened a winning production of "Chaps!" last Friday night at Cape Fox in Dinner Theatre form. It starred Jeff Seifert as Archie Leitch, Jack Shay as Leslie Briggs-Stratton, Alejandro Chavarria as Miles Shadwell, Seth Krasnow as the silent, yet noisy Stan, Deb Turnbull as Clive Cooper and Tekla Helgason as Mabel Halliday.
This hilarious play, written by the matrimonial team of Malcolm Hillgartner and Jahnna Beecham, was directed by the talented Maria Dudzak and catered by the capable culinary chuck-wagon genius of Chef Tim. And if you didn't make it to either the Friday or Saturday night openings, don't worry. You're not too late to enjoy this triple treat of food, fun and frolic, because it runs again this Friday and Saturday night!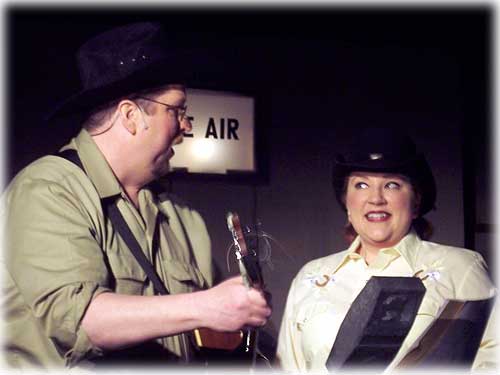 Jeff Seifert as Archie Leitch and Tekla Helgason as Mabel Halliday
Photo by Sharon Allen

The title is a pun and indicates the silly, slapstick storyline--referring to both the cowboy garb and the reluctant, reserved staffers at the British Broadcasting Company who must fill in when America's favorite singing cowboys, Tex Riley and His band don't appear in time for a special live broadcast to the troops during World War II.
The show opens with only 15 minutes to airtime, and no Tex and no cowboys. When the tour manager, Mabel, finally arrives with the musicians, costumes, and scripts, but sans actors or singers. It seems Mabel and the others took different trains! So they all decide the show must go on - by impersonating the cowboys complete with Texas garb (which gets showier and shinier with each song!) and gafawing vaudevillian reporte amix Texas twangs and stuffy English accents.
Improbable? Mightily. But who cares? Seeing a live person playing a ventriloquist's dummy was a side-splitting laugh, but the fantastic cast didn't stop there. The night was chockful of cheerful Western film and television show songs such as "Cool Water," "Tumbling Tumbleweeds" and "Jingle, Jangle, Jingle" that brought back memories of the sound of hobby horse springs, the smell of popgun ammunition, the flicker of a black-and-white console TV, the hot steam from freshly-popped popcorn and the floor-sitting excitement of our past enthusiam with Cowboy stars such as the Lone Ranger, Roy Rogers and Gene Autry, just to name a few.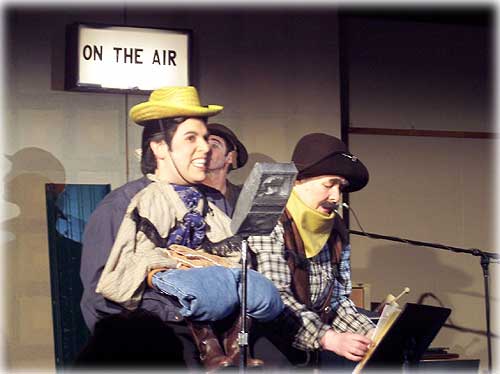 Alejandro Chavarria as Miles Shadwell and
Deb Turnbull was the other half of Alejandro's puppetry.
Photo by Sharon Allen

As for the stage, lights, sound and costume, they all kept true to the theatre's adage that if they become overly noticeable, then they were not effective. Thanks go out to Jonathan Morgan and Ed Zastrow for the great set and to Deb Turnbull for being Technical Director. It was as sparse as a London radio station in the 1940s would have been. Drab with wood plank floors holding up brown walls, black microphones and music stands, it was the perfect compliment for the frivolity and bustle of the studio staff once the large white "On Air" sign flashed to signal the show must go on.
The lighting was well-done, a difficult task in such a small seating area. Dan Mortenson and Elizabeth Nelson deserve a round of applause for that and for making sure that the actors faces were never in shadow.
Stuart Whyte was a wizard at the Sound Board. So were the sound effects played onstage in the right corner of the studio by the gifted Seth Krasnow; this time playing the silent shell-shocked war vet, Stan.
With his lean, lanky form dressed in wartime G.I. green and two black camoflauge marks on his cheeks, Stan gave his all for the Brits and the Boys at the Line with the punctuation of beeps, bonks, cackles, and honks - all on cue to lighten up moments of the performance that might otherwise seem serious. He also has a fantastic and inspired solo, performing silently in a kind of puppety, comical, jumpy, jerky, dragging-foot stomping dance, while staying quite in character.
The Band too, was outstanding. Kim Henrickson was on piano, Terry O'Hara was on Mandolin and Rudy Saccomanno was on Guitar, but these three musicians were hard to spot. They spent most of the show in the far left corner in the dark, yet their music definitely made sparks as they played Johnny Mercer's ''I'm an Old Cowhand,'' Gene Autry's and Ray Whitley's ''Back in the Saddle Again,'' ''I Want to Be a Cowboy's Sweetheart,'' ''Tumblin' Tumbleweeds,'' ''Ragtime Cowboy Joe,'' ''Cool Water,'' ''Sioux City Sue" and "Cigareets and Whusky."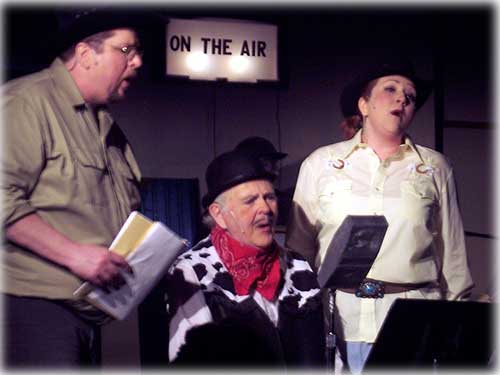 Jeff Seifert as Archie Leitch, Jack Shay as Leslie Briggs-Stratton
and Tekla Helgason as Mabel Halliday
Photo by Sharon Allen

The costumes were perfect for the style and time period and did a good job of reflecting each character's personality. It was particularly enjoying to see the clothing go from the ho-hum British stuffed shirts to the ropin' totin' Cowboy garb; and to watch the fabrics get flashier with each scene - sort of depicting how each character was falling prey to the fun and beginning to enjoy their "Cowboy" parts more and more as the show went on.
And while all the characters were convincing in their roles, two in particular were over-the-top funny: Leslie Briggs-Stratton and Miles Shadwell.
A big hand goes to Jack Shay in his role as the stodgy alcoholic stuffed-shirt radio announcer, Leslie. His droll antics in "Wahoo!" were particularly hilarious and had most of the audience holding both their sides with laughter. He was a delight throughout and his surprise gender change near the end of the show was priceless.
Then too, Miles Shadwell had us screaming in our seats. Alejandro Chavarria is a talented actor to be sure. The audience chuckled through his portrayal of the asthmatic producer of the radio show as he coerced Leslie Briggs-Stratton, Archie Leitch and Clive to fill in for the missing troupe by making the Chaps don chaps, but the audience roared when the tables were turned and the rest of the crew coerced Miles into being a live ventriloquist's dummy. Ketchikan has enjoyed watching Alejandro grow up on stage, singing, dancing, playing instruments, and acting and we look forward to many more such performances in the future.
Jack Shay as the stodgy alcoholic stuffed-shirt radio announcer, Leslie Briggs-Stratton
Photo by Sharon Allen
But of course, Miles and Leslie weren't the only funny ones. Mabel Halliday, the beautiful troupe manager played by Tekla Helgason, has some great moments herself. From the time she comes huffing and puffing into the station, toting the instruments and costumes and finds out that the cowboys aren't there yet, she's game for anything, including filling in for the roles of the sweethearts of the Rodeo (twins Polly and Molly).
At first hesitant because she's always been behind the scenes and not in front of a crowd performing, she does her best imitation of a Brit with a stiff upper lip and does a great job, especially with her rather lovely rendition of ''White Cliffs of Dover'' and her sweet clear voice in "Cool Water." Tekla was a perfect choice for Mabel and she played the American from Oklahoma perfectly.
Jeff Seifert played Archie Leitch, the sound engineer, and if one had to name a single actor who blossomed most during the time onstage, it would have to be Jeff. He did a marvelous job of becoming Country. From the first time he strummed his guitar in the song, "I'm an Old Cowhand" to the last song, "Cigareets and Whusky," you could actually watch the dust of the west settling onto his soul. By the end of the show, you'd swear he really was from Texas.
But don't let's forget Clive Cooper! The charaismatic Salty's Fish and Chips radio jingle ad man, (er, woman), had lots of opportunity for laughs and Deb Turnbull played it up with gusto! Again, the scene with the ventriloquest's dummy was awesome and by rights, 50% of the applause should belong to Deb - the other half of Alejandro's puppetry. Deb and Alejandro played this silly scene with perfect synchronization and the way Clive used his own hands in Miles' gloves to puncuate the words in "The Balad of Curly Joe" - ah, there are no words, just laughter.
Overall, it was a beautifully done production. The songs had beautiful harmony and the cast was full of energy. The comedy was spot-on, and the droll British accents switched back and forth with the drawls of the Western Cowboys put on for the radio listeners were quite well done. The choreography by Clare Patton enhanced the comedy even more as the Brit Blokes turned Cowpokes awkwardly tried to keep in step to Ted Riley's troupe's dance moves for the studio audience's benefit.
It was a great show and a wonderful belly laugh. And best of all, it was readily apparent that the cast and crew were having just as much fun as those of us in the audience. Cheers for Chaps!
Chaps continues on Friday, March 17 and Saturday, March 18 at Cape Fox Lodge. Performances are in Dinner Theatre form and begin with cocktails at 6:30 pm with dinner at 7:00 pm. Tickets are still available by calling Cape Fox Lodge at 225-8001.

Sharon Lint Allen is a freelance writer
living in Ketchikan, Alaska.
A freelance writer is an uncommitted independent writer
who produces and sells articles to a publisher such as SitNews.

Contact Sharon at sharon@sitnews.us

Publish A Letter on SitNews
Read Letters/Opinions
Contact the Editor
SitNews
Stories In The News
Ketchikan, Alaska