Over 35 Employers Participated in 7th Annual Job Fair
By Marie L. Monyak
March 13, 2006
Monday
Ketchikan, Alaska - Over 35 employers were represented at the Plaza Mall this past Friday during the 7th Annual Job Fair sponsored by State of Alaska, Department of Workforce Development. The mezzanine floor of the Plaza Mall was lined with booths staffed by local employers displaying their services or products on colorful displays.

As expected, many of the employers were recruiting for seasonal positions in the tourism industry but many year round employers were represented as well.

Serious applicants showed up dressed and ready for an interview with resume in hand.
Many job seekers could be seen going from one booth to the next asking questions to determine which employer and what position they were best suited for.

Tina Nelson, General Manager for Alaska Amphibious Tours better known as The Duck Tour said, "We need to fill about eight positions and we've already received 18 applications and 10 resumes." Prospective applicants should heed the Duck Tours motto; Only Fun People Allowed."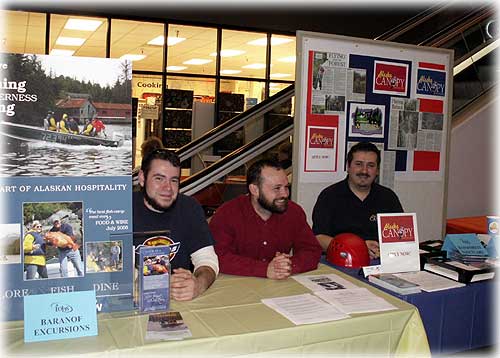 Baranof Excursions, Alaska Canopy Adventure, Alaska Rainforest Adventure and Taquan Air on the far right. Gentlemen pictured from left to right are:
Jared Dunleavy, Eric Lunde and Hakan Sebcioglu.
Photograph by Marie L. Monyak

General Manager of Alaska Cruises, David Allen said, "This is our second year at the Job Fair and we're looking to fill about four positions, mostly dock reps." Baranof Excursions, owned by Chuck and Debbie Slagle, need seven new employees to fill positions ranging from camp cook to captain.

Promech Air is recruiting at least ten new employees. Controller Shannon Kelly explained, "We have a lot of returning employees, high school kids that come back every year, after they graduate and leave town to attend college, they still return for the summer. It's nice to have that experience on the dock." Returning employee's aside, Kelly still has about ten positions to fill in different areas.

Operations Manager Hakan Sebcioglu manned the booth for Alaska Canopy Adventures, Alaska Rainforest Sanctuary and Taquan Air. Sebcioglu reported that approximately 75% of last summers Canopy Adventure and Rainforest Sanctuary employees are returning yet he still needs to fill about a dozen opening for both tours. He further stated that Taquan Air is currently recruiting for Bear Guides.

Nils Utterback, owner of Northern Tours and Alaska Undersea Tours is hoping to fill ten to twelve positions. This is only Utterback's second year at the Job Fair but he is a long time seasonal employer in the tourism industry since he founded Northern Tours back in 1994.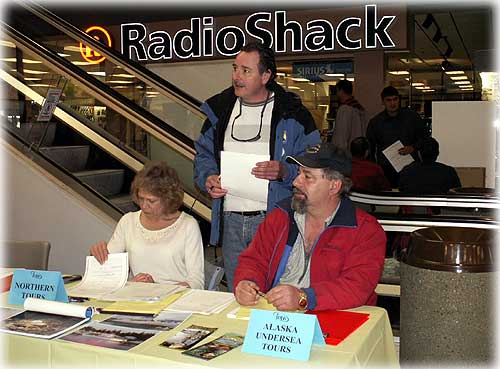 Northern Tours and Alaska Undersea Tours booth. Owner Nils Utterback (standing) is speaking to a prospective employee. Seated is Kathy Fisher and Captain Joel Smalley.
Photograph by Marie L. Monyak

Anyone who was under the misconception that only seasonal employers would be represented was surprised to find a variety of year round employers recruiting as well.

Carrs Safeway, Wells Fargo, Alaska Airlines, Tongass Trading and Ketchikan General Hospital were only a few of the year round employers present.

Lance Haynes, Employment Specialist for year round employer Community Connections, reportedly handed out over 25 employee information packets in just the first three hours of the Job Fair. "Seven or eight of those first 25 applicants appeared to be very qualified," Haynes said.

Several year round employers that are hiring seasonal workers stated that if a seasonal hire is an exemplary worker, they may keep that person on as a permanent employee.

Katherine Dunn of the Best Western Landing Hotel had three opening in housekeeping and guest services. Dunn stated that 60 to 70 percent of the applicants she spoke with sounded very serious and promising. Who's to say if one of those positions could work into a year round job for a model employee?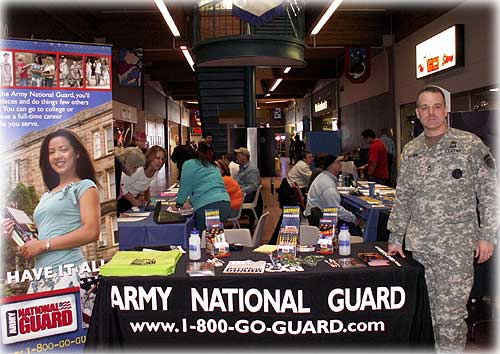 Alaska Army National Guard, Master Sergeant Clinton Brown II, Area NCOIC.
Various booths in the background.
Photograph by Marie L. Monyak

One employer at the Job Fair was in a category different from all the rest. The Alaska Army National Guard is recruiting "Citizen Soldiers." Part time, year round employment with the Guard allows for recruits to keep their full time positions while serving their country and earning numerous benefits.

Master Sergeant Clinton Brown II said, "We were at the Job Fair in Juneau earlier this week and at one in Sitka the week before. We generally recruit one person out of every two job fairs. If we do that, we consider it a success."

As Ketchikan's economy becomes more and more dependant on the tourism industry, many local residents are drawn to lucrative positions for the five months that Ketchikan is awash with tourists.

Anyone who is interested in employment this summer would be well advised to contact these employers as soon as possible as the position are generally filled by the end of this month or the beginning of April to allow employers time to concentrate on scheduling and preparing for the arrival of the cruise ships and independent travelers.

The helpful people from the State of Alaska, Department of Labor and Workforce Development are ready and willing to assist applicants in numerous ways through their Job Service program. Residents can seek assistance in preparing resumes and cover letters, sharpening interviewing skills and learning proven job hunting techniques to mention just a few of their offerings.

The local office is located at 2030 Sea Level Drive, Suite #220 or phone 907-225-3181.
On the Web:
Marie L. Monyak is a freelance writer living in Ketchikan, Alaska.
A freelance writer is an uncommitted independent writer
who produces and sells articles to a publisher such as SitNews.
Contact Marie at mlmx1[at]hotmail.com
Send your story ideas to editor@sitnews us


Publish A Letter on SitNews Read Letters/Opinions
Contact the Editor
SitNews
Stories In The News
Ketchikan, Alaska