Slip-slidin'-snowy day
By M.C. Kauffman
March 13, 2006
Monday

Ketchikan, Alaska - Unplowed side roads made travel difficult for two Laidlaw busses this morning at Bunchberry Lane and South Point Higgins where they both slid off the road.
According to the photographer Judy Roush, "The driver of the small bus, was busily trying to put chains on his bus, after the fact. He managed to get one on the right rear." Roush said there were no State Troopers for quite a while, but Laidlaw's "man" was right there! "Purdy Towing saved the day and the busses."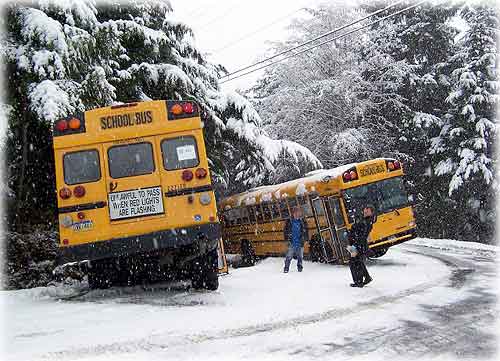 7:30 am at Bunchberry Lane and S. Point Higgins
Judy Roush ©2006

When Laidlaw was contacted regarding the road conditions and if any other busses had experienced problems, manager Lorrie Eastham's commented, "You must be having a slow news day." She did add that no other busses experienced any problems and that the road was plowed after the two busses were off the road.
Snowfall was heavy north of Ketchikan with 4 inches accumulation measured at 14 miles North Tongass Highway by noon Monday.
On the Web:
National Weather Service
http://www.arh.noaa.gov/zonefcst.php?zone=028

M.C. Kauffman is the web author and co-editor of SitNews.

Contact M.C. Kauffman at mc(at)sitnews.us

Publish A Letter on SitNews
Read Letters/Opinions
Contact the Editor
SitNews
Stories In The News
Ketchikan, Alaska