Unusable donated items cause huge financial burden
By Marie L. Monyak
March 11, 2006
Saturday

Ketchikan, Alaska - The Salvation Army is an international non-profit social service organization that has been in existence for over a century. Just some of the services offered in Ketchikan by our local chapter are disaster relief, holiday assistance, worship services, emergency assistance, services for the aging, the Christmas Kettle campaign, food and nutrition services and the soup kitchen.

According to the Salvation Army web site, over 30 million people have been aided in some form by the services they provide. Also, important to know is that 83 cents of every dollar donated goes directly toward client services which is among the highest percentage of any non-profit in the world.

Ketchikan's local Community Center is headed by Corps Officer (Senior Pastor) Major James Halverson and his wife, also a Corps Officer (Senior Pastor), Major Eileen Halverson.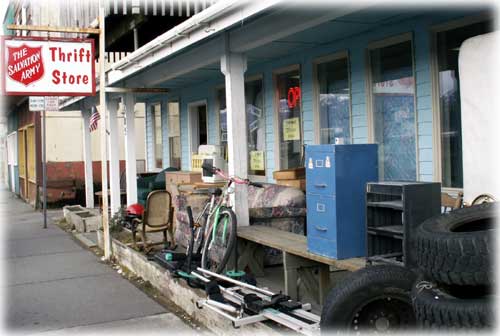 Ketchikan Salvation Army Thrift Store
Photograph by Marie L. Monyak

Every Salvation Army Corps chapter has an Advisory Board comprised of local community and civic leaders who provide advice and act as a liaison between the Salvation Army and the community.

In Ketchikan, the Advisory Board is made up of nine community members and it is one of those board members that has brought a long standing problem to the attention of the Mayor and the City Council.

Most residents of Ketchikan are familiar with the Salvation Army Thrift Store located on Stedman Street. It is not uncommon for one to drive past the Thrift Store and see donated items left after hours at the doorstep by well intentioned citizens.

It is these unusable donated items that are causing a huge financial burden on our local chapter in the form of exorbitant landfill fees. Although they are a non-profit organization, the Salvation Army is charged by the City of Ketchikan, the same landfill rates as any business.

According to Laura Huffine, Scale Operator at the Ketchikan Landfill, "The business rate is $12.50 for non-hazardous loads of up to 500 pounds and 6 cents a pound after that."

Based on receipts and bills from the City Landfill provided by Major James Halverson, the Thrift Store has incurred over $1,000 in fees since the beginning of 2006 alone. It should be noted that this is only landfill fees, not the regularly scheduled refuse collection of day- to-day trash generated by the Community Center and Thrift Shop.

Based on a telephone interview with Advisory Board member Steve Corporon, "We have discussed this issue at Advisory Board meetings for over two years now. Last year the Major sent a letter to the City Manager and to their knowledge [the letter] was never responded to."

Corporon continued, "We are not looking to get a freebee for regular trash they generate but for the "pass through" trash that's not acceptable to begin with."

So what is "pass through" garbage? Any item that is broken, doesn't work or worn beyond usage, thus cannot be sold at the Thrift Store and must be discarded, in essence making the Salvation Army the middle man in hauling the items to the City Landfill on behalf of the donator.

Any resident of the City and Borough of Ketchikan that receives a monthly KPU bill need only look at the itemized list of charges and see code 54: Solid Waste Disposal: $15.00. This fee allows residents to dispose of non-hazardous household refuse at the City Landfill for no additional charge.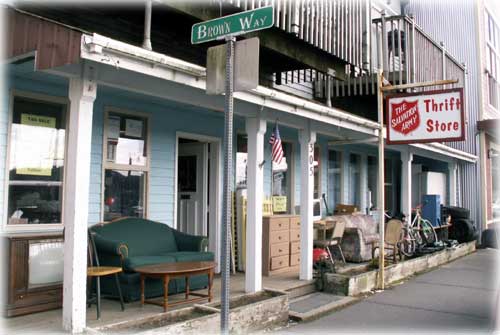 Ketchikan Salvation Army Thrift Store
Photograph by Marie L. Monyak

Like any child that knows how to play connect-the-dots, one only needs to follow the trail of donated items from beginning to end. Joe Citizen takes the old torn couch that Fluffy slept on for five years, the broken refrigerator, the toaster with a frayed electric cord and torn clothing to the Salvation Army Thrift Store after hours.

All of these items are unusable and Joe Citizen would have been advised of this had the Thrift Shop been open. The next business day, the Thrift Shop employees arrive to find they are now responsible to haul the items to the City Landfill at the expense of the Salvation Army.

Are citizens leaving their rubbish at the Salvation Army because the Landfill is closed at 4:00 P.M. Monday through Saturday, before most people get off work, and closed on Sundays? Possibly. Is it due to the proximity of the Thrift Store to the Landfill? Another possibility.

It could be that for some people who have come to Ketchikan from larger cities in the Lower 48, may be familiar with a branch of the Salvation Army known as ARC, the Adult Rehabilitation Center where donated items in need of repair are refurbished and readied for sale in the Thrift Stores.

Our local Salvation Army does not have this branch to assist with repairing donated items and it's important for the well-intentioned residents of Ketchikan to know this. Just as important, citizens need to know they will not be charged at the landfill when discarding their non-hazardous household trash.

Ketchikan City Mayor Bob Weinstein, at the March 1st City Council meeting, asked that this problem be placed on the agenda for the next City Council meeting in response to what he said, "calls from several people the last few months that has to do with items being dropped off, that the Salvation Army doesn't want, yet the dropper could have taken it to the landfill at no cost."

Mayor Weinstein, addressing City Manager Karl Amylon, said, "The Salvation Army is incurring larger than appropriate costs. Can you have your staff look at the accounts for that kind of business and see what recommendations, if any, you would have to lessen it?"
The Mayor continued, "I'm not trying to get this to the point where they have no landfill cost but if they're incurring exorbitant costs because citizens dropped their stuff off instead of going to the landfill and then it [fees] goes up, they [Salvation Army] have the pleasure of paying."

City Manager Amylon answered with, "We can try to do it, it's going to be hard in the context of identifying a class of business." To which the Mayor responded, "I'm talking about non-profit thrift store, there's only a few in town."

There are in fact, four thrift stores in Ketchikan. In addition to the Salvation Army Thrift Store, there are the Easter Seals Thrift Store, Wee Blessings and Rendezvous Senior Services Thrift Store.

Wee Blessings is operated out of the basement of the Seventh Day Adventist Church on Fist Avenue and in speaking with Pastor Geary he stated, "If we have unusable items that have to go to the landfill, our church members haul the items so there is no charge." It should be noted that Wee Blessings does not charge for anything in their thrift store, items are freely given to those in need.

Pat Odell, manager of the Rendezvous Thrift Store and Jan Andrews, program coordinator for their Senior Day Center both acknowledged that they also have to haul unusable items to the City Landfill but not on the scale of the Salvation Army.

Rendezvous Thrift Store does have signs posted outside that ask residents not to leave donations outside and another that states they do not accept toys, furniture or large appliances. Unfortunately, the signs are not always heeded.

Pam Thornlow, owner of the Easter Seals Thrift Store was unavailable for comment. It's unknown what the extent of the problem is for them.

The City Council represents the people of Ketchikan. Do the people of Ketchikan believe that it's really necessary for the City of Ketchikan to charge for unusable donations hauled by these non-profits to the landfill?

Monies spent by the Salvation Army on these landfill fees ultimately deprive those in need in the community of worthwhile services that could otherwise be provided to them.
While donations are welcomed blessings, if the item is unusable it can then become a huge financial burden.
Marie L. Monyak is a freelance writer living in Ketchikan, Alaska.
A freelance writer is an uncommitted independent writer
who produces and sells articles to a publisher such as SitNews.
Contact Marie at mlmx1[at]hotmail.com
Send your story ideas to editor@sitnews us


Publish A Letter on SitNews Read Letters/Opinions
Contact the Editor
SitNews
Stories In The News
Ketchikan, Alaska