Governor Signs Absentee Ballot Bill
March 07, 2006
Tuesday

Alaska Governor Frank H. Murkowski on Monday signed Senate Bill 36, which protects the confidentiality and integrity of the by-mail absentee ballot application and process.
The bill, sponsored by Sen. Gene Therriault (R-North Pole), requires that requests for absentee ballots by mail be submitted directly by the absentee voter to the Division of Elections. The bill also mandates the approval by the director of the Division of Elections of any absentee ballot request forms that do not come directly from the division.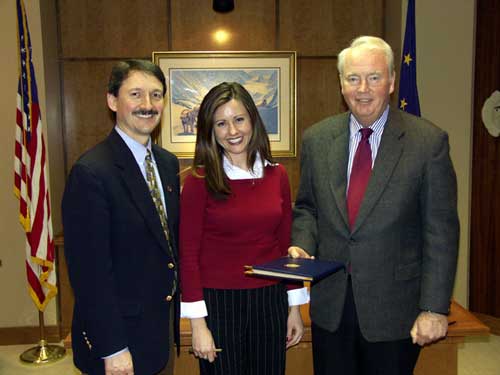 Senator Gene Therriault, Division of Elections Director Whitney Brewster,
and Alaska Governor Frank Murkowski.
Photo courtesy Senator Gene Therriault,

"The integrity of our voting process is one of the foundations on which our democracy rests," said the governor. "It is critical that we protect the confidentiality of those who choose to cast their absentee ballot votes by mail. Those voters must know with confidence that their vote and their interests are protected. I want to thank Sen. Therriault for his leadership on this important issue."
"The Division is glad to have this clarification in law that absentee ballots be returned directly to the Division," said Division of Elections Director Whitney Brewster. "Not only does this allow the Division to process these applications in a more timely manner, but it also protects the confidentiality of the voter and the integrity of the process."
Sen. Therriault discusses the incident that led him to introduce SB 36.
Serious questions were raised once it was discovered that a voter's confidential information could be seen and used by someone besides elections officials. The issue grew even more serious when elections workers found that around 1,000 applications had been altered, possibly after they had been signed and mailed by the voter. That required the Division of Elections to spend time, money and resources verifying the information to prevent any abuse according to Sen. Therriault.
"There is no proof the Democratic Party of Alaska misused absentee voter information, however, it cast a long shadow of doubt over the 2004 election and left voters worried that their constitutional right to privacy was somehow violated. SB 36 closes that loophole for good," said Sen. Therriault.
SB 36 was drafted in response to concerns that arose in the 2004 general election when the Alaska Democratic Party chose to have individual absentee ballot requests mailed back to the political party office instead of directly to the Division of Elections.
The new law will be in effect for the 2006 primary and general statewide elections.
On the Web:
Sources of News:
Office of the Governor
http://www.gov.state.ak.us

Office of Sen. Gene Therriault
http://www.akrepublicans.org/therriault/index.php



E-mail your news & photos to editor@sitnews.us


Publish A Letter on SitNews Read Letters/Opinions
Contact the Editor
SitNews
Stories In The News
Ketchikan, Alaska