Ketchikan's unemployment rate rises to 9.0 percent

Statewide, unemployment rises to 7.7 percent

March 06, 2006
Monday

Ketchikan, Alaska - Ketchikan's unemployment rate rose 1.3 percentage points in January to 9.0 percent. Although higher than the unemployment rate in December 2005 of 7.7 percent, according to Dan Robinson, Economist with the Alaska Department of Labor & Workforce development, the increase is typical for January, the low point of the year for employment activity statewide.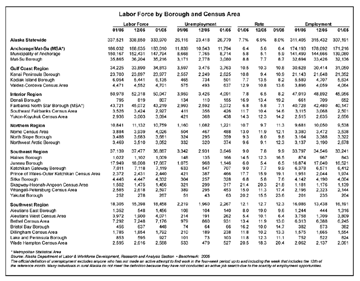 Labor Force by Borough
Click on the graphic to view a larger chart...
Statewide, Alaska's unemployment rate rose eight-tenths of a percentage point in January to 7.7 percent, Robinson reported that over the longer term, unemployment rates have shown a gradual downward trend since the summer of 2004.
Anchorage's January rate of 5.8 percent was the second lowest in the state, behind only the Aleutians West Census Area's 5.4 percent. Groundfish and crab fishery activity in the Aleutians and Kodiak pushed unemployment rates down dramatically in those areas. Kodiak's rate fell from 13.5 percent in December to 7.7 percent in January, and the Aleutian East Borough's rate dropped from 19.0 percent to 8.0 percent.
Juneau and Fairbanks recorded rates of 6.0 and 6.8 percent, respectively. Both areas have been following the statewide pattern of moderate but consistent unemployment declines, indicating a slightly tighter labor market in the state's population centers.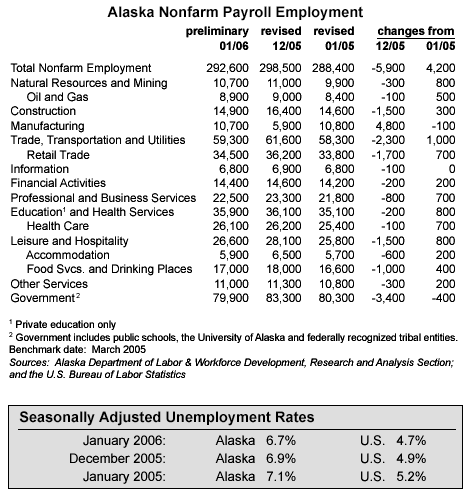 Statewide, preliminary estimates of January payroll employment show a monthly decline of 5,900 jobs. Every major industry sector had lower employment in January except manufacturing, where seafood processing kicked back into gear after a typically inactive December.
Statewide, a comparison of the January 2006 total job count with January 2005's shows an increase of 4,200 jobs. Natural resources and mining continued to show impressive growth, adding 800 jobs over the period. The oil and gas industry was responsible for most of that increase, but mineral mining also contributed about 200 jobs. Government's decline was due to a timing change for the University of Alaska's winter break. State and local government have both been growing slightly and that pattern is expected to resume when February numbers are released.
Source of News & Charts:
Alaska Department of Labor & Workforce Development
http://www.labor.state.ak.us




Publish A Letter on SitNews Read Letters/Opinions
Contact the Editor
SitNews
Stories In The News
Ketchikan, Alaska