Assets necessary for children to thrive
By MARIE L. MONYAK
March 04, 2006
Saturday

Ketchikan, Alaska - The Greater Ketchikan Chamber of Commerce luncheon this past Wednesday provided those in attendance with not just one but two presentations. The invited guest speaker was Karen Eakes, long time Ketchikan resident and Executive Director of PATCHWorks. The First City Players also provided the Chamber members and their guests with a short preview of their upcoming musical comedy "Chaps."
"Someone might be thinking, why would you have an organization like PATCHWorks come in," Blaine Ashcraft, Chamber Business Manager asked. "Our children are our future business community so that's something to keep in mind about which direction we want to go."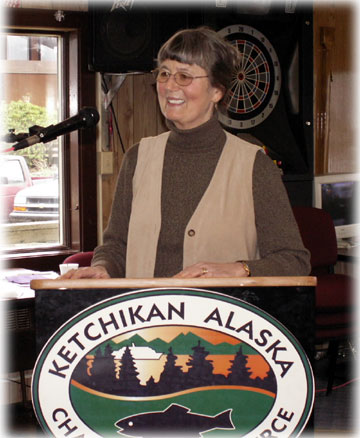 Karen Eakes, Executive Director of PATCHWorks
Photograph by Marie L. Monyak



Executive Director of PATCHWorks, Karen Eakes has lived in Ketchikan for 39 years and spent 22 of those as a teacher. She got involved in PATCHWorks while in graduate school.

Eakes began her presentation by distributing a publication entitled "Building a future for our community" which contained an abundance of information regarding our local youth and the assets necessary for every child to thrive. Additional information was included from the Search Institute which provided the statistical information used in the presentation.

For years the community has heard the name PATCHWorks and seen their announcements in the local newspapers which refer to assets, yet there are still many who are not aware of who the organization is and their purpose.

PATCHWorks is simply a Planned Approach to Community Health. When it began in Ketchikan in 1977, the organization adopted Search Institutes developmental asset framework and is dedicated to promoting youth in a positive way and spreading the asset message.

This research based framework lists developmental assets that assist our youth in becoming healthy, responsible, well adjusted adults. It has been proven through research that the more assets children have the more likely they are to make healthy, positive choices in their lives and avoid high risk behavior.

Eakes explained, "There is a direct correlation between high risk behaviors and thriving behaviors to the number of assets that kids report having in their lives versus the likelihood to exhibit thriving or high risk behavior."

The assets spoken of are not property in the usual sense of the word. Cell phones, cars, MP3 players, Xboxes and the latest NBA endorsed footwear will not replace family support, communication, self-esteem and adult role models.

PATCHWorks list 40 assets that are considered to be the building blocks of a healthy lifestyle for our children. Broken down into two categories, internal and external assets, the more assets a child has the more likely they are to exhibit thriving indicators such as resisting dangerous behavior (alcohol, drugs and sex), success in school, leadership qualities, impulse control and good health.

On the same token, those children with the least number of assets will exhibit risk-taking behavior in the form of violence, vandalism, truancy, eating disorders and alcohol, tobacco and drug use.

It's important to know that the survey results used in Eakes presentation came from our own local children. In 2004, Search Institute conducted a survey of 747 Ketchikan youths from grades six through twelve. These results raised more than a few eyebrows at the luncheon.

The survey showed family support as one of the highest rated assets at 65% yet family communication at a mere 29%, indicating where parents may want to concentrate their efforts. Also startling was how these 747 local children rated the way they perceive the value that the community places on them by giving the lowest rating on the entire survey of only 20%.

At a time when our middle school children have been without a school to call their own and the high school has recently been under a veil of gossip it cannot come as a surprise that the youth in Ketchikan feel devalued by their community.

On a brighter note which bodes well for the community, the ratings that the young people gave themselves under integrity, honesty and responsibility were the highest at 70%, 67% and 65% respectively.

With some trepidation Eakes said, "PATCHWorks had the survey conducted three times; in 1997, 2001 and 2004. We have not gone up from the last survey, we have not improved. We're missing the boat, there are a lot of clubs and organizations in this town, wonderful organizations but we're still not doing better."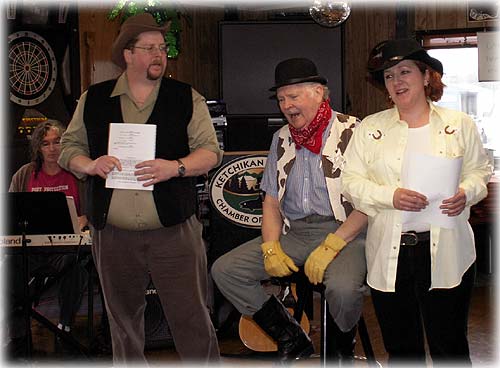 A sampling of the First City Players upcoming musical comedy
"Chaps" kicked off the luncheon.
Kim Henrickson at the keyboard, Jeff Seifert, Jack Shay and Tekla Helgason.
Photograph by Marie L. Monyak

"In my opinion, there are three things that need to happen, they're overlapping goals," Eakes explained. "The first one is building awareness and I think this is happening. Ketchikan Values Youth, Student of the Week program is where different youth are recognized for all sorts of positive things."

A popular but costly effort is called the Priceless Campaign. Eakes said, "We take an asset a week and exemplify it with a picture and it runs in the newspaper every Wednesday. Another thing going on is sending newsletters home through the school system to parents of students in K through 12."

Eakes continued, "The second goal for PATCHWorks is building understanding and buy-in, that takes a lot more time. Once you see the survey it's hard to just dismiss it. The research is very clear, everyone needs to do this, it has to be intentional."

Eakes expressed the third goal, "We have to continue to create opportunities in this town for community engagement and asset building activities."

Based on the publication circulated, some easy asset building activities are:
Get to know what young people around you are really like, not just how they are portrayed in the media.
Volunteer as a tutor, mentor or youth leader in a youth service organization.
Eat at least one meal together every day as a family and take time to talk about what's going on in each other's lives.
Develop opportunities for youth to contribute to the community.
Get to know the names of kids who live around you and find out what interests them.
Eakes offered some well though out advice based on research and her years of experience, "Instead of focusing on fixing young peoples problems which we all tend to do, if we slowly change our focus, don't ignore [problems], but look at what kids are doing well, build them up, support them in their strengths, this is key to building assets."
Eakes finished with, "It's OK to blame others for young people's poor behavior? No, we need to stop blaming others for the past and start working together for the future."
Prior to the presentation by Eakes, a delightful sampling of the First City Players upcoming musical comedy "Chaps" kicked off the luncheon.
With the accompaniment of Kim Henrickson on the keyboard, Tekla Helgason, Stuart Whyte, Maria Dudzak, Jack Shay and Jeff Seifert entertained everyone with a hilarious act from "Chaps" which takes place in England during WWII, circa 1944. When Tex Riley and his Singing Cowboys are no-shows at the local B.B.C. radio station, the British station employees are frantic to fill the void by impersonating the cowboy crooners in hopes that no one will know the difference. And as they say, "the show must go on."

To tell more would ruin the surprise of watching these talented thespians perform. For those interested in an entertaining and laughter filled evening complete with a Chuckwagon Barbeque at Cape Fox Lodge, simple call the First City Players. For ticket information and times, a link to "CHAPS" is provided on this page and at the end of the column.

City Councilman Lew Williams will be the guest speaker at next week's Chamber luncheon on Wednesday March 8th at the VFW on Tongass Avenue. He will be presenting information on the Port Project.


For more information:
PATCHWorks - 3054 Fifth Avenue Ketchikan, AK - 225-4350.

Search Institute at 800-888-7828 or www.search-institute.org

First City Player's CHAPS
http://www.ketchikanarts.org/


Marie L. Monyak is a freelance writer living in Ketchikan, Alaska.
A freelance writer is an uncommitted independent writer
who produces and sells articles to a publisher such as SitNews.
Contact Marie at mlmx1[at]hotmail.com

Publish A Letter on SitNews Read Letters/Opinions
Contact the Editor
SitNews
Stories In The News
Ketchikan, Alaska