Twenty-seven Emergency Medical Technicians Graduate

March 01, 2006
Wednesday

Ketchikan, Alaska - After attending Emergency Medical Technician (EMT) courses around the community, twenty-seven Emergency Medical Technicians graduated Saturday after successfully completing their final testing.
Twenty-seven EMT-I candidates from the South Tongass Volunteer Fire Department's EMT I course and the North Tongass Volunteer Fire Department's ETT/EMT bridge course took part in the skills evaluation. This final testing concluded the basic EMT-I course of up to 136 hours of emergency medical training required to become certified as an Emergency Medical Technician in the State of Alaska.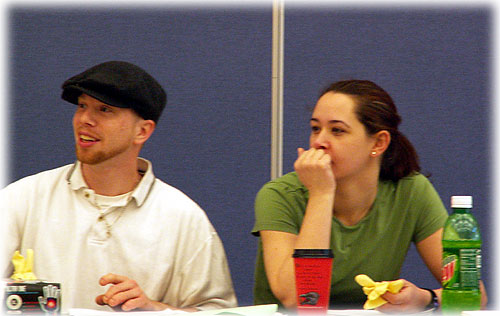 Chris Lemerond and Jessi Pilcher
Photo courtesy STVFD

The twenty-seven EMT-I candidates came from many organizations including North and South Tongass Volunteer Fire Departments, Ketchikan Fire Department, United States Coast Guard, local students pursuing degrees and nurses furthering their career. The University of Alaska Southeast Ketchikan approved this course for college credit.
Always willing to do their part, the South Tongass Volunteer Fire Department's Auxiliary took on the huge take of providing breakfast snacks and lunch for the EMT's, students, staff and proctors - a total of 75 people.
Bobbi Leitchy, Director from Southeast Region EMS, traveled to Ketchikan from Sitka to serve as the Certifying Officer for the practical testing site. Leitchy stated that this was the largest testing site she had ever seen in Southeast Alaska.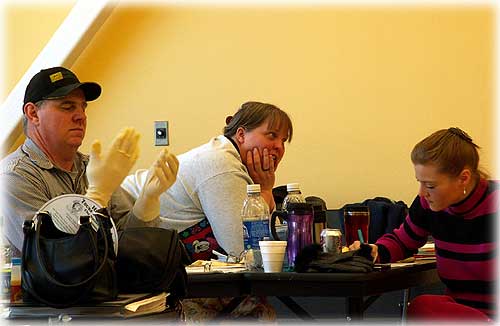 Ray Wylie, Kathy Wylie, Sherity Kelly
Photo courtesy STVFD

Fourteen skill stations were set up at the Fawn Mountain Elementary School in which experienced EMT's from the Ketchikan community volunteered as proctors to conduct the testing in accordance with State of Alaska standards.
Scott R. Davis, Fire Chief of the South Tongass Volunteer Fire Department said, "All testing was completed in less than five hours with the last student completing their station just before 3:00 p.m."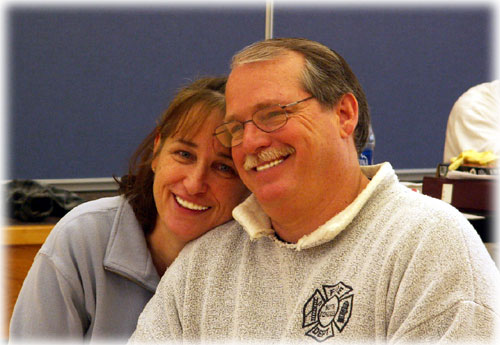 Liz and Paul Hook
Photo courtesy STVFD

"All twenty-seven EMT-I candidates passed with flying colors! As evident from the smiles!," said Davis.
Chief Davis said, " South Tongass Volunteer Fire Department extends a heartfelt thank you for the success of this testing site to Barbara Roberts, principal Fawn Mountain Elementary School, Bobbi Leitchy of SEREMS, Jerry Kiffer, EMS Lt - NTVFD, Dave Hull, NTVFD, STVFD Auxiliary, EMT's of the Ketchikan Fire Department, North Tongass VFD, and South Tongass VFD for being proctors and helpers, and all of the instructors that made it all possible."
Publish A Letter on SitNews
Read Letters/Opinions
Contact the Editor
SitNews
Stories In The News
Ketchikan, Alaska