Bush Makes Surprise Visit to Afghanistan

Praises Afghan progress, says bin Laden will be brought to justice
March 01, 2006
Wednesday

President Bush paid a surprise visit to Afghanistan March 1st, praising that country for its progress toward democracy and reaffirming his belief that Osama bin Laden and other al-Qaida and Taliban leaders ultimately will be brought to justice.
"[P]eople all over the world are watching the experience here in Afghanistan," Bush told reporters after a meeting with Afghan President Hamid Karzai. "I hope the people of Afghanistan understand that as democracy takes hold, you're inspiring others. And that inspiration will cause others to demand their freedom. And as the world becomes more free, the world will become more peaceful."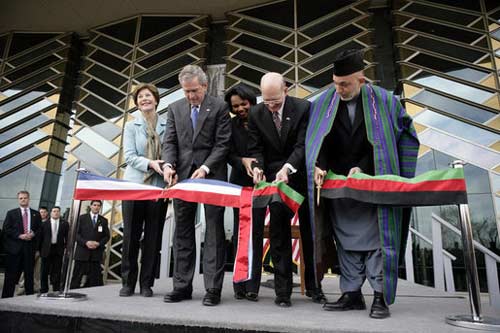 President George W. Bush and Afghanistan President Hamid Karzai, right, cut the ceremonial ribbon, Wednesday, March 1, 2006, to dedicate the new U.S. Embassy Building in Kabul, Afghanistan. President Bush is joined by Mrs. Laura Bush; U.S. Secretary of State Condoleezza Rice and U.S. Ambassador to Afghanistan Ronald E. Neumann.
White House photo by Eric Draper

Bush said the United States is honored to work with the Afghan people in their efforts to achieve greater political freedom, economic prosperity and security. He said the American people are inspired by stories of entrepreneurship, free press and the education of young girls in Afghanistan.
The president told reporters that U.S., Afghan and Pakistani security forces continue to hunt for Osama bin Laden and his associates and added that he is confident the al-Qaida leader will be brought to justice.
"We're making progress of dismantling al-Qaida. Slowly but surely, we're bringing the people to justice, and the world is better for it, as a result of our steady progress," he said.
Bush looked ahead to the next stop on his tour of South Asia, saying that he hopes to advance discussions with India on establishing U.S.-Indian cooperation in civil nuclear power generation.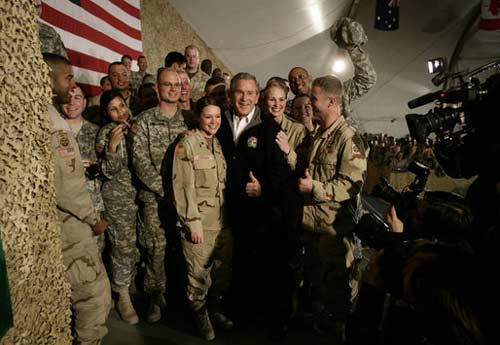 President George W. Bush poses for photos with U.S. and Coalition troops Wednesday, March 1, 2006, during a stopover at Bagram Air Base in Afghanistan, prior to his visit to India and Pakistan.
White House photo by Eric Draper

"[W]e'll continue to dialogue and work, and hopefully we can reach an agreement," he said. "[I]t's in the interests of countries around the world that India develop a nuclear power industry because that will help alleviate demand for fossil fuels."
Bush said he envisions "an international consortium that will enable countries to develop nuclear power industries in safe ways, ways that will prevent proliferation, ways that will enable nations to meet their energy needs without excessive consumption of fossil fuels."
After visiting India, the president will travel to Pakistan, where he said he would discuss efforts to hunt down members of al-Qaida with Pakistani President Pervez Musharraf.
Full Transcripts:
President and Mrs. Bush Dedicate U.S. Embassy Building in Afghanistan

President Meets with President Hamid Karzai in Kabul, Afghanistan

Publish A Letter on SitNews
Read Letters/Opinions
Contact the Editor
SitNews
Stories In The News
Ketchikan, Alaska