Pulitzer Prize Winning Poet To Visit Ketchikan
March 25, 2005
Friday

Ketchikan, Alaska - Stephen Dunn, Pulitzer Prize winning poet, will read from his body of work on Sunday, April 3 at 7:30pm at the Saxman Tribal House. This event is free and open to the public. The event is co-sponsored by the Ketchikan Writers Forum, a program of the Ketchikan Area Arts & Humanities Council and the University of Alaska Southeast Ketchikan and is a celebration of National Poetry Month.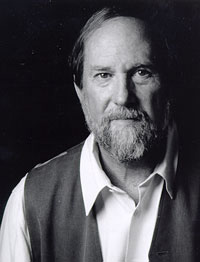 Stephen Dunn
Photo courtesy Richard Stockton College of New Jersey
Stephen Dunn, a Richard Stockton College of New Jersey Distinguished Professor of Creative Writing won the 2001 Pulitzer Prize for Poetry for his Different Hours collection of poems.
In this collection, Dunn turns his gaze upon the space that is unexamined in our lives, upon what lurks in the 'different hours' of the human experience. As Dunn says, he is interested in exploring the different hours "not only of one's life, but also of the larger historical and philosophical life beyond the personal."
Asked about Different Hours, Professor Dunn said, "This is a book that I think was my best work, and one that I think I was ready to write. I probably couldn't have written it earlier in my career. I hope it withstands the scrutiny of the Prize."
Dunn said the rewards likely to come with winning a Pulitzer are "very nice" although not the important thing. "What comes with this Prize is the fact that my work will be looked at with new regard and will be exposed to new readers. That's really the most important thing."
Dunn, of Port Republic, a Trustee Fellow in the Arts and Distinguished Professor of Creative Writing, is the author of eleven collections of poetry, including Loosestrife; New and Selected Poems, 1974-1994; Landscape at the End of the Century; and Between Angels.
He has taught poetry and creative writing and held residencies at Wartburg College, Wichita State University, Columbia University, University of Washington, Syracuse University, Southwest Minnesota State College, Princeton University and University of Michigan.
A faculty member in creative writing at Stockton since 1974 (he was first designated Trustee Fellow in the Arts, 1991 and again in 2000,) Dunn has been Woodrow Wilson Fellow in Poetry at various colleges since 1990, Lila Wallace Fellow in Poetry, Wartburg College, 1991, Distinguished Poet in Residence at Wichita State University, 1989, Adjunct Professor of Poetry, Columbia University from 1983 to 1987, Visiting Poet, University of Washington, 1980; Visiting Lecturer in Poetry at Syracuse, 1973-74 and Assistant Professor, Southwest Minnesota State College, 1970-73.
He has been Poet-in-Residence to Woodrow Wilson Fellows at Princeton University and at numerous writing workshops and conferences. For the Spring semester 2001, Dunn has been poet-in-residence in the Master of Fine Arts program at the University of Michigan.
Dunn's other awards and grants include finalist for the National Book Critics Circle Award, 1996; Academy Award in Literature, 1995, the James Wright Prize, 1993, The Iowa Review Subscribers Award, National Endowment for the Arts Creative Writing Fellowship, 1989, and Distinguished Artist Fellowship and Creative Writing Fellowships from the New Jersey State Council on the Arts.
He has undertaken dozens of poetry readings at colleges and universities including Yale, Cornell, Johns Hopkins, Florida State, Nebraska, Wisconsin, Texas, Harvard, Princeton and many others. He also has performed a reading at the Library of Congress in Washington, DC.
In addition to his books, Dunn has been published in such prestigious periodicals as Atlantic, The Nation, the New Republic, the New Yorker, and the American Poetry Review, among many others.
E-mail your news & photos to editor@sitnews.us


Publish A Letter on SitNews Read Letters/Opinions
Submit A Letter to the Editor

Sitnews
Stories In The News
Ketchikan, Alaska