GRINDING A BIT OFF THE BLARNEY STONE
An Interview With "The Otter Limits"
By Sharon Lint
March 23, 2005
Wednesday

Ketchikan, Alaska - St. Patrick's Day stretched a bit from Thursday into Saturday night this year. The last act to perform for the St. Pat's Day celebration at the Monthly Grind was the group known around Ketchikan as the "Otter Limits." Always a treat for the audience, they were a welcome addition to the night's program. Making every song they played seem full of magic, they gave a solid gold performance and ended the evening on a perfect note.

During an interview after the show, they were kind enough to explain a little about their music, their relationships with each other and how they all got together in the beginning.
According to the best of their collective memories, they've been together as "The Otter Limits" since 1994, and they're really now more like a family than a band. They even admit to fighting with one another like siblings.
None of them have received any formal musical training, although they agree Dave Rubin has the best musical background. Dave is also given credit for supplying the band with its genius. Yet it is readily apparent all of them possess extraordinary talents.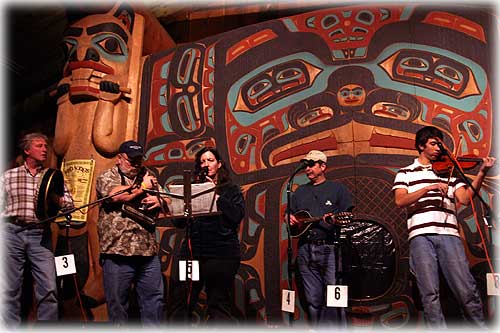 Members of "The Otter Limits"
Photo by Lisa Thompson

Although the number of active members changes often, currently Mary Larsen plays Guitar, Pennywhistle and Concertina (Accordion), Terry O'Hara plays Guitar, Mandolin and sometimes sings, Tom LeCompte plays Otto Harp and sings, Peggy Pennington plays Bodhráns and sings, Don Pennington plays Guitar, Bass and Irish Drum Bodhráns and last, but by no means, least, Bill Anthes plays Violin.
"When he's not off saving lives and stuff," Tom reported, referring to the fact that Stefan Hovik had filled in for Bill that night.
"He [Stefan] just sort of agreed to play with us because we wanted to have Irish songs this time and we really wanted a fiddle," Mary explained.
Tom rocked back and forth on his heels and grinned at that. "Yeah. And we've had other people that come and go . . . we had a harmonica player last fall who was awesome . . . and we had Christine tonight, but she's not a normal Otter."
"She agreed to play with us tonight too," Mary related. "So . . . [anyway] we started kind of like a group of friends that played music in the living room and the Monthly Grind is the perfect extension of that . . ."
Terry agreed, "We have loose borders," he said, laughing.

They also have loose borders when it comes to deciding on which songs to sing for different events. Tom said the group is pretty nonchalant about choosing their lineup. The only restriction is that it has good lyrics and good harmony.
"We try to play [weekly] . . . and everybody tries to bring one song," he said. "and so, you teach it to everybody else and they do the same and then you have six songs to do for one of these."
"For a long time we had . . . like about 20 years of songs that we've always wanted to play and it took us a long time to get through them all," Mary interjected, "so now we're done and it's hard to find new songs."
Terry beamed and dipped his head in agreement. "And we hate to do the same one twice."
"We could probably play 150 songs that we've performed at the Grind or the Folk Festival over the years," Tom added proudly.
That's a lot of songs performed in front of a lot of audiences over a lot of years. Yet Terry and Tom shrugged off their answer as to what the band's biggest challenge might be.
"Getting everybody together," laughed Mary when she was asked the same question.
And how much work it is to put on a show like the Monthly Grind? None at all, they all agreed. It's just too much fun.
"We're incurable showoffs. We're teachers," Mary chuckled.
"We stand up in front of a crowd everyday, but they're usually a lot smaller," Tom joked as Mary and Terry laughed along with him. "We've done it for so long that it's not hard anymore."
Talk about a captive audience, huh?
When asked how long ago they actually did form the group, they stated that there were actually two bands playing fifteen years ago. After about four years of playing separately, the two merged, and The Otter Limits was born.
"Originally there were two different groups that sort of played together in the living room and at the folk festivals - when we used to have the Ketchikan Folk Festival," Mary reminisced. "It was Don Pennington and I and Friends [first] and then Terry O'Hara and Tom LeCompte and some friends of theirs got together and so we sort of finally merged together. Their [Terry and Tom's] former group was called the Orca Dorkas."
When asked why they picked the name of the "Orca Dorkas," Terry explained. "Well, Point Higgins is where we taught, and the mascots were the Orcas. So it was a natural. [We] were Point Higgins' people."
Mary shrugged. "So, they wanted to stick with the marine mammal scene and so, of course, everyone liked "Outer Limits" and so. . ."
"So, we were The Otter Limits," Terry interrupted, supplementing his pun with another. "We did it on porpoise," he wisecracked.
And what about recordings?
"We've threatened to [record an album] a few times," Tom said. "We don't write our own stuff though . . ."
From the reaction of the crowd earlier that night, it's doubtful their fans would care about the material being original. But Mary, Tom and Terry still aren't quite sure if the group otter stretch their limits quite so far . . .
Related story:
BAGPIPES, LUCKY CHARMS AND IRISH EYES SHINE AT THE MONTHLY GRIND By Sharon Lint
Sharon Lint is a freelance writer living in Ketchikan, Alaska.
Contact Sharon at sharon(AT)sitnews.us
Sharon Lint ©2005

Publish A Letter on SitNews Read Letters/Opinions
Submit A Letter to the Editor

Sitnews
Stories In The News
Ketchikan, Alaska