Coast Guard cutter Storis, crew take Independence in tow
March 22, 2005
Tuesday

The Coast Guard cutter Storis took the 360-foot processor Independence in tow at about 7:45 this morning. They are transiting toward Cape Spencer and Juneau, Alaska.
The cutters Morgenthau and Storis arrived on scene today between 6:30 and 7:30 a.m. Weather delayed the cutters' arrival.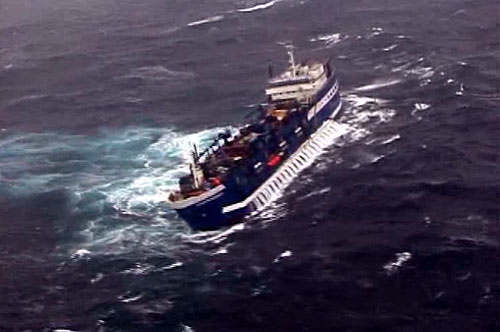 360-foot processor Independence - View Video (22MB)
Courtesy USCG

The Kodiak-based C-130 crew departed the scene upon arrival of the first cutter, the Morgenthau.
Weather conditions changed significantly since last night. Winds are southerly at 14-knots. Seas are at 10-feet with swells to 12-feet. Visibility increased from one-and-one half miles to eight miles.
The tug Chahunta will relieve the Storis of the tow when they rendezvous. Officials aboard the Independence did not report any injuries among the 204-member crew.
The Seattle-based Independence requested Coast Guard assistance Monday after sustaining a steering casualty that left them adrift 95 miles south of Kayak Island in the Gulf of Alaska. Weather conditions at the time of the incident included 50-to-60 knot winds, 20-foot seas and blowing snow.
The Coast Guard cutter Morgenthau is a 378-foot cutter from Alameda, Calif. At 63 years of age, the Storis is the "Queen of the Fleet", the oldest Coast Guard cutter in service. Storis and its crew are based in Kodiak, Alaska.
Related News:
Coast Guard continues to assist Independence; 325-foot fish processing ship lost steering and began drifting - A Coast Guard C-130 is on scene this evening with the Independence and Coast Guard cutters are continuing to the vessel's position. The 325-foot fish processing ship lost steering and began drifting earlier today in the Gulf of Alaska. - More...
Monday - March 21, 2005 - 7:35 pm

Coast Guard rushing to save hundreds aboard drifting ship - Crews aboard two Coast Guard cutters and a C-130 aircraft are rushing to assist 204 fishers aboard a 325-foot fish processing ship drifting aimlessly in the Gulf of Alaska at this hour. (1:00 pm AST) - More...
Monday - March 21, 2005 - 1:05 pm
Source of News:
United States Coast Guard
Web Site


E-mail your news & photos to editor@sitnews.us


Publish A Letter on SitNews Read Letters/Opinions
Submit A Letter to the Editor

Sitnews
Stories In The News
Ketchikan, Alaska