Dana Barr Fundraising Events Bring In Over $6,000
by M.C. Kauffman
March 22, 2005
Tuesday

Ketchikan, Alaska - The kindness and caring of Ketchikan citizens once again brightened the life of another as the community came out in support of one of its energetic, kind and fun loving citizens - Dana Barr - during her time of need.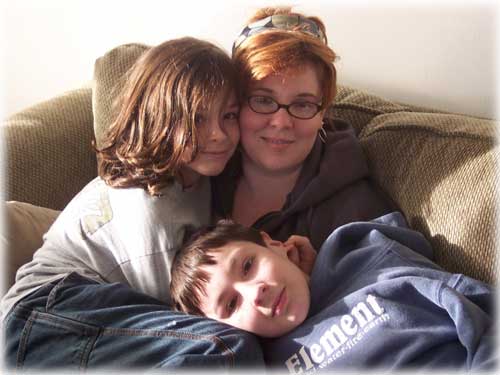 Dana Barr and her children Jamie and Spencer...
Photo courtesy Barr family...

Barr, a single mother, was recently diagnosed with cancer. Having no medical insurance to help with her bills, NorQuest Sea Foods where Barr worked, the Harley Riders, the Elks, Big Brothers Big Sisters, and many teachers in the community wanted to do something to help Barr and her family.
Citizens came together and began organizing fundraising events. One event was a benefit dinner held on March 17th. This fundraising event was held for Barr at Ketchikan High School with the help and organizational skills of 45 volunteers. Approximately 250 people attended the dinner with the event raising $5,000 for Barr - including a $25.00 donation that came in the day before the dinner.
The Ketchikan Harley Riders also raised an additional $1,265.00 during Sunday's Harley Riders Donation Ride through town and the Dana Barr 50/50 Raffle. The winner of the raffle was Jim Taro, of Southeast Stevedoring. Taro generously donated his winnings to Barr.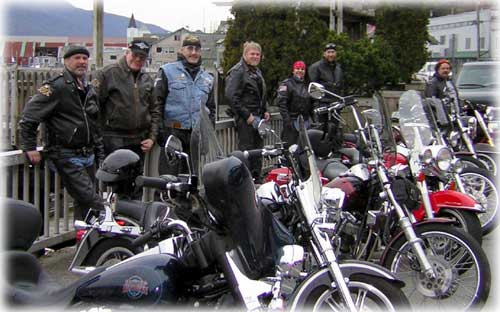 Some of the Ketchikan Harley Riders participating in Sunday's event...
Photo courtesy Jennifer L. Brewer

Riders participating in Sunday's run were Gregg Wilks, Jennifer Brewer, Misty Nemire, Gabby Evans, Larry Gotelli, Ron Balzer, Randy Ohlson, Dan and Danny Mestas, Jamie Bails, Dan Jenkins, Brian Stewart, Ray Bryan, and Mark Harris.
A special "You Are Loved" quilt was also given to Barr to take with her during treatments. Cathy Tillotson from Rainy Day Quilters and Pam embroidered the quilt for Barr.
Barr left Ketchikan Monday going south for more treatment. However, donations can still be made in Dana Barr's name at Tongass Federal Credit Union in Ketchikan.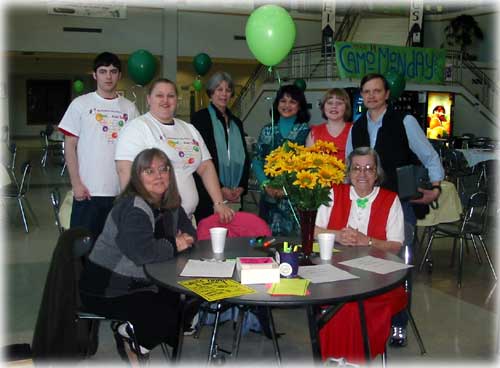 A few of the volunteers for the Dana Barr Fundraiser dinner...
Photo courtesy Gretchen Klein

The volunteers for the Dana Barr Fundraiser March 17th 2005 who set-up, clean-up, and prepared dinner:
Andria Moss
Bob Pelkey - Jessica Rivera
Norquest Seafoods staff
Tracy Arce - Alli Kitchner
Mary Ann Christensen
Patti Fay Hickox - Jean Howard
Courtney Enright - Kathy Paulson
Rachel and Savannah Scanlon
Nancy and Don Mitchel
Heidi Ekestrand - Nancy Coggins
Dan Ortiz - Rebekah Wiedenhoef
Bryce Timm
Misty Amburn
Columbia Dalhaug
Jermiah Stack
Michi Robinson
Steven Alvarez
Fred Jorgensen
Pastor John
Tara Wilhelm
Ketchikan Harley Riders
Elks #1429
Pam Christianson
Hope Brown
Julie Sullivan
Stefan Hovik
Marg Larsen
Dave Rubin
Terry O'Hara
Christine Maunder
Brian Curtis
Andy Pankow
Marty Gillet
Sally Hansen
Bertha Hansen
Judy Christensen
Ian Rogers
Tina Peckham
Barbara Roberts
Joanne Klein
Gretchen Klein
Tom Le Compte
Priscilla and Aisha Barnett
Thrivent Investments



E-mail your news & photos to editor@sitnews.us


Publish A Letter on SitNews Read Letters/Opinions
Submit A Letter to the Editor

Sitnews
Stories In The News
Ketchikan, Alaska