Front Page Photo
Creatures Of Sheer Delight
by Lisa Thompson
March 07, 2005
Monday

Ketchikan, Alaska - The story of how these many wonderful creatures came to live in Ketchikan began over 20 years ago when Bill Blackwell's wife Darlene was diagnosed with cancer. After seeing her depression, Bill surprised her with a Shetland pony named "Honey". She was absolutely delighted and the joy this pony brought into her life helped her survive her bout with cancer.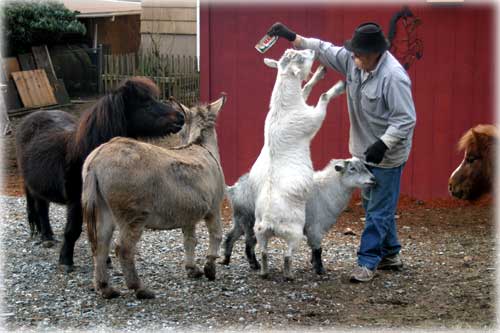 Shadow; Moonshine; Bernard (standing goat); Lucky;
Bill Blackwell; and Oly Light coming into the photo.
Photo by Lisa Thompson
Shortly after this, as a way of saying thanks for her survival, they decided to adopt children from India. Over the years, they adopted 5 children, and each child had to have their own critter. As the years passed and the children grew up to leave home, the critters remained and are a source of delight for all of Ketchikan to enjoy.
Sadly, Darlene lost her battle with cancer a year ago. Bill continues the tradition he and Darlene started by giving free rides to small children weighing 50 pounds or less. Many families bring their children by to see and enjoy these beautiful animals. This is Bill's way of giving back to the community, and sharing some of the joy that he and his late wife Darlene have enjoyed over the years.
Before her passing, Darlene wrote a book about their life with the critters. The book's name is "Sheer Delight and Honey" and goes on sale this spring.

©2005 - Lisa Thompson
All rights reserved.


Publish A Letter on SitNews Read Letters/Opinions
Submit A Letter to the Editor

Sitnews
Stories In The News
Ketchikan, Alaska