Viewpoints
Bear Valley's War Zone
by Cheryl Haven
March 25, 2005
Friday

Spring has sprung in Ketchikan, except if you live in Bear Valley. For if you are one of the unfortunate residents of Bear Valley as I am, you are living in what sounds and feels like a war zone. From 8:00 a.m. until 6 p.m. non-stop including weekends, an extra-large double bladed helicopter hovers above your home rattling the windows and pulsating like an enormous monster as it hoists logs weighing tons above your roof top to Councilman Lybrand's property. (Isn't this a conflict of interest that he would profit while sitting on a council that makes the decisions to allow logging in residential areas?)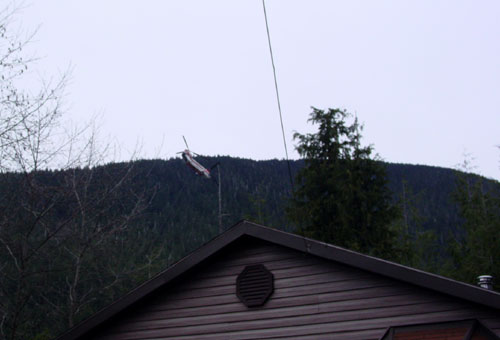 I garden. It's my mid-life addiction. There have been beautiful sunny days lately that are a gardener's dream. I've lasted two hours before going inside and restraining myself from kicking the dog on the way. (Really wouldn't but it's how I felt - like I wanted to kick something!) It made my ears hurt.
I also called a city official who stated that in the original agreement, Alcan Logging was supposed to not log on weekends. Who monitors this? And when the decision was made to allow this, did they consider the air space above our homes was going to be the trafficing area? Brian Brown of Alcan Logging stated to me when I asked him why they were logging on weekends when they weren't supposed to that it was "because it was supposed to snow".
And the children! There are at least 12 children that live on my street and are on spring break right now. I wonder if they will suffer hearing loss!
I would like to see some of our city and borough officials go up to Lybrand's property (wait until they have a log and are hovering over our roof tops) and see if they would be able to live with this 10 hours a day for the next 6 months. I can guarantee you, they would think differently just by the experience.
Cheryl Haven
Ketchikan, AK - USA
Note: Comments published on Viewpoints are the opinions of the writer
and do not necessarily reflect the opinions of Sitnews.
Write a Letter -------Read Letters

E-mail the Editor

Sitnews
Stories In The News
Ketchikan, Alaska