Governor Unveils Budget Proposal Where Expenditures Match Revenues
Concerns Expressed Over Budget Cuts of $1.6 Billion
By MARY KAUFFMAN
February 15, 2019
Friday AM

(SitNews) Juneau, Alaska - Alaska Governor Michael J. Dunleavy unveiled his FY2020 budget proposal Wednesday which includes $1.6 billion in cuts. According to the Governor, this budget is an open and straightforward approach to budgeting that works to tackle Alaska's overwhelming fiscal challenges.
"Our budget was built from the bottom up. It was built around a series of core principles, most importantly the idea that expenditures will not exceed existing revenues," said Governor Dunleavy. "The issues surrounding our budget and massive deficits has been a longstanding problem and Alaskans have demanded a budget that brings fiscal certainty and aligns spending with revenues. This is only the beginning, but we are determined to fix this budget this year so we can begin building a permanent fiscal plan for Alaska."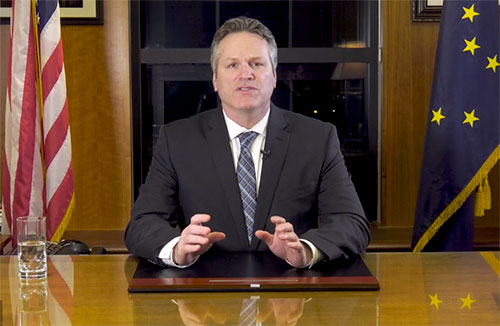 Alaska Governor Michael J. Dunleavy unveils his FY2020 budget proposal
Courtesy Press Conference Video - Office of the Governor
"Governor Dunleavy's budget uses honest numbers and does not drain reserves nor take dividends away from Alaskans," said Office of Management and Budget Director Donna Arduin. "The budget he faced upon taking office had a $1.6 billion budget deficit. The governor is determined to balance the budget and not to repeat the past, where expenditures have exceeded revenues by over $16 billion dollars since Fiscal Year 2013."
In building An Honest Budget: Fiscal Year 2020, Governor Dunleavy and his team worked to identify efficiencies, duplications and cost savings across government to restore the core principles of government responsibility. The budget focused on five core tenets:
expenditures cannot exceed existing revenue;
the budget is built on core functions that impact a majority of Alaskans;
maintaining and protecting our reserves;
the budget does not take additional funds from Alaskans through taxes or the PFD;
it must be sustainable, predictable and affordable.
Governor Dunleavy and the Office of Management and Budget considered several longer-term, enterprise-wide initiatives that will positively impact agencies and the state as a whole. These initiatives will be carried out through administrative orders (AOs) and focus on restructuring programs and administrative processes within state government, thereby improving effectiveness, increasing cost savings, and achieving better alignment between programs and department core services.
In the face of significant fiscal challenges, and a desire to deliver a budget where state expenditures do not exceed revenues, the Dunleavy Administration also identified an overarching need for agencies to reevaluate their scope of responsibility to ensure programs align with the Governor's desire to improve services to Alaska and deliver cost efficiencies across agencies. These efforts focus on reforming government at its core and include reforms to right size government, eliminating nonessential travel, reform government pay, utilize public/private partnerships, and realign priorities to meet the needs of a majority of Alaskans.
"This has been an ongoing issues for years. We all know it needs to be solved. Everyone in this state knows this issue needs to be solved. It's not going to be easy. That's why it's been kicked down the road – the can has been kicked down the road for some time. We have to get it solved this year and I'm determined to get it solved this year," said Governor Dunleavy at the conclusion of his press conference to unveil the budget.
Dunleavy said, "We have to preserve our savings. We have to recalibrate Alaska. We have to get back our essential services and we have to have a robust discussion – which I'm looking forward to – as to what are our needs and what are our wants? What are the needs that impact the majority of Alaskans? And how do we want to pay for this moving forward? This is going to be the discussion over the next several months. I look forward to it. I believe Alaskans look forward to it. I look forward to working with the Legislature on this issue. But it has to be fixed this year. My administration is determined to fix this issue this year."
Co-Chair of the Senate Finance Committee Senator Bert Stedman (R-Sitka) said, "The Senate Majority is committed to protecting the Permanent Fund and dividends for future generations of Alaskans, passing a sustainable budget in both the short and long-term, increasing jobs and growing the economy, and keeping Alaskans and their families safe."
Stedman said, "Now that we have the governor's proposal, we can get to work taking it apart and understanding the impacts."
"The budget is only part of the picture – the Senate Finance Committee will be tracking and analyzing how the budget and other proposed appropriations and constitutional changes interact to affect the health of our state's economy," said Co-Chair of the Senate Finance Committee Sen. Natasha von Imhof (R-Anchorage). "While it is too early to understand all the impacts today, we're committed to taking the time to fully analyze and thoroughly vet these proposals."
Not everyone is pleased with An Honest Budget: Fiscal Year 2020 unveiled by the Governor Tuesday.
Rep. Dan Ortiz (I-Ketchikan) responded to the proposed Dunleavy budget saying, "From the proposed cuts to Education, our Marine Highway System to the cuts impacting our Senior's, enacting Gov. Dunleavy's budget will succeed in making S.E. Alaska a much less desirable place to live. On a statewide basis enacting this budget will result in a 15,000 to 17,000 net job loss, plunging the state into a very deep recession."
Rep. Ortiz (I-Ketchikan) outlined the many changes that he says will directly affect South East Alaska residents of District 36:
A 68.3% cut to the Alaska Marine Highway System
Completely eliminated the Senior Benefits Program
A plan to make Pioneer Home unaffordable to new entrants, by removing state subsidies to the program, making it inaccessible to some of our most vulnerable population
In the Department of Education and Early Development (DEED), there is a 23% cut to the Foundation Formula, which would result in a approximately a 6.25 million dollar cut to the KGBSD that could potentially result in a loss of 70 of our current 178 district wide teaching staff.
Within DEED, there is also complete elimination (100% of funds) of Pre-K Grants, the Council of the Arts, WWAMI, and some internet services, such as OWL and Live Homework Help.
A $1.64 million cut to commercial fisheries.
The budget summary notes that the Alaska Department of Transportation will work with a marine consultant to investigate options available for moving the AMHS towards privatized service or service provided by public/private partnership, with the intent of reducing the State's financial obligation and/or liability. The Department of Transportation & Public Facilities currently has 10 ferries serving 35 ports in Alaska, Prince Rupert, B.C., and Bellingham, WA. The AMHS is heavily subsidized by State of Alaska General Funds; its fare box recovery rate in FY2018 was 33.3%. Ridership is trending down; 2018 passenger capacity was 42.6% and vehicle capacity was 51.6%.
Rep. Ivy Spohnholz (D-Anchorage) also commented on the budget. She said, "Over the coming hours and days, we will dig into the details of this budget to understand its impacts on Alaskans. We are eager to hear what is important to Alaskans and what values they think the budget should reflect."
"In the last four years, Alaska has lost more than 13,000 jobs. Economists estimate that the $1.6 billion in budget cuts proposed by the Governor today would cost Alaska 15 thousand to 20 thousand private and public sector jobs including from schools to local small businesses. That's a cost we simply cannot afford," said Spohnholz.
Spohnholz listed some of the key impacts of the Governor's budget proposal as:
Slashing 25 percent from K-12 and pre-k will force districts to close schools, fire teachers, increase class sizes, and eliminate Career Technical Education (CTE) programs which have been proven to improve graduation rates and local economies.
A 33 percent reduction to health care will affect Alaska's seniors hardest, slow the return of sick and injured workers to the workforce and their families, and cripple one of the brightest sectors in the Alaska economy over the past four years.
Cutting the University of Alaska's budget by nearly 50 percent will hurt a key economic driver, send our young people outside, and devastate the state's ability to train Alaskans for good jobs.
Some Senate Democrats are saying the Governor's FY2020 budget shows Dunleavy is not serious about governing.
Senate Democratic Leader Tom Begich (D-Anchorage) said, "It is quite clear that Governor Dunleavy does not take his job and our state's Constitution seriously. The trend he is setting for the state is evident; strip public assets to fill private pockets. This is unacceptable, and quite frankly a dereliction of his constitutional duties. The Senate Democrats will continue to work across party lines to build a proper budget that rebuilds safe communities, provides a world-class Pre-K through UA system, and delivers access to quality, affordable healthcare."
Senator Bill Wielechowski (D-Anchorage) said, "Governor Dunleavy is declaring war on seniors, kids, and the most vulnerable among us while holding harmless the most profitable companies in the world. Cutting Senior Benefits, education, and healthcare while increasing his own budget and not touching $1.9 billion in oil tax credits shows where his priorities lie, and it is not with Alaska."
Senator Donny Olson (D-Golovin) said, "The draconian cuts to the Health & Social Services budget are not just an attempt to dismantle Medicaid and Alaska's healthcare system but is an outright full assault against those who are the most vulnerable; the young and the elderly. It deepens the divide between the haves, and the have nots. It strikes rural Alaskans more acutely, forcing them to leave their communities and head to the metropolitan center. Many of these Alaskans will become homeless in Anchorage, adding to that socially-marginalized population."
And Senator Scott Kawasaki (D-Fairbanks) said, "Governor Dunleavy continues to ignore the cause of over 90 percent of crime in Alaska. Solely locking people up and throwing away the key is not the fiscally prudent answer. Substance abuse treatment and mental health services, combined with a strong education system, are the key to rebuilding safe communities and saving the state money for the long-term. Continuing to paralyze public safety with significant cuts to Troopers and VPSOs, who are the first line of defense for thousands of Alaskans, shows his lack of understanding of rural Alaska needs. If the Governor's goal is to create more criminals, then this budget succeeds at that."
Rep. John Lincoln (D-Kotzebue) also commented on the budget saying Governor Dunleavy wants money from Alaska's cities and boroughs to balance the budget.
"This bill asks the Alaska Legislature to approve a tax scheme that treats petroleum production property differently than other types of property. We would never consider telling the business hubs of Anchorage and Fairbanks that they can't tax commercial properties anymore because the State needs that money," said Lincoln.
Lincoln said, "While Senate Bill 57 applies equally to all petroleum property statewide, it, unfortunately, would have a disproportionate effect on the North Slope Borough, which is where the vast majority of Alaska's known oil reserves are located. Oil from the North Slope has historically produced upwards of 90 percent of the revenue to the State of Alaska."
According to Lincoln, Senate Bill 57 would significantly impact the North Slope Borough as well as other areas with petroleum production and pipeline property. The Fairbanks NorthStar Borough and the cities of Anchorage, Kenai, and Valdez have all developed budgets on the assumption that they will continue to have the authority to levy and collect taxes on petroleum-based property within their boundaries.
"Senate Bill 57 would decimate the North Slope Borough's budget and reduce its ability to provide for essential services like education and public safety," said Sen. Donny Olson (D-Golvin). "The North Slope Borough provides many services to residents in villages outside of Utqiagvik such as policing and utilities like water and sewer. If the Borough is unable to provide for these services, then the state will have to step in, which will cost even more money in the long-term. What the Governor is proposing is not cost savings, it's cost shifting."
Calling Gov. Mike Dunleavy's $134 million reduction to the University of Alaska's FY20 operating budget extreme, University of Alaska President Jim Johnsen said Wednesday that he would have no choice but to propose to the Board of Regents deep cuts for every University of Alaska campus including community campuses, major reductions to faculty and staff, and reduction and elimination of educational programs and services across the state.
"Cuts at this level cannot simply be managed or accommodated," he said. "If this budget passes the legislature, it will devastate university programs and services, and the negative effects will be felt in communities across the entire state," said Johnsen.
Quoting a news release from Johnsen, according to a 2016 economic impact study done by the McDowell Group of Juneau, the total annual economic impact of UA is estimated to be in excess of $1 billion.
"The university purchases $122 million in goods and services from Alaska vendors; our people buy goods and services from Alaskan businesses; our educational programs prepare a highly skilled, Alaskan grown workforce; our research solves Alaskan problems, supports Alaskan businesses, and generates a 600 percent return on investment; and our graduates earn more money, enjoy better health, and build their lives here in Alaska," Johnsen said.
Representative Dave Talerico (R-Healy) released a statement Wednesday on the Governor's proposed FY 2020 budget: "Now that Governor Dunleavy's budget has been released, I'm calling upon my colleagues across the aisle to come to the negotiating table and end the deadlock in the House. We have made offers to multiple members to join our caucus to get to work, yet our offers have been met with continued silence and seemingly deliberate delay.
"Now that a number of budget proposals are on the table - proposals that impact public safety, the Permanent Fund Dividend, education funding, and more – we implore our colleagues to end their holdout and join us to form a majority that is respectful of the will of the voters," wrote Talerico. "The people deserve to provide input on this budget and they will not be able to do so until our colleagues join a majority organization and make a decision to move forward."
The Alaska State Hospital and Nursing Home Association (ASHNHA) also reacted to Governor Dunleavy's proposed budget.
"Governor Dunleavy's proposed budget, if enacted, would destabilize Alaska's health care system, eliminate access to health care for tens of thousands of Alaskans, and make Alaska less safe and less secure," said ASHNHA president and CEO Becky Hultberg.
"This budget is outrageous. Hospitals will close, health care specialists will leave Alaska, and crime will continue to increase as Alaskans lose access to addiction and behavioral health treatment. The state will be less healthy, less safe, and in a state of despair for the future. While Governor Dunleavy may not believe government has a role in health care, his belief is disconnected from the reality that our current health care system relies on government payments for a significant percentage of total services, and our entire system will crumble without them. This is a classic example of ideology taking precedent over practicality, and all Alaskans will feel the consequences.
Quoting a news release from Alaska State Hospital and Nursing Home Association, the governor's cuts will lead to thousands of lost jobs in the health care sector, which will have huge ripple effects on the state's economy. During the recent recession, health care was one of the few industries adding jobs. To willingly damage one of the only growing industries in the state will plunge Alaska back into recession.
On the Web:
For An Honest Budget: Fiscal Year 2020 summary, click here.

For additional information on An Honest Budget: Fiscal Year 2020, click here
Source of News:
Alaska Governor Michael J. Dunleavy
www.gov.alaska.gov

Office of Dan Ortiz (I-Ketchikan)
http://akhouse.org/rep_ortiz/

Office of Rep. Ivy Spohnholz (D-Anchorage)
http://akhouse.org/rep_spohnholz/

Alaska Senate Democrats
www.akleg.gov

Alaska Senate Finance Committee
www.akleg.gov

Alaska House Coalition
www.akleg.gov

Rep. John Lincoln
www.repjohnlincoln.com

Alaska State Hospital and Nursing Home Association (ASHNHA)
ashnha.com

Representations of fact and opinions in comments posted are solely those of the individual posters and do not represent the opinions of Sitnews.
Contact the Editor
SitNews ©2019
Stories In The News
Ketchikan, Alaska

Articles & photographs that appear in SitNews are considered protected by copyright and may not be reprinted without written permission from and payment of any required fees to the proper freelance writers and subscription services.

E-mail your news & photos to editor@sitnews.us

Photographers choosing to submit photographs for publication to SitNews are in doing so granting their permission for publication and for archiving. SitNews does not sell photographs. All requests for purchasing a photograph will be emailed to the photographer.