Overturn of Fish and Wildlife Rule Moves Forward; Voids Carnivore Protections on Alaska National Wildlife Refuge
By MARY KAUFFMAN
February 17, 2017
Friday PM

(SitNews) Washington, D.C. - Thursday, the U.S. House of Representatives passed H.J. Res. 69 to overturn a U.S. Fish and Wildlife Service rule undoing a rule years in the works that was launched by professional wildlife scientists at the U.S. Fish and Wildlife Service that stopped intensive "predator control" methods on national wildlife refuges in Alaska.
H.J. Res. 69 passed the House 225 to 193 overturning the "Non-Subsistence Take of Wildlife, and Public Participation and Closure Procedures, on National Wildlife Refuges in Alaska". This joint resolution of disapproval sponsored by Alaska Congressman Don Young passed under the Congressional Review Act.
The Congressional Review Act is a powerful tool being deployed by Congress to overturn politically motivated rules finalized in the waning days and months of the Obama administration. With the passage H.J. Res 69 in the House and Senate and the signature of the president, Young's resolution would ensure that the final FWS rule would have no force or effect, and that no substantially similar rule can be issued in the future without a subsequent authorization from Congress.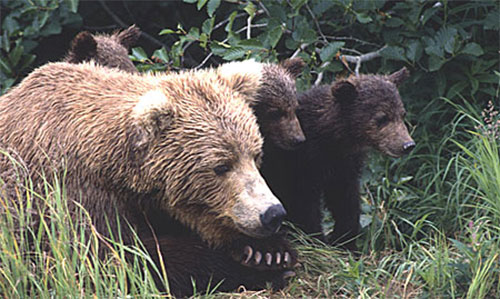 Alaska Brown Bears
Photo courtesy Alaska Dept. of Fish & Game www.adfg.alaska.gov

"From the beginning, I said I would do everything in my power to overturn this illegal jurisdictional power grab by the U.S. Fish and Wildlife Service. Today, we're one step closer to delivering on that commitment and eliminating a wrongful seizure of Alaska's fish and wildlife management authority," House Natural Resources Chairman Emeritus Don Young said after House passage of H.J. Res. 69. "I'm thankful to all those that played a role in moving this important resolution of disapproval, including the countless state and local stakeholders that worked with me to fight a very serious and alarming overreach by the previous administration. I look forward to working with Senators Sullivan and Murkowski to ensure H.J. Res. 69 receives swift consideration in the Senate."
On August, 5, 2016, the United States Forest Service issued its final rule, which Young said seized authority away from the State of Alaska to manage fish and wildlife for both recreational and subsistence uses on federal lands in Alaska.
Yesterday, U.S. Senator Dan Sullivan (R-AK) applauded the U.S. House of Representatives' passage of H.J. Res. 69, a joint resolution of disapproval under the Congressional Review Act to overturn an August 2016 final rule issued by the U.S. Fish and Wildlife Service that significantly undermines public participation and restricts the state's ability to manage fish and wildlife on federal refuge lands in Alaska.
"This unlawful and unprecedented Fish and Wildlife rule stands out as a prime example of why having the Congressional Review Act is so important," said Senator Sullivan. "Specifically, the rule undercuts meaningful public participation in refuge management decisions, utterly disregards the legal protections and rights given to the state in the Alaska Statehood Act and ANILCA, and upends the cooperative relationship that has existed between federal agencies and the state for years. I applaud Congressman Don Young's work to pass this resolution with overwhelming support in the House, and I look forward to working with Senator Murkowski and my Senate colleagues to invalidate this overreaching rule and restore the sovereignty of Alaska in managing fish and wildlife on our lands."
"The Federal Lands subcommittee will spend this Congress working on legislation to restore our public lands from the policy of benign neglect that has plagued our public lands to the point that we are losing our forests in the west and that has strained the relationships between our communities and our federal agencies. The resolution sponsored by Congressman Young is an excellent start," House Natural Resources Subcommittee on Federal Lands Chairman Tom McClintock (R-CA) said.
The U.S. Fish and Wildlife Service's (FWS) Alaska National Wildlife Refuges Rule that was in effect since September 2016 prohibited application of Alaska's intensive predator control policy on national wildlife refuges in the state.
According to Defenders of Wildlife, Alaska's scientifically indefensible predator control program aims to artificially increase game populations by driving down carnivore numbers through extreme practices, including killing mother bears and cubs, killing denning wolves and pups, and trapping, baiting, and using airplanes to scout and hunt bears. The Defenders of Wildlife said the Alaska National Wildlife Refuges Rule is a reasonable, science-based regulation that helps protect these iconic species on refuge lands and supports balanced, natural ecosystems that benefit all Americans
Jamie Rappaport Clark, President and CEO of Defenders of Wildlife, said in a prepared statement, "Voters deserve better from this Congress. Is running roughshod over public lands and targeting mother bears and wolves and their young on lands specifically set aside as wildlife refuges really a priority for legislators given the many challenges facing our country? Americans expect our national wildlife refuges to be managed for their conservation values for all wildlife, not just those species of particular interest to a few."
The state of Alaska adopted what has been described as an intensive "predator control" policy in 1994 designed to dramatically suppress wolves, bears and other native carnivores in order to artificially inflate game populations. The U.S. Fish and Wildlife Service issued the Alaska National Wildlife Refuges Rule to prevent the targeted killing of these species on federal refuges in Alaska. The rule was to protect native carnivores on these public lands and ensure that national wildlife refuges are managed in accordance with bedrock federal laws to conserve species and habitats in their natural diversity.
"What the House did [Thursday] should shock the conscience of every animal lover in America," said Wayne Pacelle, president and CEO of The Humane Society of the United States. "If the Senate and President concur, we'll see wolf families killed in their dens, bears chased down by planes or suffering for hours in barbaric steel-jawed traps or snares."
"This joint resolution puts an end to the Obama administration's last minute attack on outdoorsmen," said Chris W. Cox, executive director of NRA-ILA. "Alaskans know best how to manage their wildlife. By relying on sound science for their unique conservation and management decisions, the proud outdoor heritage of Alaska will be preserved for generations to come."
The House vote sends the resolution to the Senate, where it may be calendared for consideration in coming weeks.
Alaskans for Wildlife, Alaska Wildlife Alliance, Friends of Alaska Wildlife Refuges, Lynn Canal Conservation, Northern Alaska Environmental Center, Oasis Earth, Resurrection Bay Conservation Alliance, Sierra Club – Alaska Chapter and the Southeast Alaska Conservation Council joined in opposing H.J. Res. 69. Last year, a group of more than 50 scientists sent a letter to Congress in support of the U.S. Fish and Wildlife Service rule.
Source of News:
Office of Congressman Don Young
www.donyoung.house.gov

Office of U.S. Senator Dan Sullivan
www.sullivan.senate.gov

Defenders of Wildlife
https://www.defenders.org

National Rifle Association - Institute for Legislative Action
https://www.nraila.org

The Humane Society of the United States
http://www.humanesociety.org
Representations of fact and opinions in comments posted are solely those of the individual posters and do not represent the opinions of Sitnews.

Contact the Editor
SitNews ©2017
Stories In The News
Ketchikan, Alaska

Articles & photographs that appear in SitNews may be protected by copyright and may not be reprinted without written permission from and payment of any required fees to the proper sources.

E-mail your news & photos to editor@sitnews.us

Photographers choosing to submit photographs for publication to SitNews are in doing so granting their permission for publication and for archiving. SitNews does not sell photographs. All requests for purchasing a photograph will be emailed to the photographer.