Study Finds Widespread Economic Benefits of Alaska Ferry System & Impacts of Reduced Service
By MARY KAUFFMAN
February 07, 2016
Sunday AM

(SitNews) Ketchikan, Alaska - The Alaska Department of Transportation released a report Thursday on the positive economic impacts of the Alaska Marine Highway System and the impacts of reduced services.The report, prepared by the Juneau-based McDowell Group, found that the state-run ferry system generates a return of more than $2 to the state for every $1 invested.
"The ferry system provides a critical link for many communities," Governor Bill Walker said. "But I was surprised to learn just how widespread the economic impacts are, accounting for 1,700 Alaska jobs and more than $100 million in wages and benefits."
Advantages of the state's marine highway system go beyond transporting people and goods between Alaska's coastal communities. The system provides jobs to hundreds of Alaskans, supports businesses around the state, and plays an important role in the state's visitor industry. Providing these services requires investment by the State of Alaska. The AMHS was supported by $117 million in Alaska's General Fund revenue in fiscal year 2014 which resulted in a total return on the General Fund investment of $273 million. Even with this positve return, Alaska's current fiscal challenges resulted in significant budget cuts in 2015 and 2016 to the Alaska Marine Highway System.
The Alaska Marine Highway System has been providing essential transportation to Alaska's coastal communities since 1963. Fifty-three years later, the system's 11 vessels serve 33 Alaska communities stretching from Ketchikan, Sitka and Juneau in the southeast, north to Prince William Sound and the Kenai Peninsula, and east to the Aleutian chain. With only five of these communities connected to Alaska's road system, AMHS provides a critical transportation link for Alaska residents and businesses, as well as for non-residents visiting our state.
"This study demonstrates why our marine highway system is a vital part of Alaska's transportation system," Lieutenant Governor Byron Mallott said. "I look forward to working with coastal communities to strengthen this system in the coming years."
The study found that four-fifths or 82 percent of 2014 AMHS employees resided in the Southeast region; 17 percent in Southcentral; and 1 percent in the Southwest region and that wages were distributed similarly.
Ketchikan has the highest number of AMHS employees of all Alaska communities, according to the new study. Ketchikan has 318 workers and the Alaska Marine Highway System is one of the Ketchikan's largest employers. Ketchikan and Juneau alone accounted for 60 percent of all employees.
AMHS employed 1,017 Alaska residents in 2014, representing 95 percent of the total system workforce. Employees hailed from 44 separate communities throughout the state with Southeast residents constituting the bulk of employees at 82 percent; Southcentral residents represented 17 percent; and Southwest represented 1 percent.
Employee spending of payroll dollars have important economic impacts in local communities. AMHS paid its Alaska employees just over $100 million in wages and benefits in 2014, including $65 million in wages and $36 million in benefits.
Four-fifths or 82 percent of payroll and benefits accrued are paid to employees residing in Southeast Alaska. Ketchikan employees received the largest amount of wages and benefits at $31.5 million, followed closely by Juneau residents at $29.4 million. While Anchorage is not an AMHS port, Anchorage residents received $3.4 million in wages and benefits. Anchorage ranked fifth compared with other communities in terms of total wages/benefits, along with Homer. Employees residing in Southcentral received 17 percent of the payroll and benefits paid; and 1 percent accrued to employees living in Southwest.
The AMHS directly spent $84 million with over 500 Alaska businesses in 2014 in operations and capital expenditures. Two-thirds or 65 percent of the Alaska operations spending occurred in Southeast Alaska; 26 percent in the Southcentral region; and 8 percent in the Southwest region.
The AMHS spent $38.2 million on capital projects in Alaska in 2014. Major capital projects included new engines for the Columbia ferry, initial construction of the new Alaska Class Ferry, and Kennicott refurbishment. According to the studey, 94 percent of AMHS' capital spending was heavily concentrated in Southeast Alaska due to shipbuilding and repair facilities located in Ketchikan.
Two-thirds of AMHS passengers are Alaska residents – including significant numbers from non-AMHS communities like Anchorage, Palmer and Wasilla. AMHS transported 215,509 Alaska residents in 2014, representing 68 percent of all passengers. With about three-quarters of the 2014 passengers attributable to the Southeast System, while one-quarter were Southwest System passengers. The top five embarkation ports in 2014 were Juneau (70,538 passengers), Haines (36,134), Ketchikan (33,254), Skagway (20,732), and Whittier (20,543).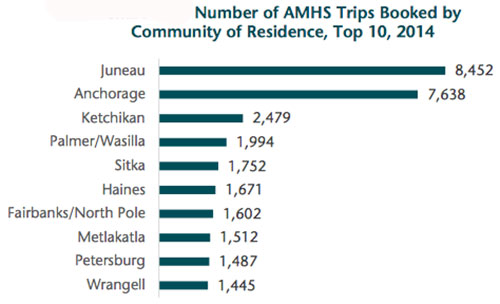 In 2014, AMHS carried 103,000 non-resident passengers, along with 27,000 vehicles and 4,320 RVs in 2014. Among those who entered and/or exited Alaska using the AMHS, the average per-person spending was $1,700 – significantly higher than the average among all Alaska summer visitors ($941). Applying this average to the roughly 17,000 ferry passengers who enter/exit Alaska via the ferry yields a total Alaska spending estimate of $29 million.
Essential transport for not only passengers and their vehicles, but freight is provided by the AMHS – including fresh seafood, groceries, and other products critical to Alaska businesses and residents. AMHS transported 3,862 container vans in 2014. The most important links were Homer-Kodiak (867 vans to/from) and Haines- Juneau (399 vans).
The report also studied three ferry-dependent communities in depth - Haines, Cordova, and Angoon - finding that the marine highway system is integral to their economies. For example, Copper River Seafoods in Cordova relies on ferry service to transport millions of pounds of fresh seafood from Cordova to Whittier, where it is trucked to Anchorage. The company supports 250 seasonal and 100 full-time jobs in Anchorage.
According to the study, the exact amount of seafood shipped via AMHS is difficult to estimate, it is clear that ferries are an essential method of transport for a number of seafood companies, which need to get their fresh fish to the road system as quickly and efficiently as possible. AMHS provides a critical alternative to air transport, which can be prohibitively expensive, insufficiently refrigerated, and offers limited capacity.
"A dependable transportation system helps fuel the economy. It's critical that we maintain a viable marine highway system as we look to reduce state spending," said ADOT&PF Commissioner Marc Luiken.
According to the study, impacts of reduced AMHS service will be broad and far-reaching, affecting a diverse range of Alaska residents, businesses, and organizations. The economies of Alaska's smaller and more isolated coastal communities, such as Ketchikan, will be particularly hard hit.
Quoting the survey, the impacts of reduced AMHS service include:
Loss of return on investment: For every dollar of General Fund money not budgeted to AMHS, there will be $2.30 less economic activity in Alaska.
Loss of AMHS employment and wages: Communities like Ketchikan and Haines, small towns with relatively high AMHS employment (and less diversified economies), will be particularly hard hit by AMHS employment and wage cuts.
Loss of AMHS spending with local businesses: Cuts to AMHS service will affect a wide range of Alaska businesses that AMHS makes purchases from, such as engineering firms, fuel companies, shipyards, and food suppliers.
Loss of spending by non-residents: Fewer ferries means fewer out-of-state visitors traveling to Alaska's coastal communities and spending money there on lodging, retail, transportation, and tours. These outside-sourced dollars are particularly valuable as they generate new jobs and income for Alaska residents, and impact a wide variety of economic sectors.
Reduced seafood shipment capacity and loss of income to fishermen: Reduced AMHS service will negatively impact seafood processing companies and, in turn, the fishermen from whom they purchase products.
Increased cost-of-living in coastal communities: Fewer ferries will lead to increased cost of goods, as communities scramble to find other ways of transporting goods in and out – groceries, construction equipment and supplies, household goods, and more will all cost more as transportation costs rise.
Decline in quality of health due to limited access: With fewer ferries, residents of coastal communities will be forced to fly to access the health care they need – and many may choose to postpone care, or may decide they cannot afford the associated airfare costs.
Fewer and/or shorter regional special events including cultural events: Many regional events, such as the Southeast Alaska State Fair (Haines), Celebration (Juneau), and the Copper River Wild Salmon Festival (Cordova), rely on AMHS to transport significant portions of their attendees. The cost and limited capacity of air service would preclude many attendees from participating, and the local economy would lose valuable visitor spending. Further, residents would miss out on these unique opportunities to interact with, do business with, and learn from each other.
Reduced school-related travel: Reduced AMHS service will limit the opportunities for students in coastal Alaska to compete in sporting events, attend performing arts events, and attend student leadership training, among other school activities. Air service is often prohibitively expensive for schools and students, and subject to weather cancellations. Students in coastal Alaska will suffer from a reduced ability to participate in these enriching and valuable activities.
On the Web:
The Economic Benefits of the Alaska Marine Highway System Prepared by McDowell Group
Download the January 2016 Study
http://www.sitnews.us/0216News/020716/
0116_Economic_Benefits_AMHS.pdf
Source of News:
The Economic Benefits of the Alaska Marine Highway System - McDowell Group Report

Alaska Department of Transportation
www.dot.state.ak.us
Contact the Editor
SitNews ©2016
Stories In The News
Ketchikan, Alaska
Articles & photographs that appear in SitNews may be protected by copyright and may not be reprinted without written permission from and payment of any required fees to the proper sources.

E-mail your news & photos to editor@sitnews.us

Photographers choosing to submit photographs for publication to SitNews are in doing so granting their permission for publication and for archiving. SitNews does not sell photographs. All requests for purchasing a photograph will be emailed to the photographer.