Viewpoints
Deer Mountain Winter Fireworks 2011


By Ken Arriola
February 24, 2011
Thursday

To the wonderful citizens of Ketchikan, Saxman, and Metlakatla. As I'm certain that many are wondering what's going on with the 2011 Deer Mountain Winter Fireworks, here's an update. No, it has not already happened, and no, it hasn't been cancelled indefinitely.
Our preference is Saturday at 6:00PM (Feb. 26th), but we haven't ruled out Sunday. We will continue to use the media outlets to alert you as to what night the fireworks will take place. If you're on Facebook, the Ketchikan Chamber of Commerce will have the most current info. The local radio stations will be announcing also. We'd like to say this weekend, but.....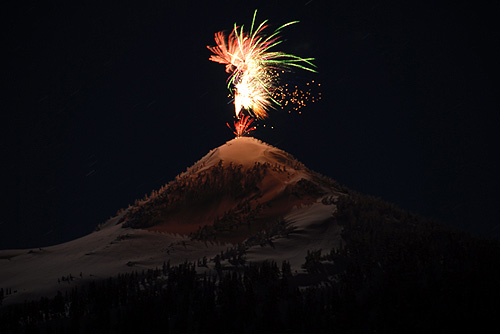 This photo was taken by Rhonda Bolling, two years ago, it accurately portrays the more than half hour display.
Everything is ready to go, the fireworks crew just need a window of good weekend weather to make this happen, and believe me, the eight of us are anxiously anticipating favorable conditions.
This year's display will be our biggest yet, it's gonna be a real kick, so you don't want to missed this one. And you won't have to stay up late to see it; how great is that?
To the following entities who have made this year's event possible, we say "Thank you" for continuing to invest in this place we call home.
TEMSCO
Boyer Towing Inc.,
The Plaza,
Alaska Commercial Divers,
Ketchikan Yacht Club,
Tongass Trading,
METCO Hardware (Metlakatla)
Ken Arriola
kenrainak[AT]gci.net
Ketchikan, AK

About: "Founder and director of the annual Deer Mountain Winter Fireworks display since 2001."
Received February 23, 2011 - Published February 24, 2011
Viewpoints - Opinion Letters:
Webmail Your Opinion Letter to the Editor
Note: Comments published on Viewpoints are the opinions of the writer
and do not necessarily reflect the opinions of Sitnews.
E-mail your letters & opinions to editor@sitnews.us
Your full name, city and state are required for letter publication.


SitNews ©2011
Stories In The News
Ketchikan, Alaska