Alaska Science
Rediscovering the "tastefully rotten"


By Ned Rozell
February 24, 2011
Thursday

(SitNews) - While processing backyard chickens last summer, Sveta Yamin-Pasternak thought how nice it would be to bury those fresh carcasses in the ground and let microorganisms preserve her food the easy way. When the time was right, she could dig up the fermented fowl and enjoy them.
Though she instead decided to use a freezer for her chickens, Yamin-Pasternak is a student of the "tastefully rotten" foods of people who live in far-east Russia. She admires the simpler, if smellier, way of doing things.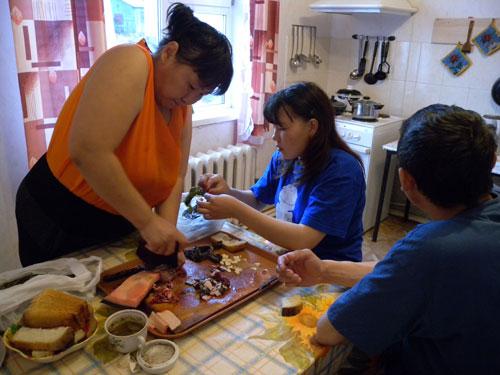 A Chukotkan family sitting down to enjoy a meat sampler (aged walrus, aged seal, whale skin fat) with fermented seal oil (in a cup to the left of the tray) being used as dipping sauce.
Photo by Sveta Yamin-Pasternak

Originally from Belarus, Yamin-Pasternak now lives in Alaska, but has traveled for the last decade to villages in Chukotka, the part of Russia that rubs noses with Alaska's Seward Peninsula. There, the anthropologist studied a return to fermented food preparation. She recently gave a talk at the University of Alaska Fairbanks detailing her "marvelous stinky path."
Native peoples of northern Russian and throughout the Arctic have for ages included some partially decomposed foods in their diet. One example from the west coast of Alaska is "stink flipper," the paw of a bearded seal buried in the tundra and later retrieved and eaten when it has attained the proper level of rottenness, a measurement learned from experience.
Yamin-Pasternak described how these foods had waned in popularity in Russia's far east during the height of the Soviet regime. Government-sponsored boarding schools in the villages featured menus similar to those in central Russia.
"There was lots of pasta, sweetened condensed milk and sausages (rather than marine mammals and reindeer)," Yamin-Pasternak said. During the peak of Soviet control, government officials made it illegal for hunters to go out on the ocean before first signing in with border guards on the coast—a law that still exists.
"(Government decision makers) didn't regard Native foods as food," Yamin-Pasternak said.
The change in diet that came with the powerful Soviet regime was hard for some people to stomach, Yamin-Pasternak said.
"Rice and porridge and bread didn't satisfy their need to feel full," she said. "They needed certain foods, like seal oil and whale skin fat (known in Alaska as maktak), to quench their hunger."
People still ate foods like fermented walrus meat, but they partook on the sly. Things began to change when the carbohydrate-rich staples of the regime diet became hard to find during the breakup of the Soviet Union in the 1990s. Village stores that supplied the sweetened condensed milk lost their government subsidies. The shelves went empty, forcing villagers to rely more on subsistence foods. There began a "rotten renaissance," Yamin-Pasternak said.
"The generation gaps created by the Soviet system started to break down. People were going back to their grandparents, asking how to prepare (the 'tastefully rotten' foods)."
When she visits the Chukotka villages today, Yamin-Pasternak knows when she's around walrus flipper fermented in a bag made of bearded seal skin ("it does not do this talk justice not to smell it,"), and she knows which dipping bowl is full of seal oil and which contains the reindeer blood. She can partake in some of the fermented foods, but said she can't get past her gag reflex with others, and has noticed the same reaction in some of the younger generations of the Chukotka Yupik and Chukchi, raised with more Russified tastes. She thinks that, over time, she could adapt to even the most fragrant menu items, because she has seen so many people in the villages grow to love the foods of their ancestors.
"It really illuminates the power of socialization," she said. "Food practices are learned."
This column is provided as a public service by the Geophysical Institute, University of Alaska Fairbanks, in cooperation with the UAF research community.
Ned Rozell is a science writer at the institute.
E-mail your news & photos to editor@sitnews.us


Publish A Letter in SitNews Read Letters/Opinions
Contact the Editor
SitNews ©2011
Stories In The News
Ketchikan, Alaska