Alaska Science
Rock redwoods in Sutton, stone bird tracks in Denali


By NED ROZELL
February 11, 2011
Friday PM

A few years ago, Chris Williams found a big tree on the grounds of an abandoned coal mine in Sutton, Alaska. It was six feet in diameter, stood more than 110 feet above the surrounding swamplands, and loved warm weather and steamy rain showers. The tree, a dawn redwood, died of unknown causes about 55 million years ago.
Williams, a researcher at Franklin & Marshall College in Lancaster, Pennsylvania, studies ancient forests all over the world, including the high arctic of Canada, which now only hosts willows as thick as your wrist.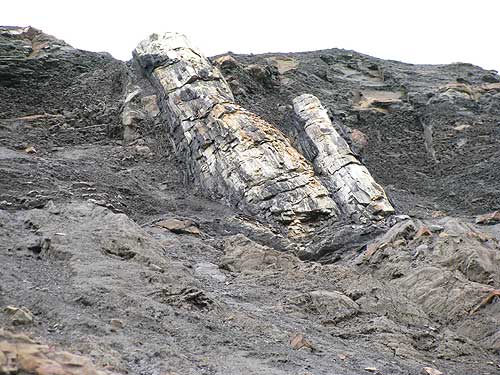 The twin stems of a 55-million year old fossil tree resting in the soil near Sutton, Alaska.
Photo by Chris Williams.

While reading a journal article, he learned about fossilized leaves discovered in the Matanuska River valley by government geologists in the early 1900s. Intrigued, a few years later he journeyed to Sutton, a small community between Palmer and Glennallen.
In 2008, Williams and his colleague David Sunderlin of Pennsylvania's Lafayette College traveled with six undergraduate students to an old coal mine near Sutton. There, they saw what others might have thought to be long, chunky colorful rocks, but they knew they were looking at the stumps and stems of trees that fell millions of years ago.
Williams was surprised at how similar the Sutton fossil forest was to those he studied 1,200 miles farther north, where the ancient trees flourished despite seasonal periods of extended darkness and sunshine. He and Sunderlin along with their crew found that the Sutton area had hosted a lush forest of trees, such as dawn redwoods. The trees, shorter than coastal redwoods, once grew over a wide swath of the northern hemisphere, but are now only in China. Williams' team also found many fossilized leaves at the site.
"The fossil leaves in Sutton point to a mix of broadleaved deciduous plants and conifers growing in a floodplain environment surrounding a shifting stream course," William wrote in an email.
Sunderlin used those fossil leaves to calculate what the climate of southcentral Alaska might have been 55 million years ago. He figured the average annual temperature needed to support the forested swamplands was about 55 degrees Fahrenheit. Sutton's average temperature today is about 35 degrees F. Sunderlin also estimated that the area would have to be much wetter than it is today to sustain the ancient forest.
"Topographically, it may have been . . . something like the modern day Willamette River Valley in Oregon," Williams wrote. "(It) would be a little warmer and a little wetter than the present climate of the Pacific Northwest."
Stone bird tracks in Denali
About 15 million years before the redwoods of Sutton were leafing out, prehistoric birds were striding through the mud at Denali National Park. Their fossilized tracks remain, and two of the birds are different enough from other ancient species of Asia and North America that a paleontologist has given them brand-new names.


Tracks of a large, crane-like bird that walked in the Denali National Park area about 70 million years ago.
Figure courtesy of Tony Fiorillo.

Magnoavipes denaliensis (Latin for "bird with large feet found in Denali") was as tall as a sandhill crane, said the man who named it, Tony Fiorillo of the Museum of Nature & Science in Dallas. He thinks the bird might have eaten fish; he and his colleagues have found many fragments of fish fossils in Denali National Park. Gruipeda vegrandiunis, the second bird new to science, was about the size of a sandpiper.
A frequent visitor to Alaska, Fiorillo has been exploring its national parks in recent years. According to him, the birds that left their tracks in Denali 70 million years ago were likely taking advantage of the northland's abundant insects and plentiful daylight - just as cranes, sparrows, sandpipers and other migratory birds will do in the coming months.
"Alaska probably served as a nesting area for at least some of the birds of both (North America and Asia) in the Cretaceous, just like it does today," he said.
This column is provided as a public service by the Geophysical Institute, University of Alaska Fairbanks, in cooperation with the UAF research community.
Ned Rozell [nrozell@gi.alaska.edu] is a science writer at the institute.
E-mail your news & photos to editor@sitnews.us


Publish A Letter in SitNews Read Letters/Opinions
Contact the Editor
SitNews ©2011
Stories In The News
Ketchikan, Alaska