Governor's Staff Addresses Expenses Issues
February 24, 2009
Tuesday

Staff for Governor Sarah Palin on Monday responded to persistent news media coverage of the per diem the governor has collected while working away from her official duty station of Juneau, while pointing out significant savings the governor has achieved in regard to the way she has discharged her official duties.

"The news media have been focused on the $8,500 the governor has collected in per diem annually while working in Anchorage, almost 50 miles from her home in Wasilla," said Bill McAllister, director of communications for the governor. "But aside from the fact that the governor is legally entitled to these payments, the media have missed the larger point that the governor actually has saved the state money by not living year-round in the official residence in Juneau."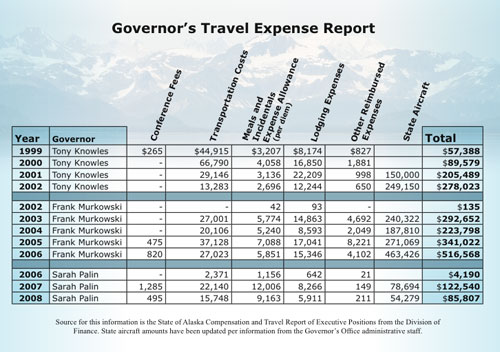 Chart comparing expenditures among administrations
Click on the chart to view a larger image.


Expense reports for per diem, lodging and travel for the governor and the first gentleman show a savings of more than $900,000 for calendar years 2007 and 2008, compared with the last two years of the previous administration. More than $100,000 of that is attributable to lower costs at the Governor's House.

"Except for the previous governor's much-derided purchase and use of a jet, this is not intended as criticism of the previous administration," McAllister said. "But it does show that the governor's Anchorage-based per diem was offset many times by reductions in other spending associated with her official duties."

Meanwhile, questions have been raised about the taxability of the governor's per diem for days in Anchorage. An internal review has determined that this per diem is taxable. Kim Garnero, the state finance director, reported that last week new W-2 forms were issued to the governor for tax years 2007 and 2008.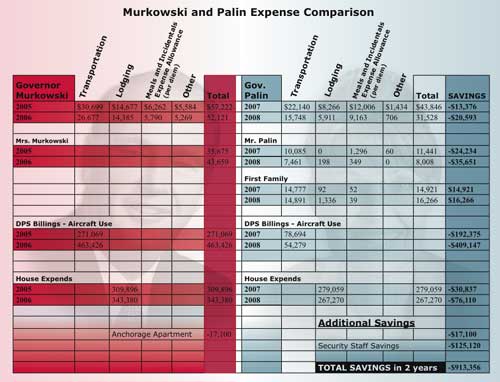 Chart comparing expenditures among administrations
Click on the chart to view a larger image.

"The governor has relied upon expert advice in how she handles these matters, and with this clarification of the per diem issue, she will make the necessary tax adjustments and comply with all pertinent IRS rules and regulations," McAllister said. "However, this tax matter is a personal issue, and is not subject to public disclosure. Any future per diem payments, of course, will be a matter of public record," said McAllister.

Questions also have been raised about whether travel by the First Family to state government-related events amounts to taxable income. McAllister said an internal review has determined these expenses are not taxable. McAllister noted that first families of previous governors have been involved in state government-related events and that Governor Palin believes it's an important role for her family as well.


Source of News & Charts:
Office of the Governor
www.gov.state.ak.us

E-mail your news & photos to editor@sitnews.us


Publish A Letter in SitNews Read Letters/Opinions
Contact the Editor
SitNews ©2009
Stories In The News
Ketchikan, Alaska