Adventurers head down Yukon to monitor permafrost
By Ned Rozell
February 15, 2007
Thursday PM

Kenji Yoshikawa has seen a good portion of the planet he calls home. Born in Tokyo, he has biked across Australia, walked the Sahara, skied across Greenland and to the South Pole, and he made his way to Alaska by sailing to Barrow from Japan.

In Barrow, he let his boat freeze into the sea ice. He spent a dark winter on the tilted boat, enjoying solitude and working on his college degree. He calls that period "the greatest time in 43 years of life."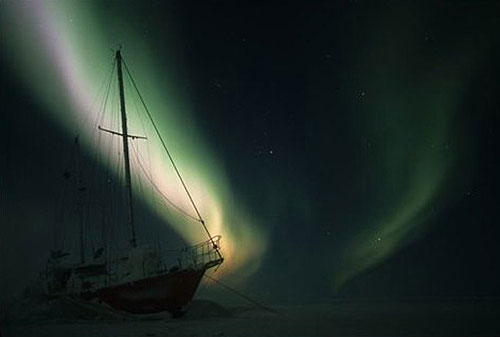 Kenji Yoshikawa's 43-foot boat, the HokiMai, frozen
into Elson Lagoon near Barrow in winter 1996.
Photo by Kenji Yoshikawa.

Yoshikawa is a permafrost scientist at the University of Alaska Fairbanks who will soon head down the Yukon River by snowmachine to visit village schools. Along the way, he hopes to establish permafrost observatories at the schools by drilling through soil that has remained frozen for at least one year. Much of the permafrost along the Yukon River is within one degree of thawing.
Yoshikawa wants to include villages on the Yukon in a "permafrost health monitoring program" and work with students and teachers on the permafrost boreholes he hopes to drill at each site. The boreholes are about 2 inches in diameter; he snakes a cable down the hole that gives permafrost temperature readings from about 20 feet down to the surface. He has already installed such observatories at eight schools, from Barrow to Glennallen.

His Yukon River trip will begin in Manley Hot Springs on Feb. 28 as a two-snowmachine expedition with Tohru Saito, who works at the International Arctic Research Center on a variety of projects, including the weather station at 18,733 feet on Denali.

The pair will travel with two large sleds carrying provisions and a drill that can penetrate permafrost and the frozen gravel soils they expect to encounter in the villages. From Manley, they hope to move overland to Tanana and then down the Yukon, giving presentations to classes and drilling permafrost observatories as they go. Depending on how well the drilling goes, the pair might continue down the river until they run out of villages.

"If everything goes well, we'll end up at Emmonak," Yoshikawa said.

Yoshikawa and Saito will complete the journey one way or another in a few weeks' time. They'll have to, because Yoshikawa has more planned for spring, and summer is booked too. He'll make a trip to Fort Yukon from Circle by snowmachine in late March to establish a permafrost-monitoring hole there, and snowmachine from Kotzebue to Noatak to Kivalina in April. Before he even starts snowmachine travel in Alaska, he's going to Hawaii to see if he can drill a borehole into the frozen ground on 13,796-foot Mauna Kea.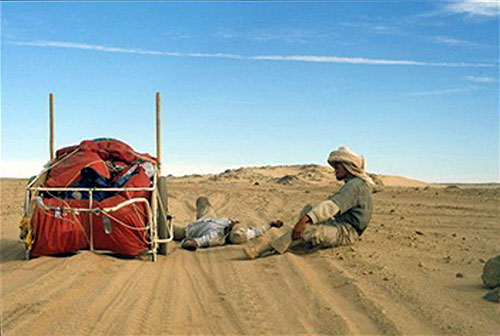 Kenji and Eiji Yamamoto, Sahara: Kenji Yoshikawa and his travel partner Eiji
Yamamoto take a break from pushing their cart full of water and other
supplies across the Sahara Desert in the winter of 1984-1985.
Photo by Kenji Yoshikawa.

After he completes his Alaska work in spring, Yoshikawa will travel to Canada, Mongolia, Siberia and Greenland in summer and fall, again establishing identical sites to monitor how permafrost is doing now and in the future. First, though, he has to invent a drill bit that will bite through the gravel he anticipates at the Yukon River schools. He's now experimenting with a few different models in his garage on Birch Hill in Fairbanks, and he doesn't seem to be sweating the deadline. You might expect that from someone with his history of outdoor problem solving. On his trip to Antarctica, for example, he designed the sleds for the expedition and also the Teflon pans to bake the high-calorie biscuits that form-fit to the bottom of the sleds.

Yoshikawa has met people throughout the world who like him and help him on his treks and scientific missions. While in Barrow, he met his wife, Arva Chiu, and they've had two children, Maya and Kent, who are now ages 6 and 7. After toning down his adventures while the kids were younger, Yoshikawa is happy the permafrost project is getting him back on the trail, where he can combine adventure and science.

"This program is very much back to my passion," he said.


This column is provided as a public service by the Geophysical Institute, University of Alaska Fairbanks, in cooperation with the UAF research community.
Ned Rozell is a science writer at the institute.
E-mail your news & photos to editor@sitnews.us


Publish A Letter on SitNews Read Letters/Opinions
Contact the Editor
SitNews ©2006
Stories In The News
Ketchikan, Alaska